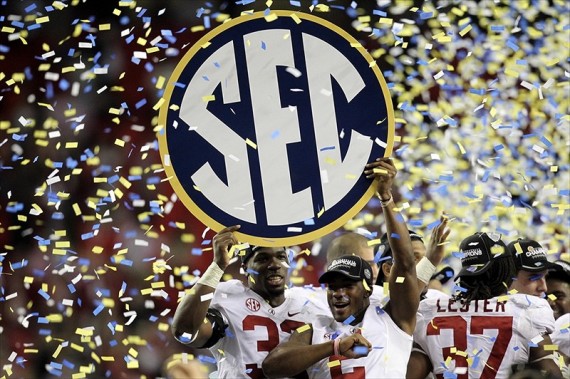 Alright, this is just getting ridiculous at this point. C'mon SEC, quit hogging all the championships and learn to share. C'mon, pass those trophies around.
The SEC has dominated the college football world for almost a decade now, winning the past seven national championships. During the league's incredible run, SEC teams have beaten champions from the Big Ten, Big 12, and Pac-10/12 as well as Notre Dame. Hell, the SEC even beat itself for a national title one year as both Alabama and LSU made the title game. About the only conference the league hasn't beaten is the Mountain West.
The SEC stands an excellent chance of running its title streak to eight seasons. Alabama, the two-time defending national champion, enters the season as the consensus number one team in the land, and the rest of the top ten is sprinkled with SEC teams. Georgia, South Carolina, Texas A&M, and Florida are all in the top ten of both polls, with LSU lurking at #12/13.
As if total domination at the top wasn't enough, the rest of the league is flexing its muscle, too. Ole Miss is a team on the rise, and longtime doormat Vanderbilt is coming off a 9-win season.
Arkansas and Auburn both welcome new coaches and should be back in the mix fairly soon, and even Kentucky is excited about the upcoming season.
With the best teams, the best players, the top coach, and the reigning Heisman Trophy winner, the SEC should have another banner year in 2013.
Read More