From how Ryan Lochte was covered by the media, the NFL's mishandling of Josh Brown's domestic violence case and even caping for Louisville head coach Bobby Petrino, we've got the best debates, for better or worse, you loved to listen to over the past 12 months.
In order of appearance on the 'best of' podcast, here are the biggest debates of 2016 on 'The GuysGirl Show' and 'Helmets and Heels'.
Want to skip ahead to another debate? Just check the time stamp underneath each story below.
Mean Tweets + Women in Sports: How Do We Move Forward?
Intro
The #MoreThanMean viral video of men reading real tweets sent to female sports broadcasters shed a light on subject that deserved a national discussion a LONG time ago. But now that a majority of sports fans are aware this treatment exists on Twitter and other outlets, how do we move forward?
The danger of how the media covered Ryan Lochte's Olympic mess
18:54 minute mark
During a regular segment on 'Helmets and Heels' the issue of how Olympic swimmer Ryan Lochte has been portrayed were on full display. And if you knew the facts of the story ahead of time, the power of pitchfork social media can be scary.
If your significant other is kicked out of a game, do you follow?
31 minute mark
A Giants fan was ejected for interfering with a fair ball. And his disappointed girlfriend followed him. Would you do the same or stay the watch the game?

NFL's poor handling of Josh Brown and domestic violence
40:12 minute mark
Why should the person in charge of making sure NFL players wear their socks correctly also handle criminal investigations? Let the trained investigators do their job and stop acting as if the NFL is qualified to do so.
Should morality play a role in head coaching hires?
48:18 minute mark
Bobby Petrino is one of the best coaches in college football but his past marital transgressions have left some to say if he can lie and cheat on his wife, what's to stop him from doing it on the football field? And I could not disagree more.
Jaguars selling opposing team merchandise
01:04:41 minute mark
On the latest GuysGirl Show, we discuss the Jacksonville Jaguars angering their diehard fanbase by selling opposing team merchandise inside the stadium. But this isn't the first time they've catered to away teams in hopes of making some extra cash.
01:20:58 minute mark
The Jaguars have made no apologies catering to away fan bases. But if I'm the Czar of the NFL, I'm making some changes as to how away fans are treated in stadiums.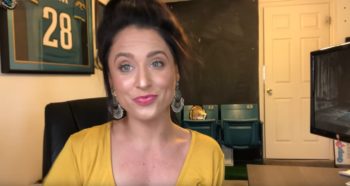 The brand 'GuysGirl' was born a decade ago. But after some recent career decisions, I was left in a tough spot of what to do with the future of a blog that lead to a work from home career. I have a pretty good idea of where I want to go, but I also want to hear from you on the changes I have coming up.
read more