After the NFL regular season ended, we started collecting data on the role of the woman within all aspects of the NFL. In this series we are going to explore the many varieties that make up the female NFL fan.
In the first article, we covered the remarkably low number of women in an executive leadership role among NFL teams. Now we are going to turn our focus to the outreach to women from within the NFL itself and what is/should be done to cater to the fanbase that makes 70% of the household purchasing decisions.
Reeta, recently conducted a survey of 200 die hard female football fans asking their opinion on how the NFL engages with them. Some of the key stats she provided were fascinating:
60% of fans surveyed were NOT satisfied with the outreach of the NFL
87%would love to have and attend more NFL events created for and by women
60% believed the NFL makes some attempt towards women, but could certainly do more
The most telling stat Reeta provided is that 87% of females surveyed would attend more NFL events geared towards women. And when 45% of your fanbase is women, surely the NFL's focus would be on more events catered specifically to women, right?
Wrong.
Which leads us to our next topic…..
Only 6 NFL Teams Have an Official Women's Fan Club
League-wide, there are currently only 6 official women's fan clubs formed by the team itself to include the Ravens, Chargers, Colts, Broncos, Redskins and Texans.
And while it's commendable that these specific teams are making an effort to reach out to it's female fanbase, most of the attempts are nothing more than a discount off team gear and the chance to learn the basic rules of football.
Meg, member of the Raven's Purple fan club put it perfectly when she said "There really is only one BIG event every year, which is A Purple Evening, and it sells out pretty quickly. Otherwise, it's generally just another email newsletter that I get monthly".
In fact, the only women's club worth noting belongs to the Colts. The CWC (Colt's Women's Club) is run by two out of the three daughters of  team owner, Jim Irsay.  While the club has a $100 fee, the benefits package of goodies like a hat, shirt, totebag among team merchandise deals and access to discounted events, pays for itself in the long run.
Personally, $100 seems a little steep to join a women's club since you're most-likely already paying for season tickets to watch said team. But depending on how many events are thrown during the year, the dues could very well pay for itself in the end and offer up a great way to meet other like-minded women fans.
Along with the game, women love the social aspect of football. That's why tailgating and fashion are some of the most profitable segments within the NFL and College football industries. So it's a little surprising that more teams aren't taking advantage of local partnerships and sponsorship opportunities to create more events where more women can gather and…..GASP! Talk about their product and why they love it.
While at least one more official fan club is rumored to be on the way, it's going to take a whole new approach to these fan clubs to make it seem more worthwhile than just another monthly email
Can the NFL keep up with the fashion demand of the female fan?
During the 2012 season, the NFL launched it's to date dubbed "It's My Team".
While partnering up with Nike, the NFL focused on using team logos and colors in tanks, tees, sports bras, shorts, capris, jackets, and hoodies. Which means the NFL was finally doing something the die hard fan craved, getting rid of the notion that "slapping pink on a jersey would make a chick wear it".
"It's My Team" featured well known sports fans like Secretary of State Condoleeza Rice, Serena Williams and even the daughters and wives of NFL coaches and owners rocking fitted clothing that represents their favorite team.
But the relatively untapped market of a fanbase that spends $1 billion dollars annually on NFL merchandise is something the league should have been doing years ago.
Turning a guy's licensed team shirts and jerseys into dresses/tanks occurs often, women are finding fully licensed clothing alternatives at a fraction of the NFL cost or just they are simply buying clothes in their team's colors and coordinating their gameday outfits on their own.
While wearing pink to most games is frowned upon, there's one particular time that all NFL fans are encouraged to wear pink and that's during October's Breast Cancer Awareness Month in what has been a very popular program among female fans.
A variety of charities are held, special team merchandise is sold with a portion going to cancer research and the NFL encourages all players to wear special pink gloves and shoes to help raise awareness and assist in fundraising for future research.
Fashion wise, the NFL's best bet is to continue to license it's brand to the Forever 21's of the world to earn some kind of revenue on licensed, cheaper and cuter versions of it's apparel.
Women have and always will like variety and I'm not sure the NFL can keep up with the demand of the female fan. Women want NFL merchandise, but at a reasonable cost because frankly, most fans want to change up their gameday outfits but how many can afford to spend the roughly $100 cost of a gameday outfit weekly?  Not many.
So prices must be considered along with variety or women will continue to take craft scissors to old shirts and simply buy cheap team colored clothing alternatives that both cut into the potential apparel revenue the NFL could and should be earning.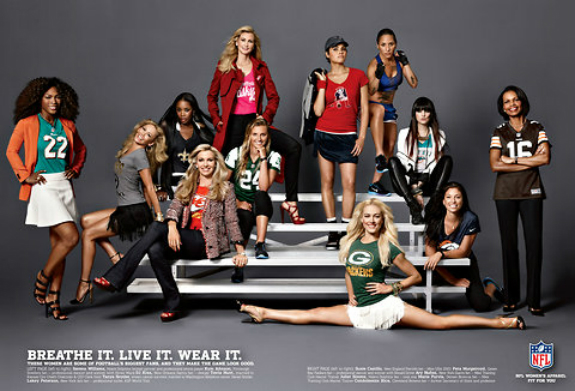 Getting very social media friendly
Recognizing the markets of social media are crawling with the ladies, the NFL stepped it's social media game up by adopting specific campaigns for female-dominated websites such as Pinterest and Instagram. Hashtags like #InstaGameday and #GamedayFashion were crawling with ladies showing off their self-made NFL style for all to see.
Side Note: What was most noticeable about the female outfits in the pictures snapped within these hashtags is that roughly 75% of the clothing worn wasn't NFL licensed, but rather outfits pieced together by simply buying normal clothes in their team colors.
Pinterest and Instagram aren't the only social media accounts the NFL is on. Their Twitter accounts are considered must follows among NFL fans, breaking news is updated almost immediately via their Facebook page and earlier this month, Commissioner Roger Goodell participated in a "Ask Me Anything" session on Reddit, something no other major sports commissioner has done.
If there's one thing the NFL does right, it's directly connecting with it's fans using a variety of social media accounts.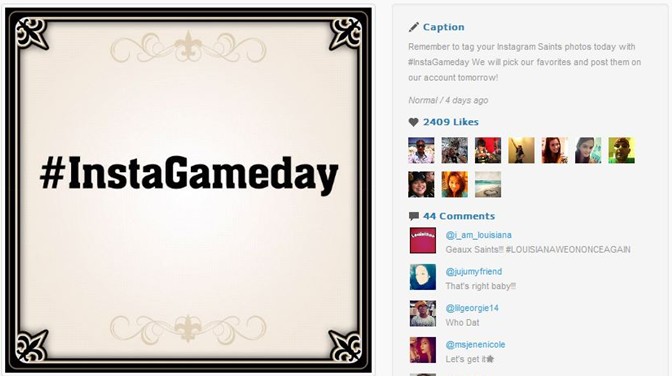 Some key takeaways of the NFL Female Fan Outreach. Feel free to use on your site or social network.
Please provide proper link credit.