<script src="https://www.buzzsprout.com/38442/441753-big-games-this-weekend-political-rant-jayme-lamm-interview.js?player=small" type="text/javascript" charset="utf-8"></script>
Looking for a distraction from your negative timelines on Facebook and Twitter? Let's talk sports with The Blonde Side's Jayme Lamm where we cover the advantages Twitter has given her to advance her sports and writing career, how women treat other women covering sports and her expectations for Jaguars-Texans match up this weekend.
PLUS I get off a little political rant on the dumbass college kids who think they should be allowed to miss school because of President-elect Donald Trump (which still feels weird to say). AND the biggest games you need to watch this weekend. Happy Veteran's Day!
INTERVIEW WITH JAYME LAMM


This week I'm joined by sports, travel and fitness writer, Jayme Lamm. As the owner of The Blonde Side, Jayme has been hustling these Twitter streets since 2009. We kick off the show with Jayme talking about challenges for women on social media that come at the helm by other women. DYK: there's a private Facebook group for "real women who cover sports" that almost has a mean-girls appeal to it? Kinda BS…but we talk into this plus her career covering sports/travel,  if Texans feel the same way about J.J. Watt as males outside of Houston and on the field expectations for Texans @ Jaguars match up on Sunday.
<iframe width="560" height="315" src="https://www.youtube.com/embed/rAfu3qr7oNE" frameborder="0" allowfullscreen></iframe>
<script type='text/javascript' charset='utf-8' src='https://www.buzzsprout.com/38442.js?player=large&limit=10'></script>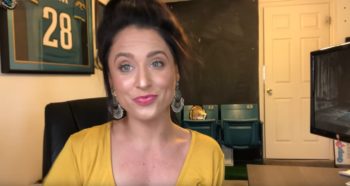 The brand 'GuysGirl' was born a decade ago. But after some recent career decisions, I was left in a tough spot of what to do with the future of a blog that lead to a work from home career. I have a pretty good idea of where I want to go, but I also want to hear from you on the changes I have coming up.
read more