The Indianapolis Colts narrowly escaped with their lives this week, but that hardly means their problems are solved.
First off, they barely beat a Tennessee team that is still an NFL also-ran at this point.  In the process, Andrew Luck threw two more interceptions, and at this rate, he is going to drop right out of the "elite" quarterback club and back into the "jury's still out" holding pattern.  Their offensive line stinks:  Luck was sacked three more times.  And although Frank Gore had a decent day, Andre Johnson was invisible, further indicating that the obsession with skill players was big fat mistake.  Another problem is a defense that is undersized and can be run on, making it particularly difficult for the Colts to play without the lead.  This team, despite having the talent to win and win big, hasn't been built to win a championship.  And the biggest problem is that these are all glaring issues that have been present for multiple years.  When coaches and GMs fail to fix problems despite having multiple chances to do so, people get fired.  That may be coming this offseason to Indianapolis.
This Week's Sucked And Won:
Teddy Bridgewater, QB (MIN).  Teddy's certainly seen better days than this one:  13 for 24 for just 121 yards and an interception.  He also carried once for -1 yards.  Of course, that's the beauty of the Vikings.  Adrian Peterson can carry the offense all by himself when needed.
What have they put in the water in Arizona?!  I have never been a big Colin Kaepernick fan, but even the Seahawks defense never made him look this bad.  He threw 4 interceptions, 3 of them pick-sixes.  His passer rating was a Tebow-defying 16.7.   The Cardinals defense is a public menace at this point, and their offense is not far behind.
You know those Peyton Manning Nationwide commercials where he keeps singing the theme with different words?  Picture that.  Picture the song.  You know, hmm hmm hmm hmm hmm hmm hmm.  Now watch a replay of Manning's touchdown pass just before the half against Detroit and add in these lyrics, "F**k you guys who think I'm old!"  It fits almost too perfectly.
Shocking realization of the week:
Carson Palmer hasn't lost a game since 2013.
Just one more footnote on Chip Kelly's genius redesigning of the Eagles.  They won today, with backup running back Ryan Matthews gaining 108 yards on 25 carries,.  So get ready for DeMarco Murray to get thrown so far under the bus even Keanu Reeves and Sandra Bullock couldn't save him.  This actually started in preseason, when Kelly seemed particularly effusive in his praise of his backup, so the man whose system doesn't need players is almost certain to screw over his big free agent signing.  The end result:  big free agents will start avoiding the Eagles, or demanding larger than usual amounts of guaranteed money, since they know the coach is a back stabber.  As an Eagles fan, this all just keeps getting better.  Sigh.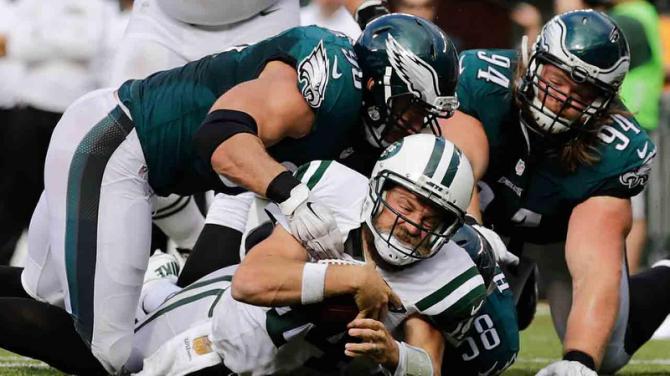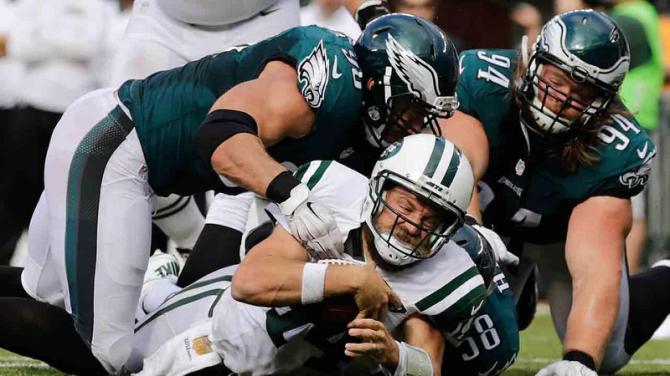 "We may be losing, but your coach is a douche!"
This Week's Great But Lost:
Steve Smith, WR (BAL).  He certainly wasn't fiddling while Rome burned.  The ageless Smith caught 13 passes for 186 yards and 2 TDs while his teammates were blowing their season, going 0-3 by losing to Cincinnati.
Dallas fans may be smarting from blowing two 14-point leads against Atlanta on Sunday, but don't go blaming backup quarterback Brandon Weeden.  In fact, Cowboys fans should be excited.  It looks like Weeden is more than capable of running the offense, and doing it quite well, while Tony Romo is out.  He was 22 for 26 on Sunday, making him 29 for 33 on the season.  Damn good numbers.  And more than good enough to keep the Dallas offense on track while its stars heal.
Thursday Pick:  Baltimore (-3) @Pittsburgh (William Hill)
Baltimore's giving points?  THREE points?!  Why?  Just because the Steelers will have Michael Vick at QB.  Have the people who set these lines actually seen Baltimore play this season?!  In reality, both of these teams have their backs against the wall.  The Ravens are 0-3.  If their season isn't already over (it is), it will be if they lose to the Steelers.  Pittsburgh, meanwhile, has to rally around their back up QB.  They have to step up their game until Roethlisberger comes back if they want to have a shot at the playoffs.  I'll take the points thank you.
Pittsburgh Steelers 27 Baltimore Ravens 23
NFYell: The best NFL quotes from Week 3
"We're not getting 53 new players.  We're not getting 24 new coaches." – Dolphins coach Joe Philbin, after his team got routed by division rival Buffalo.
"This was one for the ages as far as I'm concerned." – Colts coach Chuck Pagano, on the team's win at Tennessee.  OK, raise your hand if you thought even once that Coach Pagano would utter those words about a game against freakin' Tennessee.
"It's big shoes to fill.  I can't do the things Ben does." – Steelers back up QB Michael Vick, on the task ahead now that Ben Roethlisberger is out 4-6 weeks.
"One of these days, we'll figure out how to cover A.J. Green.  It be nice if we did that one time before he retires." – Ravens coach John Harbaugh.  The Ravens allowed Green to gash them for 10 catches, 2 TDs and a mind blowing 227 yards.
"We didn't block any of them.  They just didn't go through the yellow things.  Sweet, I hope that happens every time." – Texans DL JJ Watt, on Tampa Bay's plethora of missed field goals on Sunday.
"That was probably the worst play in NFL history." – Jets WR Brandon Marshall, on his ill-advised attempt to toss a lateral which resulted in a turnover against the Eagles.
"The response that I got was, `Cam you're not old enough to get that call.' I'm looking at him like what, geez, I didn't think you had to have seniority to get a personal foul or anything like that." – Panthers QB Cam Newton, on the explanation he got from officials about a non-call during their game against the Saints.
"I like watching him after the catch.  He's a homerun waiting to happen." – Raiders QB Derek Carr, on rookie WR Amari Cooper.