I spent my Sunday afternoon watching NFL football in sweat pants and a Cal hoodie with my friend Alicia Jay of TallSWAG. We were complete bums and it was awesome.
As we watched the Washington Redskins completely unfold I'd had enough. I can't stand Pete Carroll for a few reasons and it all started during his tenure as the head coach at USC. I thought I'd gotten over it and then the Green Bay Packers got robbed by the Seattle Seahawks at the hands of the replacement refs.
I can't stand him or the Seahawks but I respect that Seahawks QB Russel Wilson blocks for his running backs. Lol that's gangstah.
That said…after RG III got hurt I'd decided enough was enough and was ready to turn the game off. Ajay stopped me and said she wanted to watch post-game interviews and OMG I'm glad we did or we would have missed the MUSH seen around the world.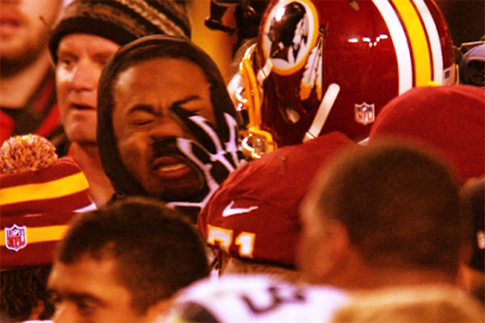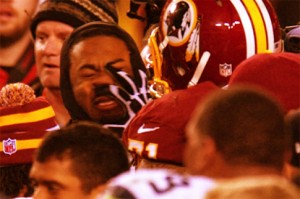 Ahahahaha I looked up just in time to see Trent Williams smash Richard Sherman in the face. We both looked at each other and said, "Did he just MUSH him? He did!" and we erupted in laughter.
That was the funniest thing EVER!
For those of you who don't know what a mush is…it's a push and mash together and in most instances it's worse than someone actually hitting you because it's so ridiculous and embarrassing.
I'm so glad it didn't escalate but it was funny as hell.
Players from both teams broke it up but Richard Sherman walked away waving his hand and mouthing bye-bye. That man is always talking smack. He loves antagonizing opponents. In fact, he taunted Tom Brady after the Seahawks upset the Patriots in October.
So what did Sherman say that made Williams mad?
Sherman told USA Today that after the game the 6-5 and 325 pound Williams tapped him and said, "What's up now? I'll swing on you."
Sherman called his bluff and replied, "Swing!"
And the MUSH happened.
I guess beating the Redskins 24-14 in the NFC wild-card game wasn't enough.
Ahahaahha it's so juvenile and petty but, so hilarious and the KFC promo that followed it just took it over the edge.
WOW!
Thanks for the laugh fellas, Twitter was on fire following the mush and I enjoyed every bit of it.
And of course it's on YouTube…check it out.
http://www.youtube.com/watch?v=8JBTLtGPdnQ
###