Bob Dylan once recorded a folk song called "Hard Times in New York Town." Perhaps the title of that song sums up the football atmosphere in the Big Apple better than anything Rex Ryan or Tom Coughlin could say in a press conference.
For the first time since beating Oakland in the season opener, the Jets woke up on Monday morning victorious, having upset the Pittsburgh Steelers in week 10. It has got to feel good to finally win again, but one win does not erase the eight weeks of losing that previously occurred.
The Jets are still just 2-8, and, unless a miracle happens, they're not coming anywhere close to making the playoffs.
Their stadium-mates, the Giants, have a (marginally) better record at 3-6, but are also way behind in the postseason race and coming off of four consecutive mistake-filled losses. Both coaches are very much on the hot seat.
Coughlin has been in this situation with the Giants before, and both times, when it looked as if his New York coaching career was in jeopardy, he responded by winning the Super Bowl.
With six losses this season already, it is highly unlikely that Coughlin pulls off such a feat for a third time. The NFC is very competitive, and even teams with winning records like San Francisco, Green Bay, and Seattle are not guarantees for the postseason. Furthermore, the Giants have already lost games to division rivals Dallas and Philadelphia, both of whom have solid win-loss records and legitimate postseason aspirations.
The Jets, for all intents and purposes,  to their playoff hopes long ago. In many organizations, a coaching performance like that of Rex Ryan's would have already resulted in a firing, but Jets owner Woody Johnson has stated that Ryan's status as head coach will not be reevaluated until after the season's conclusion.
Whether it happens today or at the end of the season, the evidence is clear: Rex Ryan will be fired as the head coach of the New York Jets. Tom Coughlin, too, will probably be sacked.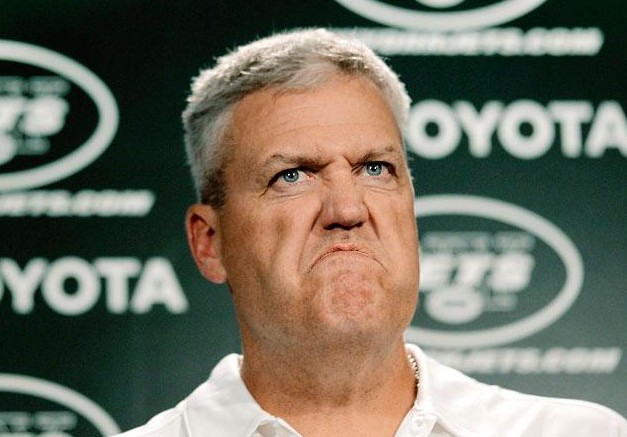 With the large market, fan base, and media presence in New York, coaching in New York is rarely a stable job environment. It is not an easy place to coach, so one must admire the success of Coughlin, and even the limited success of Ryan. But in the NFL, the mantra is "what have you done lately?" And lately, Coughlin and Ryan have lost a lot of games in the NFL's most volatile market (with the possible exception of Dallas).
As for the players, there is hope for both teams. The Jets have one of the most talented defensive front-sevens in place, led by stud defensive tackles Muhammad Wilkerson and Sheldon Richardson. The problem is clearly on offense. The Jets have not had a capable quarterback since Chad Pennington.
The Giants, meanwhile, have some excellent young talent, namely rookie wide receiver Odell Beckham, Jr., whom Richard Sherman dubbed "a great player" after Sunday's game. Additionally, Prince Amukamara and Dominique Rodgers-Cromartie are one of the best cornerback tandems in the NFL when healthy.
But almost every other position is inadequately occupied. Even two-time Super Bowl MVP Eli Manning seems to be past his prime.
Yes, times are hard in New York, but they could be worse. (One need only look at Jacksonville and Oakland for proof of that.)
Both the Jets and Giants are on the verge of the dreaded "rebuilding era," but every franchise must go through it at some time, and in New York, the time is at hand.
[Images via Mike Farrell and Xmasape]