Happy Thanksgiving football weekend!  Thursday's three games were a great warm-up for the big-time matchups come Sunday, all leading up to a monster game on Monday Night Football between the Saints and the Seahawks.
This is, quite simply, a great week to be a football fan…
Last Week:       7-6-1;  3-0 Best Picks
2013 Season:  96-88-11 Overall; 23-21-2 Best Picks
(All lines as of 11/28/13 @8:30 a.m. – line credit posted per game)
.
Tennessee (+3.5) @Indianapolis (Bookmaker.eu)
I've heard it all about this game.   The Colts are reeling.  They can't score without Reggie Wayne on the field.  Their defense can't stop anybody.  Blah blah blah.  Well let's just take a perspective break.  The Colts are 3-0 in their division; the Titans are winless.  The Colts recent losses have come in bad spots in out of conference games that didn't matter to their playoff drive.  And two closer-than-they-should-have-been wins were in division games on the road.  They're at home this week, and the Colts always seem to win the games that really matter.  Plus the Titans have Ryan Fitzpatrick.  Gimme Indy.
Indianapolis Colts 24 Tennessee Titans 20
 .
Denver (-5) @Kansas City (MGM Mirage)
The Chiefs have lost two straight now that they're into the tougher part of their schedule, and the Broncos NEED this game to cement their position as the top AFC team.  No way do they let this one slip away.  The bigger question is whether Kansas City can keep it close.  I have my doubts.  I think Peyton Manning has a very big day.
Denver Broncos 28 Kansas City Chiefs 20
.
Jacksonville (+7.5) @Cleveland (5Dimes)
Ugh.  Awful Jacksonville vs. Brandon Weeden.  Does it get any worse?  I'm marginally leaning toward the Jaguars side here, as I can't see how Brandon Weeden manages to beat anyone by more than a touchdown.  Plus, the Jaguars really awful defense has been slightly less awful.  One caveat:  it has to be on someone's radar that the Jags had better not win any more games.  Do they start tanking in earnest?  I wouldn't touch this game.
Cleveland Browns 20 Jacksonville Jaguars 16
 .
Tampa Bay (+9.5) @Carolina (5Dimes)
Hmm.  A tough one.  Carolina is red hot, but Tampa has also turned their season around, winning 3 in a row.  Tampa may be without stop corner Darrelle Revis, but Carolina's three recent wins were all within a touchdown games, and they've got a look ahead to New Orleans.  Under the circumstances, I see Tampa at least staying in this game.
Carolina Panthers 24 Tampa Bay Buccaneers 17
 .
Chicago (pick 'em) @Minnesota (Las Vegas Hilton)
Chicago is in the heat of the playoff race, but forget all that.  They can't stop the run.  At all.  And now Adrian Peterson is going to go insane on them.  Peterson will carry 40 times for 200 yards in this game.  I'm all over Minnesota here.
Minnesota Vikings 23 Chicago Bears 20
.
Arizona (+3.5) @Philadelphia (MGM Mirage)
There are two ways to look at this game.  On the one hand, I'm very much reminded of Thanksgiving night 2008, when the Cardinals came to Philly at 7-4 and the Eagles were reeling after losing big to the Ravens and that bizarre tie game against Cincinnati when Donovan McNabb didn't know the overtime rules.  And the Eagles beat them by 28 points.  That's one way.  The other is that Arizona is the best defense the Eagles have faced since week 3.  The Cardinals aren't traditionally a good road team, especially on the East Coast, but this season their road losses have come against much better teams than Philadelphia.
Arizona Cardinals 24 Philadelphia Eagles 23
 .
Atlanta (+3) @Buffalo (Las Vegas Hilton)
The Atlanta Falcons are 100% done.  They put it all on the field against New Orleans last week, and now they're playing for a draft pick.  I'd put this in Best Picks if the game was actually in Buffalo, but it's in Toronto, so it's basically a neutral site.
Buffalo Bills 27 Atlanta Falcons 21
.
St. Louis (+8) @San Francisco (Las Vegas Hilton)
If there's one thing you can count on this season, it's that the 49ers destroy bad teams.  So is St. Louis one of those?  They've won two in a row behind Kellen Clemens, but how long can that go on?  The Niners crushed this team in St. Louis earlier.  I think they do it again.
San Francisco 49ers 28 St. Louis Rams 17
.
Cincinnati (pick 'em) @San Diego (Las Vegas Hilton)
If the Chargers lose this game, their season     is over.  The Bengals, meanwhile, still have one each vs. Baltimore and Pittsburgh that they'll need to win either way.  Cincinnati is a completely different team on the road, and I'm not getting fooled again.
San Diego Chargers 28 Cincinnati Bengals 26
.
Cincinnati @San Diego o/u 48 (Stations)
The Chargers defenseless defense alone warrants looking at the over here, and I'm also counting on San Diego playing a particularly intense game given the stakes.  I like this game to go over the number.
San Diego Chargers 28 Cincinnati Bengals 26
 .
NY Giants (pick 'em) @Washington (5Dimes)
You have to be careful with this one, because the Giants are coming off that deflating loss to the Cowboys that ended their season.  But this is a divisional game, so there should be enough motivation for New York to want to beat up the Redskins.  And boy, do the Redskins ever let teams beat up on them.  What a dreadful mess.
New York Giants 34 Washington Redskins 24
 .
New Orleans (+6) @Seattle (Carbon Sports)
OK, I'm telling you up front, don't listen to me on this game.  Because every indicator is that Seattle will win this game going away.  I just have a total gut feeling about the Saints here.  I cannot support it with any logical argument.
New Orleans Saints 24 Seattle Seahawks 22
 .
BEST PICKS OF THE WEEK
Jim Harbaugh personally attends to feeding his defensive front 7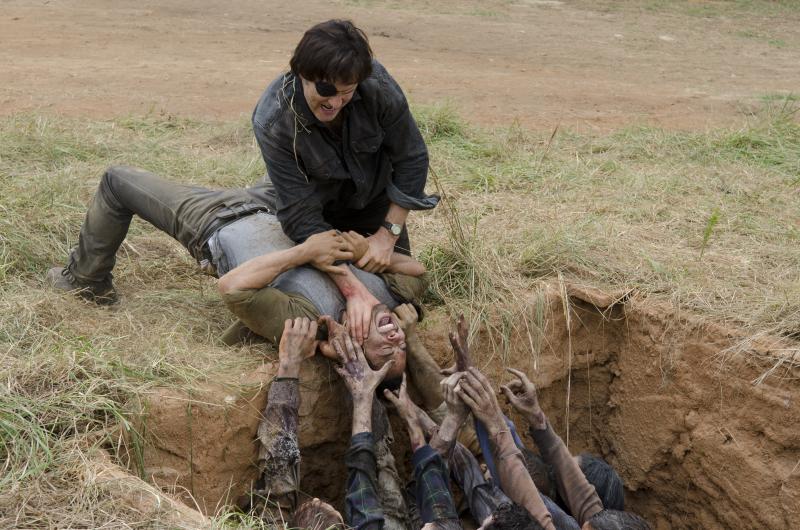 Miami (+1) @NY Jets (5Dimes)
I'm going straight up trend with the Jets here, who are atrociously bad on the road and nearly unbeatable at home.  For whatever reason, Geno "Jekyl & Hyde" Smith plays great in New York and is a turnover machine everywhere else.  Not for nothing, but this is very much one of those loser go home games, as both teams are part of that 5-6 donnybrook in the AFC.  I'll take the Jets to hold serve at home.
New York Jets 23 Miami Dolphins 20
 .
New England (-7) @Houston (Wynn Las Vegas)
I know the Patriots are coming off a big win and it will be hard for them to get motivated to play the Texans, but the Patriots are playing for a first round playoff bye and maybe even home field throughout (remember, they now own the tiebreaker with Denver).  What are the Texans playing for, except possibly getting the first overall pick.
New England Patriots 35 Houston Texans 17
 .
NY Giants @Washington o/u 45 (MGM Mirage)
I know this is a zero game between two playing out the string teams, but remember, the defenses will be not-trying just as much as the offenses.  Washington's defense is already terrible, and if the Giants defense is in let down mode, Alfred Morris will run all over them.  I like the over in this one.
New York Giants 34 Washington Redskins 24
.
.