Kids say the darnedest things? In the past week, two kids, from two different fan bases have written letters to NFL players that are the stuff legends are made of.
Kid #1, Nicholas, writes to Kevin Hubb, Punter for the Bengals, after his jaw was fractured from an illegal hit by Steelers LB Terence Garvin: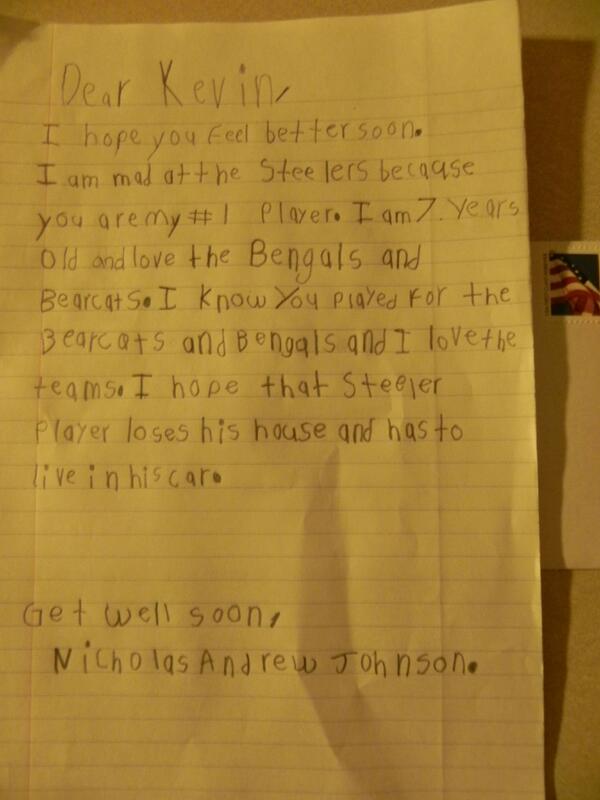 [in case you can't make out 7 year old handwriting]
Dear Kevin,

I hope you feel better soon. I am mad at the Steelers because you are my #1 player. I am 7 years old and love the Bengals and Bearcats. I know you played for the Bearcats and Bengals and I love the teams. I hope that Steeler player loses his house and has to live in his car.

Get well soon,

Nicholas Andrew Johnson.
Kid #2 is six year old Rain who's a 49ers fan and writes warning signs to all opposing teams. Here's one address to the Seahawks: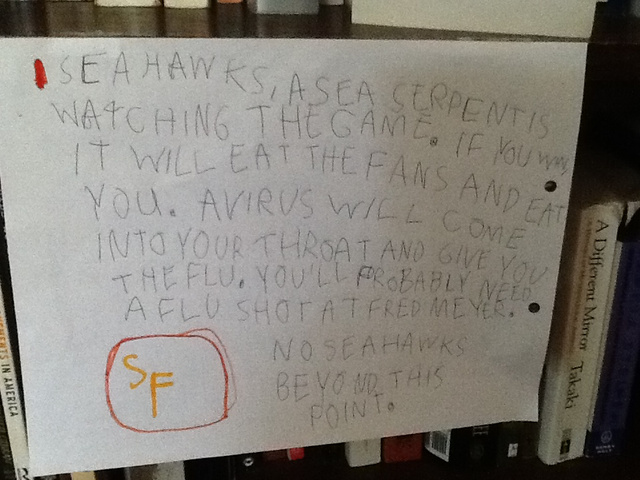 [in case you can't make out 6 year old handwriting]
Seahawks, a sea serpent is watching the game. If you win, it will eat the fans and eat you. A virus will come into your throat and give you the flu. You'll probably need a flu shot at Fred Meyer. No Seahawks beyond this point.
Via Deadspin