We've all been there.  Your team is holding a lead late, but they've given up a touchdown, and now it's a one-score game.  Minutes are ticking away.  Will your defense hold?  Suddenly, a big play!  Your D has forced a turnover and brought it the other way for a score!  You're going to win!  Goddam it all to hell!   Wait, what?  That's not how you're supposed to feel after a win, but if your team is the Jacksonville Jaguars and you're in a two-way winless tie for the worst overall record, that might be just how you feel this week.
Jacksonville is now 1-8.  The team is a mess, and they need help everywhere, but they DESPERATELY need a new quarterback.  You don't need to look too far to see how a franchise can change once the right QB is in town.
Remember the Lions before Stafford?  Remember the Colts before Luck?  Yeah, like that.
Trouble is, other teams needs quarterbacks too.  0-8 Tampa Bay, who play the Dolphins on Monday night, also need a QB.  So do the Vikings, who just screwed up big time and beat the Redskins.
But is it always necessary to be the worst to get the best QB?
The Colts got Andrew Luck by being the worst, but the Redskins got Robert Griffin III, and he's pretty awesome too.  For that matter, the Seahawks took Russell Wilson in the fourth round, and that worked out just fine.  Jamarcus Russell was the first overall pick the year the Lions got Calvin Johnson with the 2nd overall pick.  Alex Smith went first overall the year the Packers got Aaron Rodgers 23 picks later, so what's the point of being the first to pick overall?
Well, you control your own destiny for one thing.  You think the Chargers wouldn't have liked the chance to choose between Peyton Manning and Ryan Leaf instead of just having Leaf left to them when the Colts took Manning first?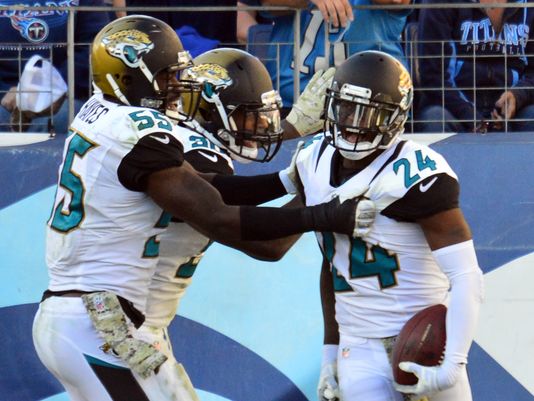 In some sense, it all comes down to luck, or Luck, as the case may be.  After all, the Jaguars had the first overall pick last year, a year too late to get Luck or Griffin, when the first quarterback taken was E.J. Manuel, a reach at #16, and the second QB taken was Geno Smith in the second round.
So what's the crop like in the coming year?  Louisville's Teddy Bridgewater is, so far, a consensus top pick, but there are some other terrific prospects available, like Oregon's Marcus Mariota or Texas A&M's Johnny Manziel.
So is it OK to be made if you're a Jaguars fan?
Only if you're convinced that Teddy Bridgewater is the only answer.
Does that make you a bad fan?  I don't think it does, only a realistic one.