Only two weeks have been played in this NFL season, but you have to be looking at the Kansas City Chiefs right now and thinking there just might be something there.
Granted, they're not the only team to get out to a bit of a surprising 2-0 start, but their company in that regard has a much tougher road ahead.
After all, the 2-0 Miami Dolphins are looking at Atlanta, New Orleans and Baltimore before getting a bye.  Something tells me the bye can't get there soon enough for Miami.
Hit the title/read more to continue reading. . .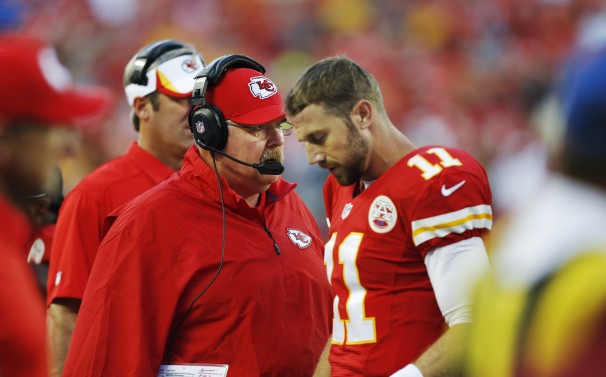 By contrast, Kansas City has a first nine with just one game, a week 7 contest hosting the Houston Texans, where they will be clear underdogs.
After all, if Kansas City can beat Dallas, which they just did 17-16, they can certainly beat the likes of Philadelphia, Tennessee, Oakland or Buffalo, all teams they'll see in their easy breezy first half.
But it's not just an easy schedule that has KC looking good.
 They've got a competent quarterback in Alex Smith, one who went 19-3 as a starter with San Francisco over the last two years before being benched in favor of Colin Kaepernick.  Maybe Kaepernick is better, maybe a lot better, but how bad can Smith be if he went 19-3?
They've also got Jamal Charles, who gained 1500 yards last season despite being part of an offense where no one was playing the pass.  Charles has been a 1000 yard rusher in every season he's been a starter in KC where he remained healthy.
And let's not forget about the coach.
 Andy Reid may not be perfect, and by the time he left Philadelphia, there was a media-fueled contingent of fans who would have you believe he was the worst coach in the history of the NFL, but before anyone tries to put the Rich Kotite crown on Reid's head, they might want to consider that he's one of the most successful regular season coaches EVER.
He just set the NFL record for wins over the Dallas Cowboys, one of the most storied franchises in the league.  And his Eagles OWNED the NFC for a good 6-8 years in the late '90s and early 2000's.  The guy knows how to win.  He knows how to get the most out of quarterbacks too.
And unlike his last few seasons in Philadelphia, he apparently has a decent defense to work with.  Jacksonville's offense is terrible, but holding ANY NFL team to 2 points is impressive.  And holding Dallas to a mere 16 is even more so.
The Chiefs aren't likely to challenge Denver for the NFC West.  The Broncos are just too good.  But the AFC as a whole is down this year, and even perennials like New England and Baltimore look vulnerable.  It is eminently doable for a team to sneak in as a wild card.
Don't be surprised if Kansas City is the team that does it.