I'm back in the saddle again, etc. etc.  I had a great week to end my slump, and even beat the odds to win my office NFL pool for the second time this season.  Will it last?  This is a vexing week in terms of good teams playing in bad spots, making this slate of games a bit of a minefield.  Careful where you step.
Last Week:       11-3-1 Overall;   5-0 Best Picks
2013 Season:  68-59-7 Overall; 14-16-1 Best Picks
.
(NFL odds as of 11/1/13 @9::00 a.m. – line credit posted per game)
Atlanta (+7.5) @Carolina (Las Vegas Hilton)
You can't exactly feel good about having to give more than a touchdown with the Panthers here, but the Falcons are so banged up it's almost impossible to imagine them getting anywhere against Carolina's defense.  Cam Newton should also have a good day against a stop unit that's more like a MASH unit.
Carolina Panthers 27 Atlanta Falcons 17
.
Minnesota (+9.5) @Dallas (Bookmaker.eu)
This is another game where you're being asked to give more points than is comfortable, but you really have no choice.  Dallas' offense has been the second most potent scoring unit in the league (behind Denver of course) while the Vikings D doesn't put up much of a fight.  Dallas has trouble stopping people as well, but can the Vikings take advantage?  Probably not enough.
Dallas Cowboys 31 Minnesota Vikings 21
 .
Minnesota @Dallas o/u 47 (Bookmaker.eu)
I'm counting on Minnesota being at least passable on offense against a Dallas D that will give points when pressed.  Dallas should have no problem holding up its end of the bargain on the other side of the ball.  I like the over.
Dallas Cowboys 31 Minnesota Vikings 21
 .
New Orleans (-7) @NY Jets (NFL odds via 5Dimes)
Another spread you don't want to give, but this time you have the choice not to.  The Jets alternate good games with bad ones, and last week they got blown out by 40 points.  I hate to bet against the Saints, but I like New York to keep this game close.
New Orleans Saints 24 New York Jets 20
 .
Kansas City (-3.5) @Buffalo (Stations)
I'm going out on a limb here.  Andy Reid, who is famously great coming off a bye, is notoriously mediocre in the week before one.  Buffalo has shown plenty of fight this season, and while they may not be able to hand KC its first loss, I like them to make this a nail-biter.  I'm going against the unbeaten Chiefs here.
Kansas City Chiefs 19 Buffalo Bills 17
 .
San Diego (pick 'em) @Washington (MGM Mirage)
I really don't believe in the Redskins at all.  Their defense is abysmal, and Philip Rivers will pick them apart.  The Chargers defense isn't much better, but the Redskins have only been able to capitalize on opportunities to a certain extent.  Usually, they fall short.
San Diego Chargers 34 Washington Redskins 28
 .
Philadelphia (+1) @Oakland (Wynn Las Vegas)
Nick Foles is back in at starter for the Eagles.  Remember how great he looked against the Giants?  Philadelphia's offense is in a funk, and while their defense is playing better now than it did to start the year, it's not exactly what you'd call good.  Remember one other thing:   Oakland is 3-3 with Terrelle Pryor at QB, and the 3 losses came against teams with a combined record of 20-3.  Does that sound like the Eagles to you?
Oakland Raiders 24 Philadelphia Eagles 20
 .
Pittsburgh (+7) @New England (MGM Mirage)
You have two underperforming teams here, although in New England's case they are still winning games while in Pittsburgh's case they aren't.  The key for me is that the Patriots injuries on defense have left them vulnerable to the run, and when the Steelers have looked their best, they've had a productive ground game.  I like them to keep it within a touchdown.
New England Patriots 23 Pittsburgh Steelers 20
 .
Indianapolis (-2) @Houston (Bookmaker.eu)
If this spread were just a few points higher, I'd be all over the Texans here, because this is their last hurrah and they will be loaded for bear against their arch rivals, who come in without Reggie Wayne.  But just two points?  That's an Andrew Luck special.  Figure a late drive to win the game and cover for the Colts.
Indianapolis Colts 27 Houston Texans 24
 .
Chicago @Green Bay o/u 49.5 (MGM Mirage)
The Bears just gave up 45 points to the Redskins, so I'm not to worried about Green Bay running up the score here.  I am a bit concerned that the Bears won't score enough to make the over, but it's a calculated risk.
Green Bay Packers 35 Chicago Bears 20
.
BEST PICKS OF THE WEEK
"Yeah!  The Patriots covered the spread!  Woo-hoo!"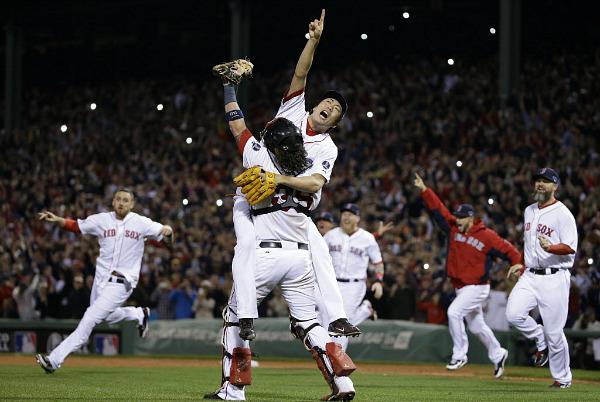 Tennessee (-2.5) @St. Louis (5Dimes)
The Titans get Jake Locker back for this game, while the Rams just played their Super Bowl last week against Seattle – and lost.  I think St. Louis is flat for this game, and while Tennessee as a road favorite may seem a bit of a reach, remember that they were 3-1 when Locker was the QB.  I'll give the points.
Tennessee Titans 21 St. Louis Rams 17
 .
San Diego @Washington o/u 50.5 (MGM Mirage)
Two bad defenses, two good offenses.  You can get burned in these situations sometimes when the game plays out against expectations, but this one should deliver more than enough points to cover the over.
San Diego Chargers 34 Washington Redskins 28
 .
Tampa Bay (+14.5) @Seattle (Bookmaker.eu)
Seattle's offense has struggled a bit recently, but keep in mind that a) they're at home where they trounce people and b) they're playing a Tampa Bay team that has quit on its coach and has given up 31 points three weeks in a row.  Even if the Seahawks offense isn't explosive, you can probably count on 10-14 points out of their defense here.
Seattle Seahawks 27 Tampa Bay Buccaneers 10
 .
Baltimore (-2) @Cleveland (Bookmaker.eu)
There are some serious trends going into this game.  The Ravens haven't won 11 in a row against the Browns.  John Harbaugh is undefeated against the spread coming off a bye.  And this is one of those divisional matchups where the road team always outperforms expectations.  Add in that this is absolutely Baltimore's entire season on the line.  Lose here, and they go from Super Bowl champs to complete irrelevance in two months.  I don't see it happening.
Baltimore Ravens 23 Cleveland Browns 20
 .
Chicago (+10.5) @Green Bay (Las Vegas Hilton)
The Bears have not fared well against Aaron Rodgers, and Jay Cutler has never won a game at Lambeau field.  The Packers are hot right now, and I expect them to stay hot and run it up against a Bears team that is in free fall.
Green Bay Packers 35 Chicago Bears 20
.
.