It's July. You're bored. I'm bored.
And we all know why.
We're bored because we've reached that time of the year where most football fans are awaiting the season with baited breath.
To cure this boredom, let's take a look at some Heisman projections and dark horses.
First, let's take a walk down Heisman history lane
Since 1936, the Heisman Trophy has been awarded 80 times with voting conducted by members of the New York City Downtown Athletic Club. Out of all those years, Archie Griffin of Ohio State has been the lone two-time recipient of the Heisman Trophy (1974 and 1975).
However, since 2000, 13 of the 15 Heisman Trophy winners were quarterbacks. The unique exemptions were a pair of Alabama running backs, Mark Ingram 2009, and Derrick Henry last year. It must be noted, USC running back Reggie Bush did capture the Heisman in 2005. Unfortunately, he was subsequently stripped of that honor due to NCAA rules violations.During that exact time period, combined records of player's teams that captured college football's most prominent individual accolade was 181-23 (.887). There's been no senior to win the trophy since Ohio State quarterback Troy Smith did so in 2006.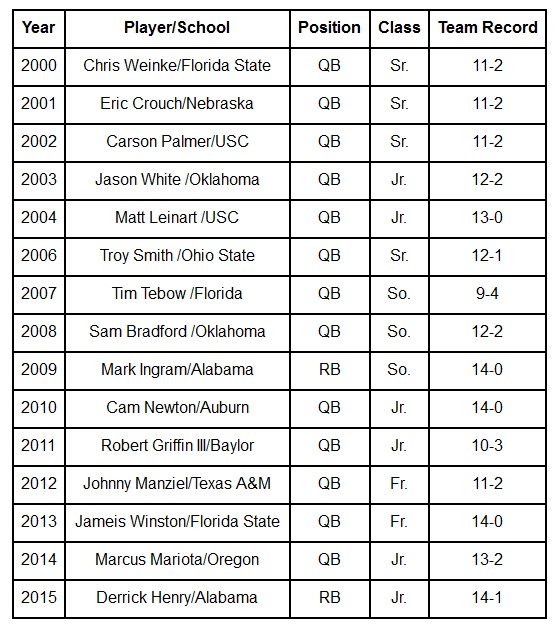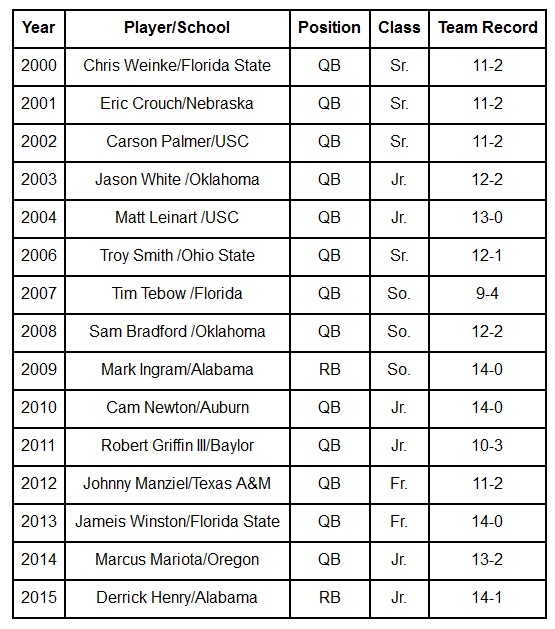 2016 Favorites
According to current (7/13) college football betting odds at The Greek.com, there are five favorites to win the 2016 Heisman Trophy.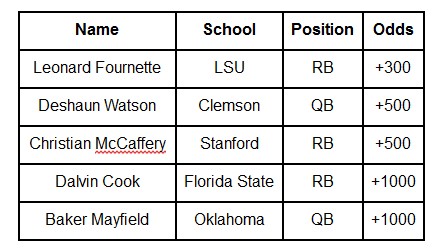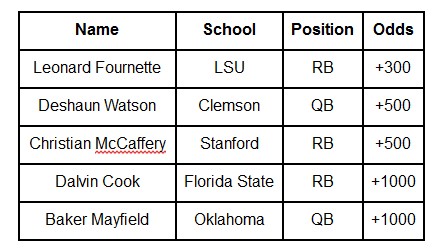 Based on the fact quarterbacks have a high probability of winning in recent years, one of my early college football picks will lean toward that tendency. From a pure physical talent perspective, Deshaun Watson has an edge over Baker Mayfield in that regard, and a majority if not all NFL scouts would concur with that assessment.
Yet it's not always the most physically gifted player or better NFL prospect that wins. Since my one of my initial 2016 college football picks is for Oklahoma and Notre Dame to play for the national championship, Baker Mayfield provides a superb betting value at this particular juncture.
Live Longshots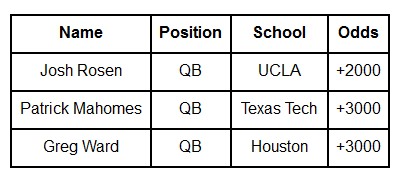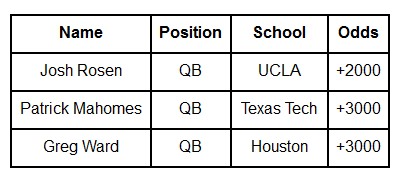 Josh Rosen
The highly thought of UCLA signal caller is coming off a terrific true freshmen year. He threw for 3669 yards, completed 60% of his attempts, and tossed 23 touchdown passes. UCLA is a potential sleeper to reach the college football playoffs, and if that should occur, Rosen's chances of winning would improve dramatically.
Patrick Mahomes
The junior gunslinger took the BIG 12 by storm a season ago. Mahomes threw for a massive 4653 yards and 36 touchdowns. If Texas Tech can somehow come away with 9 wins or more this season, Mahomes figures to be a vital reason as to why. An upset or two against Oklahoma, TCU, or Oklahoma State will help his cause.
Greg Ward
A pleasant surprise from last season were the Houston Cougars. They went 13-1 under first-year head coach Tom Herman. As a matter of fact, when Greg Ward was their starting quarterback, Houston was a perfect 13-0, and that included a bowl game upset win over perennial powerhouse Florida State. Ward had 2828 yards passing, 1108 yards rushing, while accounting for 38 touchdowns with his legs and arm last year. He'll get an early opportunity to showcase his skills in Houston's season opener versus Oklahoma.
Considering any of the Heisman Trophy dark horses as one of your college football picks can potentially produce a substantial return on investment.
Featured image via ‏InsideSoCalSpts