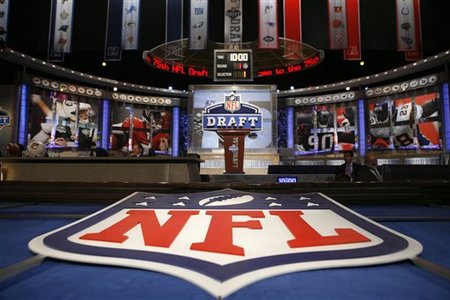 In case you're not aware, the NFL is big business. Its actually such a big business that last year's draft had more viewers than the World Series or any other sport's playoffs, which is impressive to say the least.
The process, by which teams select college players to join their rosters as rookies, has swelled to a three day prime time event, which will take place this year from April 25th to April 27th and will be televised live on ESPN and its affiliates.
Although the draft is big business now, for many years (the first NFL draft actually took place in 1936) it was held in relative obscurity behind closed doors.
All of that changed when a certain fledgling cable network, ESPN, was looking for basically anything to fill airtime, and decided to begin televising the process in the 1980s.  To their shock and pleasant surprise, it quickly drew viewers and became an increasingly popular event.  In 1984, they added a "draft guru," Mel Kiper, Jr., as an analyst and over the years the draft has become such a major sports event that it was moved to prime time and expanded to three days (instead of two).
So what is all the hype about? Continue Reading to find out…
The draft, to a casual observer, can seem interminably boring, with 10 minutes between picks for each team (it used to be 15).  Yet, the draft sparks endless debate and speculation in the weeks and days leading up to it and is a can't miss event for hardcore football fans.
Many people even host draft parties, like Super Bowl parties, where they watch and wait to see who their team will add.  In short, any "real" football fan learns to love the draft as much as the game itself.  With that in mind, here's a quick Q&A to help enhance your appreciation of the NFL draft.
Why is the draft so popular?
The draft is the most important offseason event in football.  And unlike baseball, where young players typically spend several years in the minor leagues before showing up on your favorite team, a first or second round NFL draft pick is (hopefully) a player who will be on the field doing great things the very next season.  A bad draft can set a team back years, while a couple of good draft can turn a last place team into a Super Bowl contender.  With the huge impact injuries and salaries have on the NFL, continually adding young talent is a crucial part of maintaining a successful NFL team.
How does it work?
The teams are seeded based on their prior year's finish (so this year, the Rams, who were the worst team, pick first, while the Saints, the Super Bowl champs, pick last each round).  In the first round, each team has 10 minutes to make their selection.  The time limit is decreased in later rounds.  There are seven rounds in all.
Why does it take so long to pick?  Don't they know who they want?
Yes and No.  All teams have a draft board ranking the players who are left to choose from.  Frequently (especially in the first round), teams may be talking to a potential player's agent to make sure they can get the player to sign a contract once they draft him.  In many cases, teams do not make their pick right away, even if they know who they are going to take, in order to field trade offers from other teams, just in case.
How well does a player's college performance translate to the NFL?
A player's performance in college is only one factor; and in most cases not the most important factor in determining when they will be picked.
So what DO they consider?
It varies by position.  For a quarterback, skill sets like arm strength and accuracy figure heavily in the decision. Other factors include the players performance at the combine, their psych exam, their physical size and team needs.
Hold on, what's a combine?
The NFL scouting combine is a series of workouts over several days.  Almost all eligible draftees attend (the only ones who don't are those who are certain they will be taken with one of the first couple of picks so they could only hurt themselves at the combine with a poor performance).  The drills include the 40 yard dash, the bench press and the shuttle, among other things.
So whoever is best at the combine, they'll be the first ones to go?
Actually, teams have to be careful.  The combine only measures physical performances on workout tests.  A guy can run a bad 40, but if he was a speedster his whole college career, you may want to disregard that.
OK, you tell me, how can you know who will be #1?
Lots of times you can't, but it is a combination of how a player did in college, what kind of teams he played against in college (you play tougher players at a big school like USC than you do at Tennessee Valley State), how you perform at the draft combine, how well you interview, what position you play, and what the individual teams actually need.