What's wrong with the Niners' defense?  They've given up 90 points (30 per game) through the first three weeks of the season.  In 2012 they surrendered over 30 only twice all season and were the third ranked defense in NFL allowing just 17 ppg.
I know the Niners have other problems, like the same old offensive problems they've always had (guess what, Colin Kaepernick isn't some unstoppable force after all), but the reason San Francisco is 1-2 has been their inability to dominate games defensively.
If the only way they can win is to blow by people in a shootout, like they did to Green Bay in week 1, this team will not be going to the playoffs this year.
Hit the title/read more to continue reading…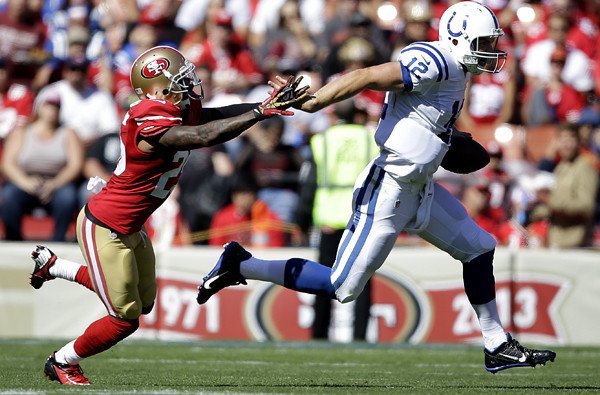 On the surface, Sunday's game between the Bengals and Packers looks like a 34-30 thriller, with huge momentum swings and a tremendous 4th quarter comeback, and I'm sure for fans of the two teams, the game was exciting to watch.  But in reality, this game was a hideous slopfest.
When's the last time the Bengals won a game where they committed four turnovers?  Probably the last time their opponent did also.  The Bengals fumbled the ball 5 times in this game, losing three.  The Packers fumbled twice losing both.  Didn't anyone want to win?
.
This Week's Sucked And Won:  Dolphins pass protectors (MIA).  Despite an outstanding 27-23 win over Atlanta, in which quarterback Ryan Tannehill really showed his maturity and leadership, the Miami o-line won't be high-fiving each other when they watch film of this game, in which they allowed Atlanta's rushers to record five sacks on Tannehill, along with 6 quarterback hits and a myriad of deflected balls.
By beating St. Louis this week, the Dallas Cowboys did something novel.  They won an out of division game, becoming the only NFC East team to do so thus far this season.  For the record, the NFC East is 1-7 in out of division games in 2013.  Don't expect that to improve much.
.
Shocking realization of the week:  Detroit's win over the Redskins this Sunday marked the first time the Detroit franchise has ever beaten them in Washington.  The Redskins moved to Washington in 1937.
How scary-good are the Seattle Seahawks? Right now they are 7th in overall offense and 4th in scoring offense and 2nd in defense and 1st in scoring defense.  Can't score on 'em.  Can't stop 'em.  Clearly the best team in the NFC right now.
.
This Week's Great But Lost:  Philip Rivers, QB (SD).  Rivers went 20-24 for 187 yards and a touchdown, for a rating of 112.5.  If you want to know how his team lost with a performance like that, take a look at the 4th quarter playcalling.  In the fourth quarter, with the Chargers protecting a 17-10 lead, they went super conservative.  Running the ball on 9 out of 10 offensive plays.  I know they were trying to eat clock, but once the Titans got a field goal to make it 17-13, it was time to let Rivers throw the ball to try to go up two scores, or at least widen the lead back to a touchdown.  Instead, the Chargers kept handing it off, and the Titans got the ball back and scored the game winner.
There are plenty of intriguing stories developing around the NFL, but one that hasn't necessarily gotten much attention is the renaissance of Jay Cutler under new coach Mark Trestman.  Through three games Cutler has posted career highs in completion percentage and passer rating, and is on pace to have his second highest yardage total of his career.  He's like a new man running the Bears offense, and the 3-0 start confirms it.
.
Thursday Pick:  San Francisco (-4) @St. Louis (Carbon Sports)
For more sports lines and betting action, click to the web site
Neither of these teams have looked that good early, and the 49ers in particular look like they are in real trouble.  Last season both games between these NFC West rivals went to overtime, with St. Louis winning one and the other ending in a tie.  Sooner or later the 49ers are going to snap out of this funk, but in a short week?  I'm guessing it's later.
St. Louis Rams 23 San Francisco 49ers 21
.
NFYell
"Of course, the only spot was left in the stadium decided to find the football and I couldn't see it.  So I decided to catch the black dot and it worked out pretty well." – Dolphins WR Brian Hartline, on an 18 yard TD catch he made on Sunday.
"We love them, we respect them, but it's something we're just trying to move on and let everybody know that we still could be a great D without those two guys." – Ravens CB Lardarius Webb, on the Ravens' defensive mindset without longtime mainstays Ed Reed and Ray Lewis on the team.
"L's.  Trust me I was looking.  Especially after they took me out of the game, I started looking at the scores.  I seen San Francisco lose.  I was excited about that." – Seahawks S Earl Thomas, on his scoreboard watching in the second half of Seattle's game with Jacksonville.  The Seahawks pulled their starters in the third quarter of the blowout.
"Right now we don't look so much like a team…We're participating in games instead of going out there and taking over games." – Giants S Antrel Rolle, on the Giants' disappointing start.
"You see what he can do.  I don't even know too many people who can do that in Madden.  It's pretty cool to have a quarterback like that." – Broncos RB Ronnie Hillman, on Peyton Manning.
"It was all just pressure everywhere.  When you're part of a D-line like that, I mean, it's a party." – Saints DE Cameron Jordan, who had 2 of the Saints' 4 sacks on Sunday vs. the Cardinals.
"You can question just about everything right now." – 49ers coach Jim Harbaugh, on his team's 1-2 start.
"Yeah, I'm upset because of this.  This day, the 20 penalties and all that…I know we can get this fixed.  And that's kind of what excites me.  How good can this team be when we eliminate those?" – Jets coach Rex Ryan, on his team's very sloppy performance in a win over Buffalo.