You know what's been missing so far this NFL season?  A true Clash Of The Titans-type game that any football fan would want to see.
Week 2 had a couple of potentially nice looking games on paper, but Dallas-Philadelphia was pretty much unwatchable, New England-Buffalo was a blowout and Green Bay-Seattle fell far short of what you might have expected from two teams of that caliber.   Unexpected poor starts from usually perennial good teams also served to spoil subsequent matchups.
Was anyone waiting with baited breath for Week 4's Pittsburgh vs. Baltimore snore-fest?
But this week, there was finally a game that looked great both on paper and delivered thrills on the field as well.  Unbeaten but underrated Cincinnati, known mostly for losing in the playoffs, but holding a substantial home field advantage, hosting two-time NFC champion Seattle, resurgent following a weak start, and needing a win to keep pace in the NFC.
Week 5 in the NFL was the best week yet, and it was highlighted by the Cincinnati Bengals vs. Seattle Seahawks slugfest on Sunday afternoon.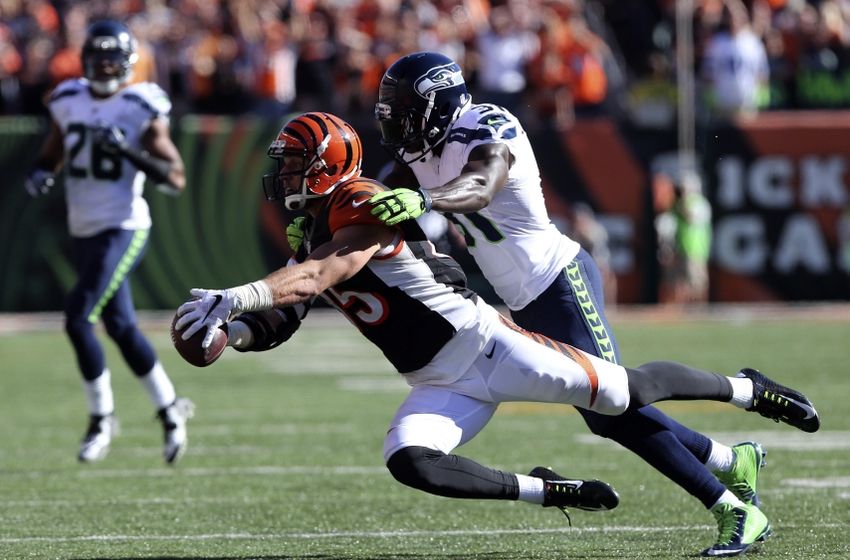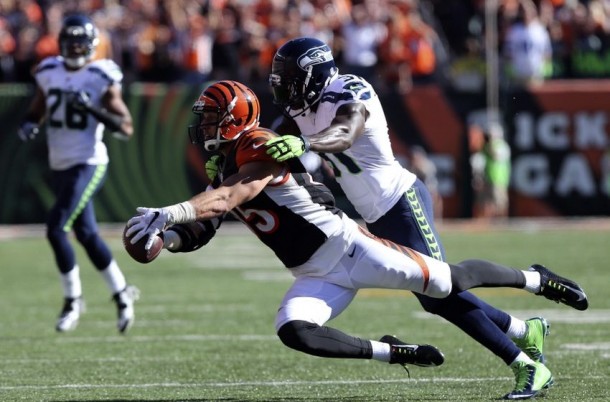 The teams traded touchdowns in the first quarter, the Bengals scoring on a 14-yard pass from Andy Dalton to emerging star tight end Tyler Eifert. Seattle answered with a 30-yard touchdown from Russell Wilson to Jermaine Kearse.
Then the defenses took over, as the teams traded punts four times in succession.  With eight minutes to go in the first half, the Bengals then went on the move, advancing from their own 32-yard line to the Seahawks 23, twice aided by penalties on the Seattle defense.  At the two minute warning, the Bengals had the ball in field goal range, and plenty of time to try for a touchdown before settling for three points.
But Dalton got intercepted by safety Earl Thomas at the 1-yard line.
An exhilarating 68-yard return was nullified by an unnecessary roughness penalty, but Seattle nonetheless took over at its own 18, with a little less than a minute to go before halftime, and they cashed in.  The Seahawks went on a seven-play, 76-yard drive, ending with a 24-yard field goal to end the first half with a modest 10-7 lead.
Seattle owned the third quarter, scoring twice in roughly two minutes, first on a 69-yard touchdown run by Thomas Rawls, who overall gamely compiled 169 yards on 23 carries, a 7.3 yards per carry average, in relief of the injured Marshawn Lynch.  On the very next possession, Seattle's Bobby Wagner scooped up a Bengals fumble and returned it 23 yards for a touchdown.
As the curtain closed on the third quarter, this game looked very much like another disappointment, with Seattle firmly in control 24-7.
But if you were wondering if these Bengals were just the same old Bengals, the answer would almost have to be no.  Facing one of the most fearsome defenses in the NFL, Cincinnati went to work.  Taking advantage of great field possession courtesy of a 35-yard Adam Jones punt return, Cincinnati capped off a four-play, 33-yard drive when Dalton once again found Tyler Eifert in the end zone for a 10-yard touchdown.
Credit the Cincinnati defense for slamming the door to allow the Bengals comeback:  following the fumble return for a touchdown, every Seattle offensive possession (six in all!) ended with a punt.  Notwithstanding the Seahawks offensive woes, they still had a two score lead in the fourth quarter: typically more than enough for their defense to ensure a win.
But with just under 10 minutes left in the game, the Bengals marched more than 70 yards in just under six minutes, ending the drive with what, for me, was the play of the game: on second and goal at the 5-yard line, with the clock running and Cincinnati needing a touchdown, Andy Dalton called his own number, running a quarterback draw right up the middle for a five yard score, emphasized by a healthy spike of the football as he ran into the end zone untouched.
This was a gutsy play for a quarterback to call, especially considering that if it wasn't successful the clock would continue to run.
On the Bengals final offensive possession in regulation, trailing at this point 24-21, the Seahawks once again shot themselves in the foot with a defensive penalty, this time a pass interference call that put them in field goal range.  Five plays later Mike Nugent kicked a 31-yard game tying field goal as time expired.
This seemed to truly knock the wind out of the Seahawks, and Cincinnati controlled the ball and field position in overtime, scoring the winning 42-yard field goal on their second possession.
Bengals win 27-24, but the real winners were fans who got to watch this epic battle between two of the NFL's best.  Yes, continue to count the Seahawks in that category despite their troubles.
Remember, this season, it is going to take a very special team to go into Bengals country and emerge with a win.