I tend to avoid sounding like some know-it-all who says "I could do a better job than that stupid GM," but this year's NFL draft had so many head-scratchers, it almost makes me feel like I COULD do a better job than some of these guys.
Naturally, the proof will be in the pudding, and if some big reach turns out to be a Hall of Famer, then he wasn't such a reach after all, but in the light of day, and before 20/20 hindsight kicks in, a lot of these drafts made little sense to me.
Of course, for every bad move, there was a corresponding great move, and some teams had a banner weekend…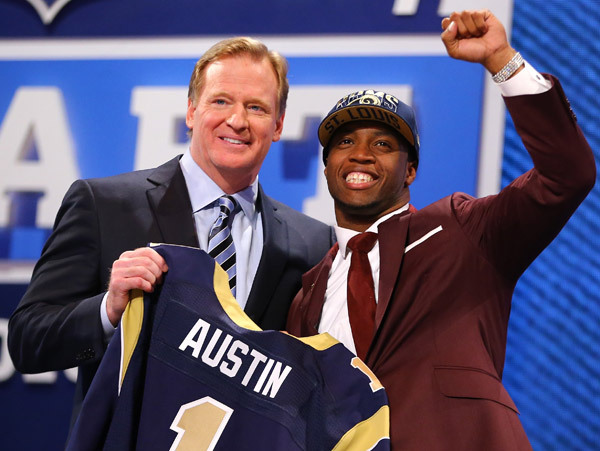 The As
New Orleans Saints – The Saints' awful defense gets a couple of huge shots in the arm here, and their two steals in the third round were like a major F*ck you to the hubris of the NFL (for forfeiting their second rounder).  The Saints undeniably got better this weekend.  (A)
Baltimore Ravens – Ray Lewis and Ed Reed out, Matt Elam and Arthur Brown in.  Could it really be that simple?  Baltimore went defense, defense, defense and got a score of great prospects in the early rounds.  Watch this team not even miss a beat.  (A)
St. Louis Rams – I love what the Rams did in the first round, moving up to take game-breaker Tavon Austin and then standing pat and letting coveted LB Alec Ogletree fall to them at the bottom of the round.  When you consider what the Rams had already done in free agency and add their draft loot to it, this is a team that is going to give people trouble next year.  (A-)
Pittsburgh Steelers – I considered Jarvis Jones a big risk right up until the point when the Steelers took him and then I found myself sitting there with my mouth half open going "of course, of course, it all makes sense now."  Is there any doubt this guy is going to be a monster for Pittsburgh just like James Harrison was?  I'm not a big fan of picking LeVeon Bell over some of the RBs who were available in the second, but other than that, this was a great draft for Pittsburgh. (A-)
Minnesota Vikings – Standing pat worked for the Vikes as Sharif Floyd and Xavier Rhodes fell right into their laps at the bottom of the first.  Then they got greedy and traded back up into the first to take Cordarrelle Patterson.  Maybe that was foolhardy, but I admire balls.  (A-)
Houston Texans – How long have we been waiting for Houston to put a good receiver on the other side of Andre Johnson?  Well they did it in a big way now with DeAndre Hopkins, and they got a nice pick at safety in the second round as well.  (A-)
Atlanta Falcons – Another team with an underrated draft.  I always endorse a good team that has one pressing need making multiple picks to fill it, and selecting Desmond Trufant and Robert Alford with their first two selections is smart and good value for the Falcons.  Top to bottom they didn't make one bad pick.  (A-)
The Bs
Cincinnati Bengals – Watch out for the Bengals.  They just added a blue chip tight end prospect and depth at running back with their first two picks.  This team was already good, and they made a conscious choice to ignore "runs" and go for talent while it was available.  I'm betting it pays off.  (B+)
Carolina Panthers – Getting Star Lotulelei at #14 is almost an A grade all by itself.  Carolina took two DTs with their first two picks, which makes perfect sense given how atrocious their defense was the last two years.  A better showing in the late rounds would have made this grade an A.  (B+).
Green Bay Packers – No one's talking about the Packers' draft, but it was a consistent marriage of need and value, pick after pick.  Smart but not sexy still gets the job done.  (B+)
Tennessee Titans – The Titans had a very underrated draft.  Chance Warmack is one of those players that is gonna be great, so who cares if he's a guard taken at #10.  Justin Hunter was great value in round #2, and the Titans made several more picks in the later rounds that could well produce 2013 starters for their football team.  (B+)
Detroit Lions – The Lions had a very solid draft.  They got need players at or above value with their first four selections.  (B+)
Arizona – Taking a guard #7 overall would normally be a bonehead move, but the huge run on offensive lineman meant take 'em early or miss out.  And the rest of the Cardinals draft was very solid.  This team got a LOT better on defense.  (B)
Denver – I like the Broncos first round pick of Sylvester Williams, but I'm no fan of Wisconsin RBs, so I'm lukewarm about Monte Ball in the second.  Also, keep an eye on Zac Dysert, taken all the way at the bottom of Denver's draft.  He could turn out to be a player. (B)
Oakland – The Raiders' trade-down in round 1 was a smart one, and top to bottom this was a solid draft for them.  They still have holes, but this team needed more help than they were gonna get in just one draft.  (B)
New York Jets – I mostly like what the Jets did here.  They did a good job targeting need in the first round and then got terrific value to get Geno Smith in the second.  Failure to upgrade their skill positions keeps this grade from being any higher. (B)
Philadelphia – I'm completely confused by the Eagles.  I wasn't thrilled with Lane Johnson, the third best tackle, with the fourth pick overall, but in hindsight the big run on offensive lineman makes this a solid pick.  The same is true for Zac Ertz with their second choice.  Bennie Logan and Matt Barkley were both decent value picks after that, but neither of them fits what we all think Chip Kelly is going to run in Philadelphia, so either we don't know what Kelly's doing, or Kelly doesn't know what he's doing.  (B-)
San Diego – What happens when you have an insane run on o-linemen in the first round?  You take DJ Fluker #11.  That's a bad reach, but you understand why San Diego had to do it.  I like Manti Te'o to the Chargers, where I think he might flourish, and Kennan Allen was a steal.  Not a great draft, but not terrible either.  (B-)
Chicago Bears – Taking Kyle Long in the first round was yet another product of the crazy run on offensive lineman, and the Bears just HAD to get better there.  Overall, the Bears made some solid picks and the only area I thought they'd address which they didn't was the secondary.  (B-)
The Cs
San Francisco – Everyone is raving about the 49ers' draft, but I completely don't see it.  Eric Reid was a reach at #18, and although Cornelius Carradine was a very nice second round pick, overall the 49ers' draft did not really impress me that much.  I don't think this team is appreciably better than it was last year.  (C+)
New York Giants – Justin Pugh was a dreadful reach at #19, but the Giants made consistently decent picks after that.  I have a feeling this grade will be better with 20/20 hindsight.  (C+)
Tampa Bay – The Bucs traded their first rounder for Darrelle Revis, and how that deal turns out will largely be the story of their draft.  Getting Jonathan Banks in the second to pair with Revis is a nice touch, however.  I'm not a fan of where they took Mike Glennon, especially for a team that needed help right now.  (C+).
Seattle – The Seahawks had a bottom-loaded draft, where most of the picks are hit or miss.  I like the Christine Michael and Jessie Williams picks, and the law of averages suggests that Seattle probably found some talent with all those late rounders. (C+)
Miami – The Dolphins made a big splash to move up and take Dion Jordan.  I'm not in love with Dion Jordan, so that move isn't looking too hot for me, and Miami left themselves with a hole at offensive tackle they never got to fill.  That said, Jordan could be a monster, which will make the Dolphins look like super-geniuses.  I also really like the pick of Jamar Taylor in the second, so we'll see how this shakes out. (C+)
Jacksonville – Luke Joeckel wasn't a sexy pick to make, but it was a smart one.  I also like the addition of Jonathan Cyprien at a need position with their second choice, but after that Jacksonville's draft was a head scratcher.  There were several reaches, and who is going play QB for this team? (C+)
Washington – Everyone knew the Redskins wouldn't have much of a draft after the deal to get RGIII last year, and they didn't.  I thought they got a couple of very good value picks in Phillip Thomas and Baccari Rambo, so at least it wasn't a total loss.  (C)
Kansas City – I consider Eric Fisher a bit of a risk at #1 overall, and the rest of the Chiefs' draft was completely underwhelming.  They needed a better second day to raise this grade.  (C)
Indianapolis – This was a humdrum draft for the Colts.  Bjoern Werner was not my favorite D-line prospect, and he doesn't fit their system either.  I felt like there were a lot of opportunities the Colts passed on in this draft.  (C)
Buffalo – I'm no EJ Manuel fan, so the Bills' first round was a loss for me.  At least they traded down first.  I like adding Robert Woods to the receiver corps, but the rest of their draft was underwhelming, and I think the Bills left themselves with a bunch of unmet needs.  (C)
Cleveland – The Browns didn't have a lot of picks in this draft, and their one big impact selection was too much of a reach at #6.  This team comes out of the draft likely no better than when they went in.  (C-)
Ds and Fs
Dallas – Dallas traded down in the first round.  If they had planning to take Travis Frederick all along, they could have traded OUT of the first round.  Their first two picks in this draft were bad reaches, and they left plenty of better talent on the board to make them.  A good day 3 keeps them from getting an F.  (D)
New England – Law of averages?  The Pats have outsmarted the rest of the NFL for a decade, so I guess they were due to get snookered finally.  This was an abysmal offseason for New England.  I think the Dark Angel has finally abandoned his acolyte Bill Belichick. (F)
Still need to satisfy your draft-jones?  Check out Elway to Marino this month.  One of the better 30 for 30 series docs on ESPN, this one gives you an incredibly prescient view behind the scenes of one of the most notorious drafts in NFL history, the legendary 1983 class.