For a while, until some of the unexpected stars emerge from this draft, anyway, the evaluation of it will focus on Clowney and Mack, Sammy Watkins and the quarterbacks. That's until someone emerges as a big star. Maybe Louis Nix will be just as big a star for the Texans as Jadeveon Clowney or, for that matter, JJ Watt.  Maybe Carlos Hyde will gain 1800 yards from scrimmage as a rookie.  Maybe some defensive back who got taken in round 5 will lead the league in interceptions.  And then part of the evaluation of the draft will be about them. But it will never completely focus away from the razzle dazzle trading of the Cleveland Browns and a number of other intriguing moves on day 1.
Draft grades aren't fool proof, obviously, and sportsbook review sites' oddsmakers are already listing the new draft hopefuls. But the real grades will be had when players boom or bust once they're on the field.  In the meantime, the enormous second-guess industry that is NFL Draft coverage demands that grades be awarded.
The As
Denver Broncos – Sometimes what's special is how much you can accomplish with so little.  Despite picking next the last, the Broncos got two potential stars in Bradley Roby and Cody Lattimer and addressed additional needs on their interior offensive line and at linebacker.  Love the Broncos draft.  (A)
Mark it down:  the Broncos scored late with Bradley Roby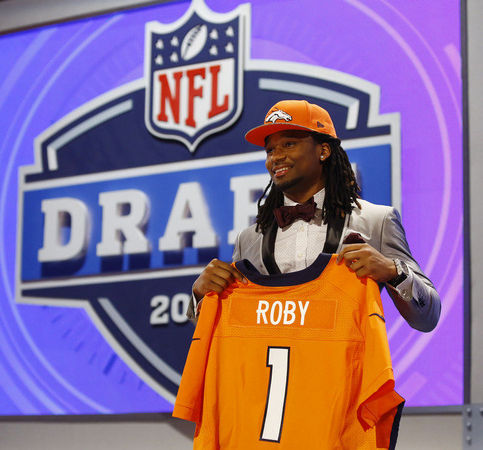 Oakland Raiders – Every year there's one team that just stands pat and has good things fall right into their laps.  Enter the Raiders, who get Khalil Mack at #5, then get Derek Carr in the second round and much needed o-line help in the third.  The Raiders got potential starters for their team with their first five picks, and addressed needs in every round.  This team got better, and that's the whole point isn't it? (A)
Pittsburgh Steelers – I really like what the Steelers have done here.  They get two good value/quality players for their defense, then get two potentially lethal offensive weapons in Dri Archer and Martavis Bryant – both of whom could turn out to be mid round steals – just wait and see.  To top it off, Shaquille Richardson and Daniel McCullers could be late sleepers for their defense as well.  They could have used more help on the o-line, but you can't have everything.  (A-)
Cleveland Browns – You have to love Cleveland's boldness, moving around the first round like a prize fighter.  In the end, they come out with the top corner in the draft to pair with Joe Haden, an extra first round pick next year, and the quarterback everyone said they should get all along.  Failing to add the receiver help they need keeps this from being an A+.  (A-)
We're all perverse, watching this guy sit and squirm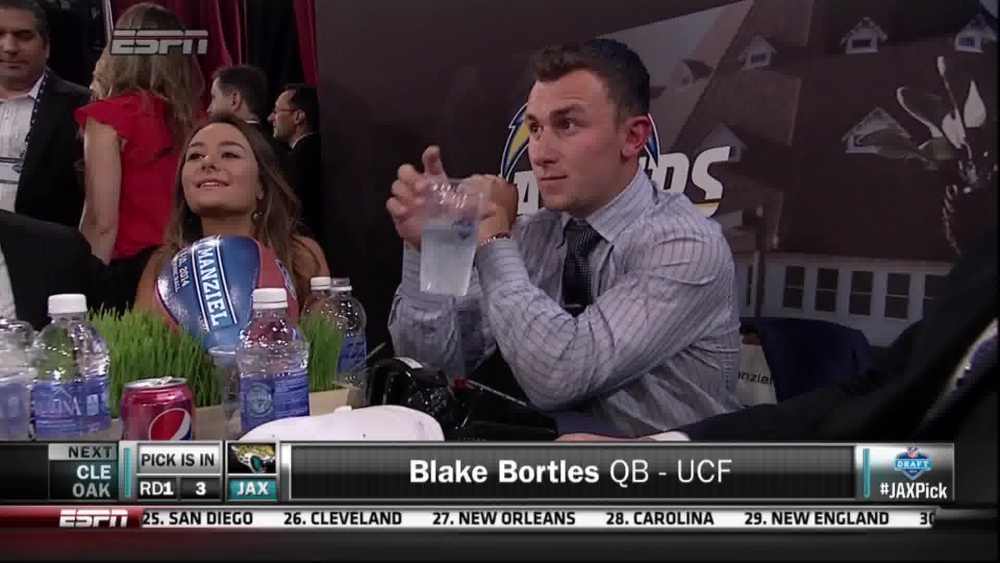 Houston Texans – Anytime you build from the lines, you're helping your team, and the Texans addressed both sides of the ball.  This grade gets elevated to A level because they were able to score a second tier quarterback prospect on day 3, in addition to stocking up on the big guys. (A-)
The Bs
Minnesota Vikings – The Vikings had a draft somewhat similar to the Texans – they were able to score Teddy Bridgewater by trading back up into the first round, while loading up on o-line and defensive picks the rest of the time.  At best, they've added starters at multiple positions.  At worst, they've added depth almost everywhere. (B+)
New Orleans Saints – I had the Saints with an A- after their first two picks, but subsequent efforts to bolster the defense had them reaching a bit in the middle rounds.  Still a great draft, and Brandin Cooks could be the pick we're all talking about in the late fall.  (B+)
San Francisco 49ers – Similar to the Saints, I had the 49ers with an A after their early picks, but there's no excuse to leave needs unaddressed when you have 12 picks in one draft.  (B+)
NY Jets – the Jets' draft was a roller coaster.  I really liked their early picks, but in the middle rounds they started reaching for players.  They got a potential steal (or two) at the very end of the draft, however.  (B)
Chicago Bears – The Bears needed help on the defensive side of the ball and they went out and got it, using four of their first five picks to upgrade their stop unit.  (B)
San Diego Chargers – Like the Bears, the Chargers came in needing defense and I really love Jason Verrett, Jeremiah Attaochu and Ryan Carrethers.  I think all three will stick.  (B)
Carolina Panthers – Kelvin Benjamin and Kony Ealy are good picks, but the Panthers needed more receiver help and I'm surprised they never came back to this position later, especially in a draft deep at receiver. (B-)
Tennessee Titans – I'm not as down on the Titans draft as some people.  I think they came in and took the best players available, so although they could have used more defensive help than they got, they did get value. (B-)
St. Louis Rams – The Rams o-line needed Greg Robinson.  Their d-line didn't need Aaron Donald, but adding him to an already good unit could make them downright scary. After that, the Rams' draft was a bit of a yawn.  I think they may regret passing on Sammy Watkins.  (B-)
Jacksonville Jaguars – This is tough, because the Jags clearly needed a QB and I can't completely condemn them just because I don't like the one they took.  I like the Marqise Lee pick in the second, but why come back to receiver again with Allen Robinson and move up for offensive line help you could have gotten by staying put anyway?  A mixed bag here, but ultimately this draft grade will be only about Bortles.  If he's great, no one is going to complain that they took him #3, or they could have taken someone else. (B-)
The Cs
Buffalo Bills – Love Sammy Watkins, but hate trading next year's #1 to move up to get him.  Watkins needs to be all-world to make this trade worth it.  (C+)
At what cost?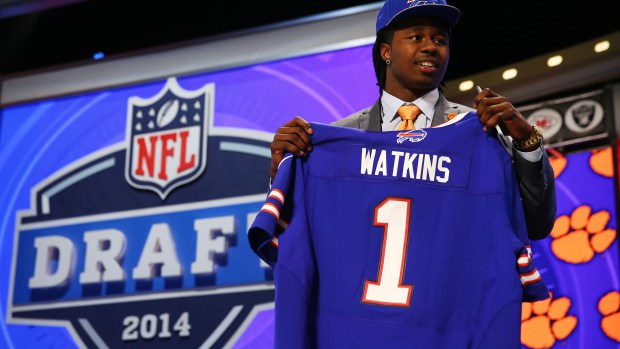 Atlanta Falcons – I don't think anyone is criticizing the Falcons for taking Jake Matthews at #6, and scoring with a top 10 pick is crucial, but they didn't do much after that in terms of addressing needs or getting value with their picks.  The draft is more than one round long.  (C+)
Detroit Lions – I like Eric Ebron a lot more than most people, but anyone could see that the Lions' one glaring need was in their secondary and they failed to address that.  (C+)
Tampa Bay Buccaneers – I like that the Bucs added some good offensive weapons early, but once they did they should have changed gears and looked for some defensive help too.  They also reached for the additional players they took, so overall this is a team that failed to address needs or get good value.  Their top two picks were solid.  The rest, not so much. (C+)
Cincinnati Bengals – I really like Darqueze Dennard and their later round pick of Russell Bodine.  I suppose a big factor in whether you grade the Bengals higher here is how much you like Jeremy Hill and A.J. McCarron.  For me the answer is not all that much. (C+)
Kansas City – I like the Chiefs second and third picks, Phillip Gaines and De'Anthony Thomas, a lot more than Dee Ford, their first round choice.  (C)
New York Giants – I'm not sure why Odell Beckham's stock suddenly leapfrogged the other receivers, but I don't like the pick that high, and I don't like the Giants going receiver in the first round when this was a deep WR draft.  Meanwhile, New York needed help on both lines which it did not get. (C)
Green Bay Packers – I don't think this team got as much help on defense as it needed.  To be honest, I'm not a huge fan of Ha Ha Clinton-Dix, so I guess we'll have to wait and see how that pick pans out. (C)
Baltimore Ravens – Do these players actually fit Baltimore's scheme?  It doesn't look like it.  It also looks like a glaring need on the o-line. (C)
Dallas Cowboys – The Cowboys got a good player in the first round and they did need o-line help, but they needed defensive help more, and they squandered a third round pick to move up when they didn't have to in the second.  They did not get enough out of this draft.  (C-)
Miami Dolphins – Maybe I'm being generous here, but at least the Dolphins recognized that they needed to add a couple of good o-line prospects and they did that.  As for the rest, they did not get good value. (C-)
Indianapolis Colts – I don't know if I like even one pick the Colts made.  I felt like they needed defensive help more than offensive line help.  I'm not sure they got either one. (C-)
Seattle Seahawks – I don't think Paul Richardson is going to pan out, but I could, of course be wrong.  When I compare Seattle's draft to the other teams picking at the bottom, San Francisco and Denver, the Seahawks come up way short.  (C-)
Arizona Cardinals – I like a few of the Cardinals' picks, but they reached in the first and a few other times as well, and overall I only really like their pick of Troy Niklas.  They needed more.  (C-)
Ds and Fs
New England Patriots – The only way to look at the Patriots' draft and not gag a bit is if you are falling down in love with Jimmy Garoppolo.  I mildly like Garoppolo, but that's it.  This is kind of surprising, as this team usually excels in the draft.  (D)
Washington Redskins – Your defense is THIS bad and you spend your first three picks on offensive line help and the ONE area of your defense where you're already set?  (D)
Philadelphia Eagles – They reach for defensive line help in the first round, then in the third make a HUGE reach for one of Chip Kelly's teacher's pets from Oregon, and at a position they'd already addressed.  Meanwhile, the league's worst pass defense gets no defensive backfield help.  Yikes.  I guess we're seeing why the NFC East is a terrible division as the four teams in it have gotten four of the worst draft grades.  (F)
In your face arrogance and nepotism?  Chip Kelly might as well be Andy Reid.