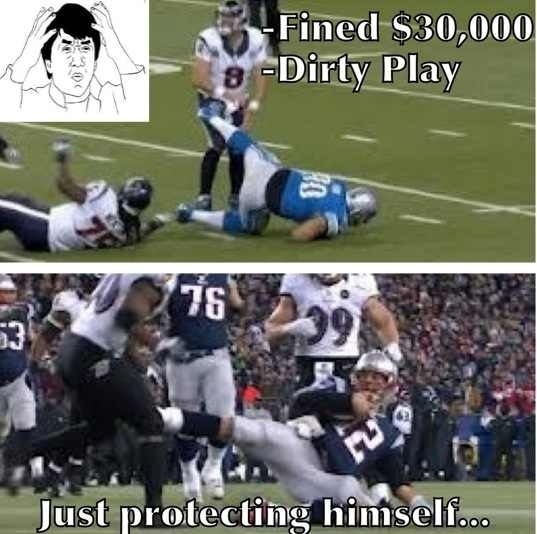 During Sunday night's epic AFC Championship rematch, Patriots QB Tom Brady ran with the ball and slid to avoid being tackled. While this sounds like a routine play, we left out one important detail; Brady lifted his leg and kicked veteran Ravens defensive legend, Ed Reed. Brady was not penalized for this action but some think that Brady should be punished by the NFL.
One of those people who think Brady should be penalized is Raven's Strong Safety, Benard Pollard.
"When you slide, obviously quarterbacks know when they slide, everything is on the ground," Pollard said Monday at Ravens team headquarters the day after a 28-13 AFC title game victory over the Patriots. "He knew what he was doing. So, I'm the type of player it has to go both ways. It really does. It has to go both ways. Hopefully, the NFL will do something about it. If they don't, that's fine. If they do, that's fine.

"I think for me as a player we all know emotions are on the field. We're going to say things. We're going to do things, but, when it's all said and done, if you want to keep the game clean, if you want to keep this thing going in the right direction, everybody needs to be penalized for their actions."
Pollard is absolutely right. Brady is known around the league as the QB who gets the slightest tap on the head called as "roughing the passer" so the fact that he can slide and simultaneously try to take out another player who he knows can't lay on a finger on him, is nothing short of bush leagued.
Now, while Brady amazes me with his on the field talent and I'm well aware any franchise would love to have him, there's still no reason why one of the most protected QB's in the league should be immune from the suffered in late November for his "was it intentional or unintentional" kick on Matt Schaub.
While some would argue that Suh has a history of questionable behavior, I would like to point out that Suh couldn't see where he was kicking, while he was getting tackled by a Texans player.
On the other hand, Brady clearly sees Ed f*cking Reed heading his way and as scarey as that might sound, Brady lifts his leg up to intentionally kick a defenseless player. Which is why I would make a strong case that Brady should be fined the same as Suh, regardless of the history.
But according to the NFL Fines Schedule of 2012 "a first violation of "striking/kicking/kneeing" an opponent calls for a fine of $7,875, while a second offense would run a player $15,750.". So while it's unlikely Brady will receive a high fine, if one at all, a message from the league should still be sent.
The NFL needs to put to rest the notion of only protecting the offensive players on the field. Bush league shots like Brady took on Reed should be punished as equally as if the situation was reversed.
Still not sure if the kick was BS? Take a look and let us know in the comments of what you think should happen…
image source SwoBoman87