In my week 4 preview, I predicted the Seahawks to lose their game in Houston this week, ending with a rhetorical "Do people think they're gonna go 16-0?"  Maybe now they do.
Trailing 20-3 at the half, Seattle's defense completely clamped down on the Texans, shutting them out for the remainder of the game, including overtime, to allow the Seahawks to escape with a 23-20 victory.
Remember, Seattle is known for their tremendous home field advantage, not for being road warriors.  After this week, they're known for both.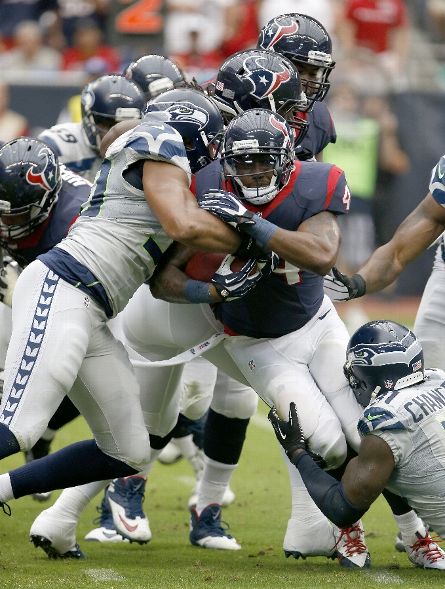 One of the reasons for the Chiefs' early success has been the play of their defense, highlighted by massive (6'3", 346 lb.) defensive tackle Dontari Poe.
One of the ironies of this is that Poe is the exact type of player that current Chiefs coach Andy Reid never went for while he was in Philadelphia, favoring smaller, quicker linemen over big bodies who could stuff the line.
Turns out, Poe is more athletic than people projected him to be, and he not only plugs holes to disrupt the opposing running game, but also has 3.5 sacks through 4 games, applying invalue QB pressure up the middle.
.
This Week's Sucked And Won:  E.J. Manuel, QB (BUF).  Great win for the Bills, but not so for their young QB.  Manuel went 10-22, completing less than 50% of his passes, for just 167 yards and 1 touchdown against 2 interceptions, posting a rating of 48.9.  He also carried 11 times for 1 yard, fumbling twice.  Good thing his counterpart, Joe Flacco, threw five interceptions or the Bills never could have pulled off the upset.
Sometimes a change can do you good.  Cleveland is 2-0 since installing Brian Hoyer at quarterback.  Minnesota won their first game of the season once Matt Cassel took over for the injured Christian Ponder.  But don't expect to see the Giants benching Eli for Curtis Painter or the Steelers trying out Bruce Gradkowski.  After all, it doesn't always work.  Tampa went with rookie Mike Glennon this week and they still lost.
.
Shocking realization of the week:  The Cleveland Browns have more wins than the Pittsburgh Steelers, Green Bay Packers and New York Giants combined.  More shocking?  They got all of those wins AFTER they traded their best player.
Some NFL teams have been able to shed their old images in favor of something better.  New England, New Orleans and Indianapolis were all teams that were viewed as offensive powerhouses, but with weak defenses.  This season, their 4th, 5th & 6th in the league in points allowed per game.
.
This Week's Great But Lost:  Tony Romo, QB (DAL).  27 for 37.  244 yards.  2 Touchdowns.  No Picks.  Romo takes heat all the time when Dallas loses, but he shouldn't this week.
In order to motivate his team to avoid a letdown against the Jaguars this week, Colts coach Chuck Pagano had mousetraps placed in the locker room as a reminder not to let up.  Apparently it worked.  The Colts won 37-3.
What does Reggie Bush mean to the Lions?  In the two games Bush has played, Detroit has scored 74 points.  In the two he missed (and one of those was against Washington, an awful defensive team), the Lions managed only 48 points.
.
Thursday Pick:  Buffalo (+4.5) @Cleveland (Las Vegas Hilton)
Hmm, what to make of the Cleveland Browns.  Make that the first place Cleveland Browns.  They've obviously gotten a lift from Brian Hoyer at QB, but Hoyer hasn't lit the league on fire. Instead, Cleveland wins games with their defense, which is top 10 in both rushing and passing yards allowed.  The Buffalo Bills come to town coming off a similarly surprising win to the Browns' downing of Cincinnati.  Can the Browns actually win three in a row?  Maybe, but the 4.5 points looks appetizing.
Cleveland Browns 21 Buffalo Bills 19
.
NFYell
"Might have to give Thunder an IV after that one." – Broncos QB Peyton Manning, on Denver's mascot who does a victory trot after every Broncos touchdown.  Denver set a franchise record with 52 points scored on Sunday.
"We don't need to learn from any more mistakes.  We've got to fix them." – Jets coach Rex Ryan, after his team had yet another mistake-laden performance featuring 10 penalties and four turnovers.
"We felt like we had to run our offense to get it out of there.  In retrospect, would you like to have run something different? Sure. When it works, you're happy and you win the game. And when it doesn't, you say, 'I wish we would have done something different.'" – Buccaneers coach Greg Schiano, on his decision to throw the ball when his team had a lead with just over three minutes to play.
"It was an improvement over last week." – Giants coach Tom Coughlin, referring to his team's effort, albeit not the outcome, in their 31-7 loss to Kansas City.
"I think that's a sign of respect when you get a team runs the ball as well as they do and they only ran the ball twice in the second half.  You gotta give a lot of credit to the guys up front. I think they've earned that respect." – Bills safety Jim Leonhard, on the Ravens' abandoning their ground game in the second half.
"Those who don't ain't going to be a part of this.  Whoever it may be." – Steelers coach Mike Tomlin, on whether his players will buy in to the job of turning around a disastrous 0-4 season.