This is probably the NFC's toughest division, with two legitimate Super Bowl contenders at the top, and two teams that would win the NFC East on the bottom.
Predicted Finish
Seattle Seahawks (12-4) (1st seed; NFC Championship Game)
San Francisco 49ers (11-5) (5th seed; NFC Divisional Round)
Arizona Cardinals (8-8)
St. Louis Rams (7-9)
Hit the title/continue reading to read more. . .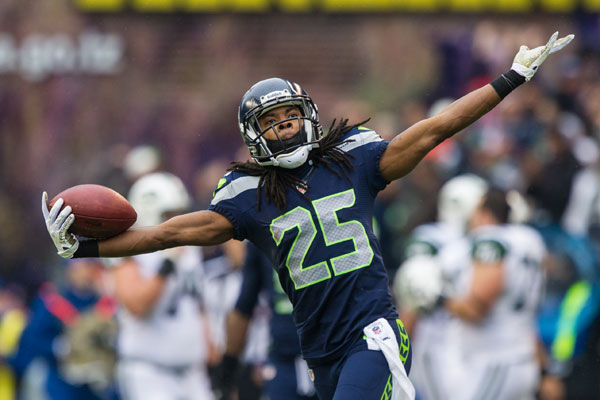 The Seattle Seahawks had a great 2012 thanks to the surprising emergence of rookie quarterback Russell Wilson and a great defense.  So in the offseason, they added a legitimate home run threat to their offense in the form of Percy Harvin and beefed up the defense even more.
The Seahawks have gone all in to make a run at a title in 2013, and I think their moves are going to pay off.
The San Francisco 49ers came oh so close in 2012, but I'm expecting a minor drop off in 2013.  The nearly unstoppable read-option offense they ran in 2012 won't be as effective in 2013, and eventually having no weapons for Colin Kaepernick to throw to is going to catch up to them.
On defense the Niners are as good as ever, with a solid unit highlighted by top level playmakers like Justin Smith, Aldon Smith and Patrick Willis.  This is a legitimate Super Bowl contender again this year.
Arizona hopes they've answered the quarterback question by acquiring Carson Palmer and he's a decided upgrade over the collection of backups who started for the Cardinals last year.
New coach Bruce Arians was, likewise, a smart hire who should help the Cardinals on that side of the ball.
The Cardinals should also be improved on defense, where injuries ruined a strong 2012 start.  In another division, Arizona would contend.  In this one. . .it'll be tough.
How could the Rams still be building in 2013.  Wasn't it 2010 when they drafted Sam Bradford first overall?  In any case, St. Louis continues to add pieces around Bradford, and while they're still not done, the offense continues to look better each year.
Similarly, the Rams defense really emerged in 2012 (but was overshadowed by the elite units in San Fran and Seattle).  The Rams are a team on the rise in a loaded division – sort of like the Browns, only St. Louis is better than the Browns.
Games to Watch
Week 1 – Green Bay @San Francisco:  Are the NFL schedule makers pulling our chain?  This was last year's week 1 matchup too, but you have to admit, it's a doozy that features two of the NFC's best teams.
Week 8 – Seattle @St. Louis:  If the Seahawks are a legitimate Super Bowl contender, they'll roll against a divisional opponent like this, even on the road.  If the Rams are legit at all, they'll give Seattle hell in their own building.
Week 8 – Atlanta @Arizona:  This game is in the middle of a mid-season stretch against playoff level competition that will likely make or break the Cardinals 2013 campaign.
Week 14 – Seattle @San Francisco:  A game with more divisional and playoff implications than any other.