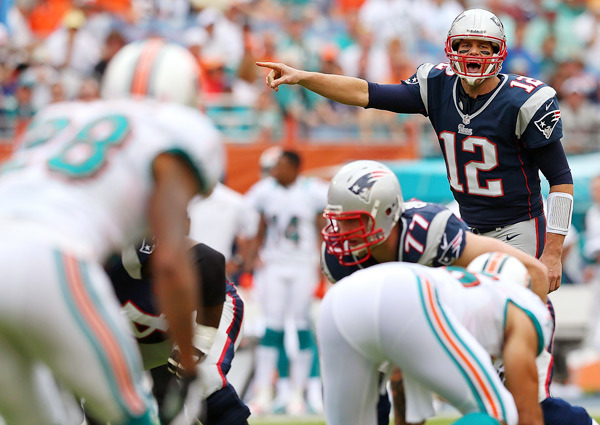 The once mighty AFC East has really fallen off.  Even the perennial Patriots aren't quite the team they used to be, and I'm guessing only the division winner gets to the postseason this year.
Predicted Finish:
New England Patriots (11-5) (2nd seed; AFC Championship game)
Miami Dolphins (7-9)
Buffalo Bills (6-10)
NY Jets (5-11)
Maybe I'm kidding myself, but I think Tom Brady is gonna miss Wes Welker like Miley Cyrus was missing most of her clothes at the VMAs.  Danny Amendola is OK, but he's not Welker.  They'll also miss Aaron Hernandez, but if there's a quarterback who's proven over the years that he can succeed with just average receivers, it's Tom Brady.
Don't forget also that Brady still has Rob Gronkowski to throw to.  Also helping the Pats is the fact that no one in this division is good enough to take advantage of their weaknesses.
I'm not nearly as high on the Miami Dolphins as a lot of people.  True, Ryan Tannehill showed steady improvement last season, but the Dolphins still look a bit like a patchwork team, and I'm convinced they are still closer to rebuilding than contending.
Buffalo had a myriad of problems last season, but they at least saw a bright spot in the preseason in the form of rookie QB EJ Manuel.  The Bills are going to put a lot of young players on the field on offense, and that can either work out great or blow up in everyone's face.  Stay tuned.
Ah, the never-ending drama that is the NY Jets.  Rex Ryan is a genius!  Rex Ryan is a pervert!  Rex Ryan is an idiot!  Rex Ryan is going to be fired!  In truth, the Jets aren't very good, so no matter what Rex Ryan is able to pull out of his bag of tricks, it's only going to count for so much.  The Jets have a debacle at QB, where Mark Sanchez isn't good enough, rookie Geno Smith wasn't worth the pick they spent on him, and Joe Namath is still retired.  Of course, quarterback isn't the only problem for the Jets, but it's the most glaring and the one that will likely land them in the AFC East cellar this year.
Games to Watch
Week 1 – New England @Buffalo:  In 2009, the Patriots and Bills played on opening day and the heavily favored Patriots were lucky to win by one point.  In 2011, these teams played in week 3 and the Bills shocked the Pats en route to a strong start (that turned into a weak finish).  Abject lesson:  early season Patriots-Bills games are not to be ignored.
Week 1 – Miami @Cleveland:  This game is no gimme for the Dolphins, and their next four are at the Colts, home vs. Atlanta, at New Orleans and hosting Baltimore.  If the Dolphins don't win here, they could start 0-5.
Week 12  – Denver @New England:  Manning vs. Brady.  Nuff said.
Week 13 – Miami @NY Jets:  You know how the Jets love to play spoiler against their rivals late in the season?  Well. . .