Let me start this off by saying that, if you follow me on Twitter (@AnnaPleus – and if you don't, shame on you!), you know that 1) I'm a huge Seinfeld fan and 2) I called this entire thing happening last week. And by "thing" I mean I called that this rumored Seinfeld "reunion" swirling around in the media was just going to be a Super Bowl commercial. 
And since I'm hardly ever right about these things, just let me give ya'll a I TOLD YA SO.
Damn, it feels good to be right. And to be right about Seinfeld… talk about about saving my Super Bowl Sunday.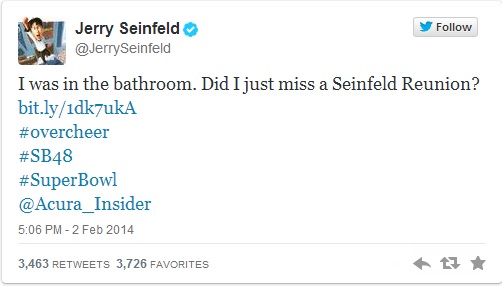 This Seinfeld "project" got almost a month of teasing in the media, starting with Jerry's Reddit session, "Ask Me Anything," that happened right after the new year. The reunion's hype dramatically surged a week later when Jerry and Jason Alexander (George) were photographed walking into Tom's Restaurant in New York together. (If you don't know the history of Seinfeld, Tom's ended up being the stand-in for Monk's – a staple scene location for the long-running NBC sitcom.) Then a couple days before the big game, Jerry went on WFAN radio to deny the Tom's photo as both an episode or an ad.
Sneaky sneaky, Jerry. Turns out it wasn't an "or" but an "and."
Yup, the highly anticipated secret project was really just a teaser of an episode of Jerry's web series Comedians in Cars Getting Coffee. This episode, titled "The Over-Cheer," is a reunion episode in which Jerry interviews two Seinfeld characters: George (Jason Alexander) and Newman (Wayne Knight).
Not that his web series is new. Nope, Jerry's been interviewing celebrities (mostly comedians) for CCC since 2012. Each episode consists of Jerry picking up his guest in an interesting car then driving to get coffee/do the interview. But this Seinfeld "reunion" episode is different from all of the other CCC episodes because Jerry, Jason, and Wayne all stayed in character – like a mini-Seinfeld episode!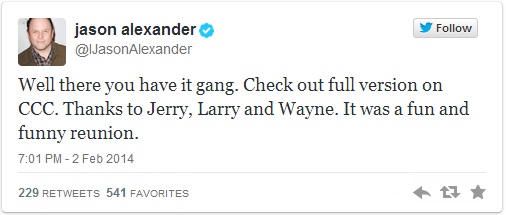 The commercial lasted 90 seconds and was aired just before Bruno Mars' halftime show. After it aired Jerry explained the background in statement: "Fox approached (Seinfeld co-creator) Larry (David) and me about doing some kind of Seinfeld reunion for the halftime broadcast because of the New York connection. So we thought throwing Jerry, George and Newman into a Comedians in Cars Getting Coffee was a fun way to do it. Larry and I wrote the script in one sitting, just like old times, and working with him, Jason and Wayne was a total blast as it always was."
But many critics wanted to know: was the Seinfeld reunion good? Well, it depends on the fan you talk to. Some fans say it was boring and went with the overall theme of the game itself (snoozer) while other fans say it was a success purely because it was recent and not just a clip from a Seinfeld rerun.
And at least it was honest. The commercial made Jerry look like exactly what he is now: a hugely-successful comedian who spends some days interviewing other hugely-successful comedians about how he/she became hugely-successful.
And hey, at least it wasn't John Stamos getting sexual with Greek yogurt.
Watch the entire Comedians in Cars Getting Coffee episode here.