Brace yourselves.  The NFL hyperbole-machine is certain to be buzzing after week 1 about the "statement win" San Francisco notched over Green Bay, or how the Broncos came out and "made a statement" against Baltimore.
What statement?
That Peyton Manning is good?
These games didn't tell you anything you didn't already know, and nobody wins a Super Bowl in week 1, as the old cliche goes.
But there is one team that can be plenty worried about what it saw in its debut game, and that's the Pittsburgh Steelers.
Hit the title/read more to continue reading. . .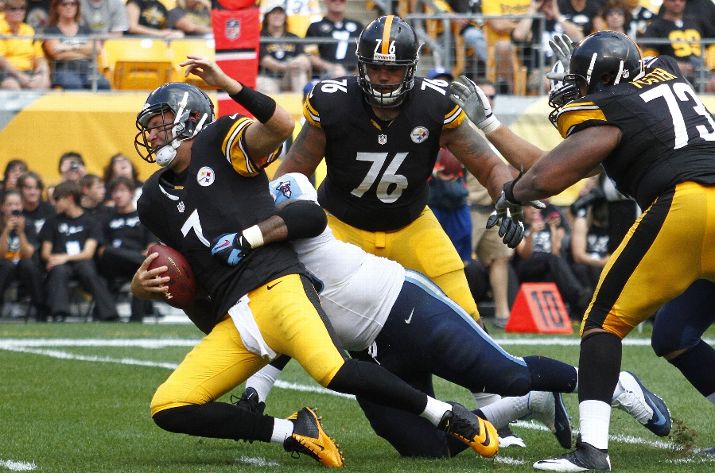 The Steelers, of course lost to Tennessee 16-9, despite being touchdown favorites, but it's the how and the why they lost that has to be troubling.
Facing a Titans defense that in 2012 was ranked 27th in the NFL, the Steelers could do nothing.  Their offensive line, a major question mark, is now an exclamation point at the end of the sentence, "They suck!"
Ben Roethlisberger was sacked five times for an aggregate loss of 28 yards.  DT Jurrell Casey, who had 3 sacks in 2012, had 2 against Pittsburgh yesterday.
The running game was even worse: Isaac Redman carried the ball 8 times for just 9 yards.  He also fumbled twice.  LaRod Stephens-Hollings was not much better, gaining just 19 yards on six carries.
It's a foregone conclusion in the NFL that the one area that MUST be at least serviceable for a team to go anywhere is the offensive line.
Behind a weak offensive line, even Peyton Manning can't complete a pass because he'll be lying on his back.  Even Adrian Peterson can't make plays, because defenders are swarming in the backfield the second he gets the ball.
The news for the Steelers gets worse.  Center Maurkice Pouncey, probably the best lineman on the team, was injured in the loss to the Titans, possibly for the season.
And if you thought the Steelers' starters on the o-line were bad, wait 'til you get a load of the back ups.  And Pittsburgh's next two games are with Cincinnati and Chicago, who ranked 5th and 6th defensively in 2012, not 27th.
In other words, this ain't gettin' better, and it might be about to get much worse.
You can't win a Super Bowl in September, starts the old cliche…but you can lose one.
The Steelers had better hope their season doesn't end before it even had time to start.