Reddit is one of those communities that when you post something, you're not sure if the community is going to eat you alive or praise you for an eternity.
So when the NFL Commish Roger Goodell decided to participate in chat called "Ask Me Anything" (AMA), it was eyebrow raising because you assumed the internet trolls would be in full force.
Questions like "if  given the chance, would you redo the Bounty Gate punishments" and "how do you justify Tom Brady's ninja kick $10k fine when Frank Gore was fined $500 more for low socks" were asked among a few not so great and some downright classless moments.
Check out some of the best moments during the AMA after the jump…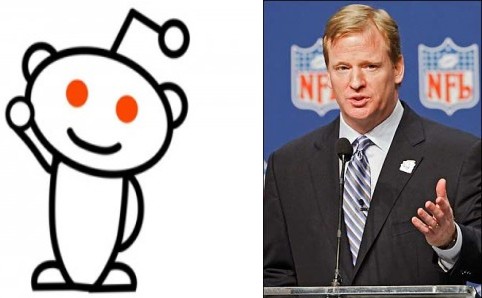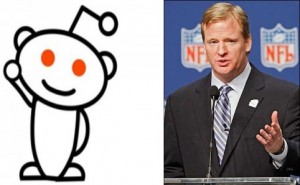 This is great solely for the reason of Goodell responding to someone with a username of "Mo Monkey P*ssy"
Do you believe you mishandled the Bountygate investigation in any way? If you had a second chance, would you take any different actions?
NFL_Commish We removed bounties from the game. Bounties won't be part of football. That's good for everyone involved. In the future, I hope that everyone–commissioners, coaches, players and the union–will work better collectively to ensure the safety of the game and enforcement of our rules. The safety of our game is a shared responsibility.
.
"I notice I'm getting a lot of questions about socks"
HeLiX_C  Hi Roger, you're awesome for doing this AMA!! Just one tough question for you. How do you feel about Tom Brady being fined 10K for that intentional kick while he slid to the ground after Frank Gore had just been fined 10.5K for wearing his socks too low? I understand dress code is not something that can be taken lightly, but there has got to be a better format for the fines right?
NFL_Commish I notice there are a lot of questions on socks. This is a matter initially judged by a former player at the game called the Uniform Inspector. It is part of our effort to look and act professional at all times. There is a standard fine for violations that our Football Operations department issues on a routine basis. This is a system that was put in place in the 60s and has served us well.
.
jdi_nit: Just how important is Rich Eisen to the NFL Network and shouldn't he get a raise?
NFL_Commish Thanks for your question, Mrs. Eisen! We are proud of the work Rich does on the NFL Network. It has been gratifying to see the growth and success of the Network, which he is a big part of.
.
Goodell dropping some historical knowledge on traumatic injury in the NFL