Poor Tony Romo.  He has been labeled a choke artist for a long time now and probably nothing short of a Super Bowl will lose that moniker for him.  I'd looked at his numbers in the past and concluded that Romo wasn't really that much more choke-y than a lot of players, but Sunday's debacle against the Redskins, in which Romo threw three picks including the one that put the nail in the Cowboys' coffin will only make the label stick harder in the future.
Sorry, Tony, but this time you deserve it.  In the biggest game of the season, Romo came up unbelievably small.
Hit the title/continue reading to read more. . .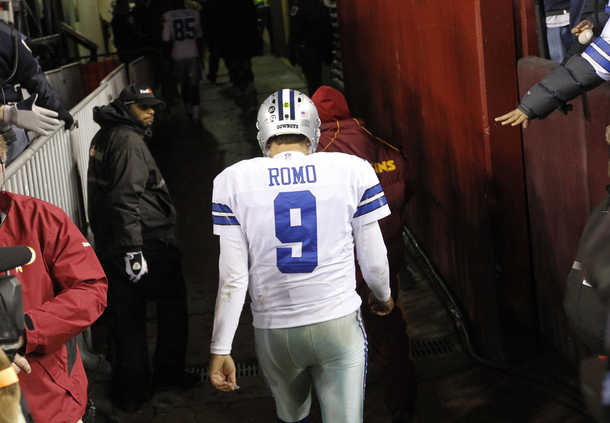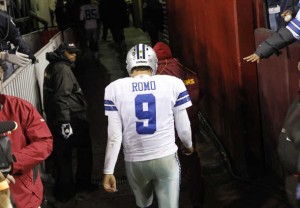 If there was any question that Sunday was Andy Reid's last game as the Eagles head coach, it was erased at the kickoff.  Reid went for an onside kick, recreating one of his "greatest hits," from back in 2000, when the Eagles opened the season with an onside kick against Dallas en route to a blowout win that eventually became known as the "pickle juice" game.  Reid's time in Philadelphia has run its course, but Eagles fans should appreciate what the guy accomplished while he was here.
This Week's Sucked And Won:   Chris Johnson, RB (TEN).  To be fair, all the Titans pretty much suck every week, win or lose, but Johnson was particularly ineffective against Jacksonville, gaining 56 yards on 21 carries.
If you watched the Packers and Vikings thrilling game, you may have noticed that Packers coach Mike McCarthy threw a challenge flag on a turnover play, just like the Lions' Jim Schwartz did a few weeks back.  If you will remember, the officials refused to review the Lions' play as punishment for Schwartz' horrible, hideous, unforgiveable offense.  But they did review the Packers play, but don't worry, there's a really excellent explanation.  You see, the replay ref had already begun the review when McCarthy threw the flag.  See how much better that is than what Schwartz did?  Of course not, because the entire rule is IDIOTICALLY STUPID.  I'm hoping, and somewhat certain, the NFL will revise this to provide that ALL plays in this circumstance get reviewed and that the penalty for throwing the flag is just a 15 yard penalty and possibly loss of a timeout or challenge.  Let's hope, anyway.
Shocking Realization of the Week:  Of the many expected coach firings, one of the unexpected ones was Lovie Smith of the Bears.  The guy went 10-6 this year.
You may not know this, but once upon a time the NFL had a rule that divisional opponents couldn't meet in the first round of the playoffs.  Should that rule be reinstituted?  Green Bay and Minnesota JUST played.  Now they will play again next week.  Maybe that's good, or maybe it would be preferable if those teams got split up for the first round.  I'm on the fence on this, so you decide.
This Week's Great But Lost:  Michael Floyd, WR (ARZ).  Floyd caught 8 passes for 166 yards and a touchdown against San Francisco.  What makes this really special?  Those passes were thrown by Brian Hoyer.  Yeah, I don't know who that is either.
When the Houston Texans' choked away home field and a first round bye by losing to the Colts this week, it exponentially increased the chances that Peyton Manning and Tom Brady will face off in the AFC Championship game, as Denver and New England are now the 1 and 2 seeds, respectively.  No one who loves can't WANT to see that happen, so THANKS Texans!
FINAL WORDS
"We came.  We stunk it up.  We lost." – Eagles DT Cullen Jenkins, on the 42-7 loss that was the exclamation point on the Eagles' dreadful season.
"Lovie's a great coach in our league.  Things are going to work out for him.  I believe that.  He's the right guy for the job in Chicago." – Vikings coach Leslie Fraizer, after his team's win eliminated the Bears from the playoffs.  Smith was later fired as Bears coach.
"I was about to throw it to Zach to break the record but then I realized, you know what, that's not me." – Seahawks QB Russell Wilson on tying Petyon Manning's rookie record for touchdown passes, and on nearly breaking it.  Wilson elected to scramble for a one yard TD late in Seattle's game against St. Louis rather than throw.
"We didn't win, so I could care less about the record." – Texans DE JJ Watt, on failing to break Michael Strahan's single season sack record.
"Chuck's like a dad to me.  He means a lot to me.  I would have much rather seen them in the AFC Championship Game than the first game." – Ravens S Ed Reed, on having to play Chuck Pagano's Colts in the first round of the playoffs.
"It was kind of a late Christmas present.  So, we accept." – Patriots QB Tom Brady, on earning a second seed and first round bye in the playoffs after the Texans lost to the Colts.
"You get what you deserve.  You don't play good defense, that's what's going to happen.  Be a man and suck it up." – Saints LB Jonathan Vilma, on New Orleans setting a new record for defensive futility by surrendering more than 7000 yards this season.
"You want everybody back but you know that is not what is going to happen." – Steelers QB Ben Roethlisberger, on the expected departure of a number of veterans from Pittsburgh's roster this off season.