Defense wins championships? Every game this weekend went over, and only one game, the 30-28 Falcons win over Seattle, failed to break 60 points. It was the most points ever scored in an NFL Divisional Playoff weekend, despite the fact that a couple of the league's best defenses were involved. So what gives? I don't think this was a fluke, but I guess we'll see if next week's conference championship games both turn into shootouts as well.
Hit the title/continue reading to read more. . .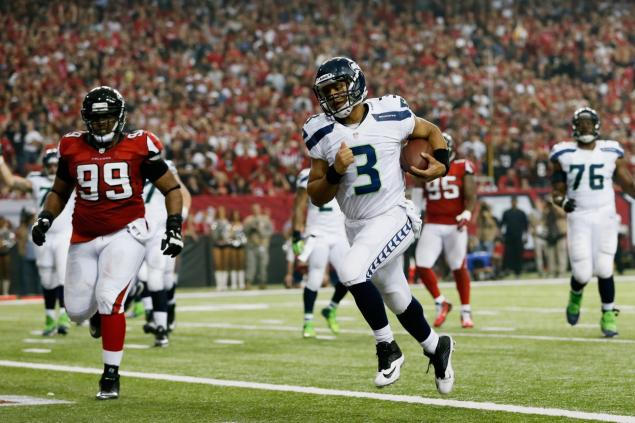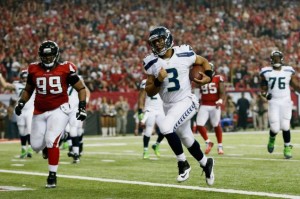 image source
Someone needs to get fired in Green Bay. I get that maybe you didn't plan to use a spy in advance, before the game. After all, Colin Kaepernick had averaged a respectable, but manageable, 39 yards per game rushing during the regular season.
But by the second quarter, when he had already set an NFL playoff record for rushing yards by a QB, do you not make an adjustment? How about at the half, when this game was still 24-21 and still anybody's game? Instead, Green Bay ran the same defense all game and Kaepernick went insane, gaining 181 yards on the ground. From a quarterback? You shouldn't let a running back gain 181 yards on the ground.
In the NFL, when something works, you keep doing it until they stop it. If running to the left is working, keep doing it until they stop it. If throwing screen passes is working, keep throwing them until they stop it. If having Colin Kaepernick run the ball is working, keep doing it until they stop it. Green Bay never did. Worse, they never even tried.
This Week's Sucked And Won: Vernon Davis, TE (SF). OK, there weren't really any good candidates this week, but Davis, supposedly one of those "uncoverable" tight ends, caught just one pass for 44 yards against Green Bay. Of course, why throw to Davis when the Packers were letting you run all over them?
Is the read-option the future of the NFL? Both the 49ers and Seattle made great use of it this past week, and, of course, the Redskins rode it into the playoffs. Here's a vote that says it's not. Remember the wildcat? No one could stop that either. The read-option is a great thing to have in the playbook, but if you run it as your primary offense a) Defenses will figure it out and eventually stop it (see: what happened to the wildcat and what happened to Denver last year) b) You're going to get your quarterback hurt (see: Robert Griffin III) and c) The best and most unstoppable offenses in the NFL continue to be those with primarily throwing quarterbacks like Peyton Manning, Tom Brady, Drew Brees and Aaron Rodgers who specialize in reading defenses, making accurate throws and getting rid of the ball at the right time.
This Week's Great But Lost: Trindon Holliday, KR/PR (DEN). Dude ran back both a punt and a kickoff for a touchdown (the first player to ever do that in a playoff game), and made Baltimore's life hell for most of this game.
Somewhat lost in the glare of the weekend's playoff spotlight was the matchup of two NFL lions, Baltimore's Ray Lewis and Denver's Peyton Manning. Lewis will retire after this season, so every game could be his last. Manning made it a point to approach Lewis on the field after Baltimore won the game in double OT, and apparently went to the Ravens' locker room afterwards to offer words of congratulations and encouragement. Peyton Manning is a total class act, and he is a true student of the game, understanding that showdowns between two future lock hall of famers in the playoffs at or near the end their careers was something truly special.
Clutch Statements
"We had high, high hopes for the rest of the season. When the game was over, I was very disappointed. But walking back into the tunnel, I got so excited about next year. The resilience we showed was unbelievable." – Seahawks QB Russell Wilson, displaying the best possible attitude following a heartbreaking playoff loss.
"I grew up a 49ers fan. Joe Montana and Steve Young, those guys are in another class." – Patriots QB Tom Brady, after breaking Montana's record for playoff wins by a QB.
"That football game did football proud." – Ravens coach John Harbaugh, on the Ravens epic win over the Broncos in double overtime.
"We felt like we gift wrapped them 14 points off turnovers in the first half and our defense was playing alright. And then we just didn't get it done in the second half. I knew we were going to have to score some points. We knew we were going to have to put up at least 38 points." Packers QB Aaron Rodgers, on the 49ers offensive output in their 45-31 win. Actually, Aaron, 38 wouldn't have gotten it done.
"There's no good landing in this business unless you're playing a few weeks from now. Other than that, the landing's a crash." – Texans coach Gary Kubiak, trying to put his team's late season collapse in perspective.
"Wow." – Falcons coach Mike Smith, on his team's coughing up a 20 point lead and then snatching it back at the last moment.