You probably think the New England Patriots scoring 40 points and Brady throwing for 450+ yards won them the game. You probably think that that kind of aerial display against the Bills isn't likely to happen again all year.
You're probably right.
But while you're busy staring at the shiny object that is the New England offense, allow me to point out that their defense registered eight (count 'em: 8!) sacks and three interceptions. I know they gave up a lot of points but sometimes it's possible to play good defense while you're giving up a lot of points.
Just don't discount the New England stop unit or, better yet, do so at your own risk.
This Week's Sucked And Won
Jaguars TE Marcedes Lewis: I hate to pick on anyone on the Jaguars when most of the team played great, but this guy is a veteran member of the offense. Hell, 2-3 years ago he was the only decent target they had in the receiving game. On Sunday, he was targeted four times and caught nothing. Until Julius Thomas comes out, Lewis has to step up his game.
Ahem.  These are NOT your father's Steelers. The team that most defined tough, defensive-minded football. The team that used to strategize having Big Ben throw less than 25 times in a game. That team. They're an offensive weapon of mass destruction.
Roethlisberger is flinging the ball around like he's Kurt Warner in The Greatest Show On Turf. Antonio Brown is probably the best receiver football.
And defense? What's that? This Steelers defense is as porous as they come, but the team is obviously going to try to win in spite of the lack of a stop unit. Ultimately I don't think this is going to work, but it's fun to watch.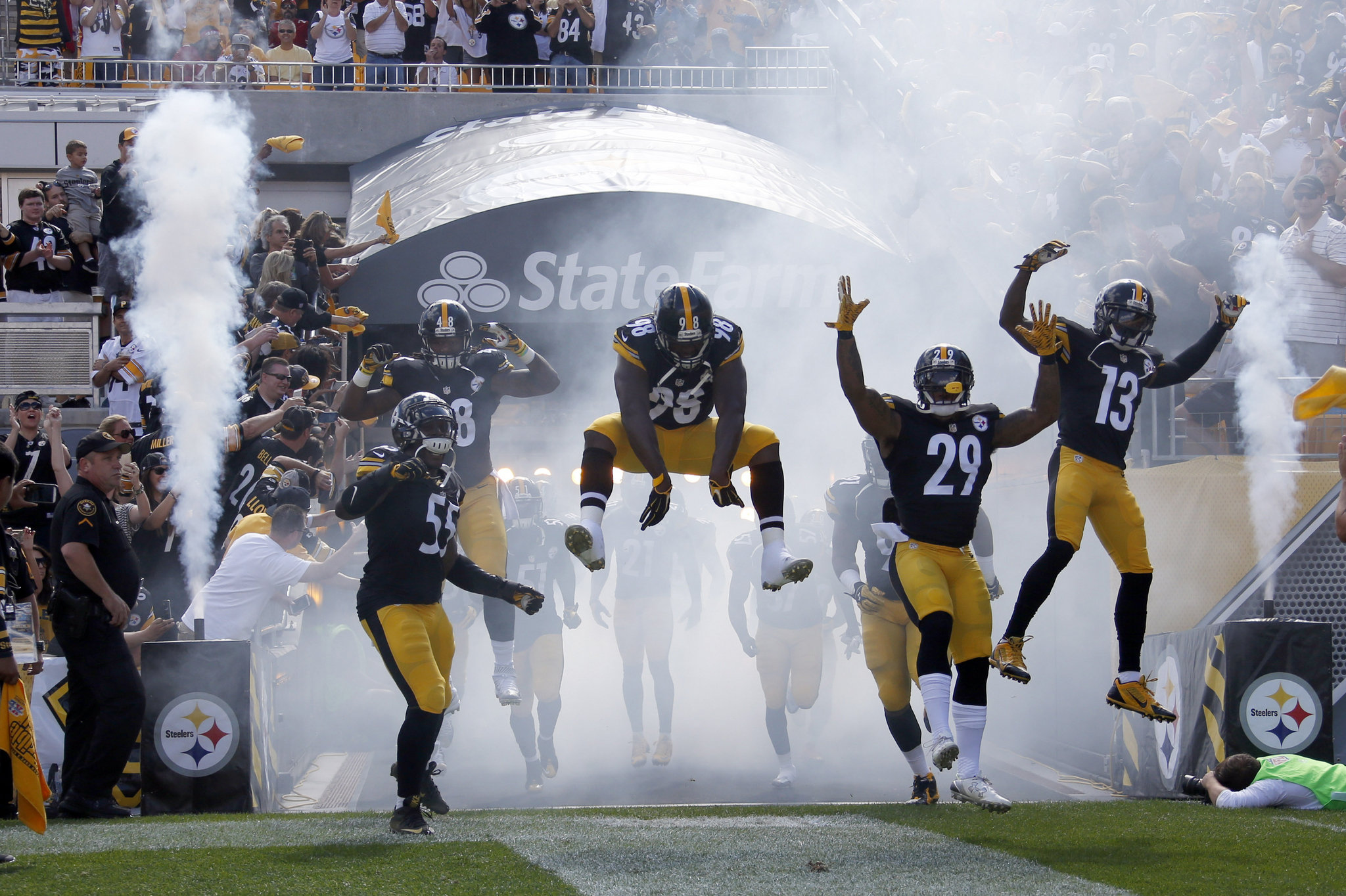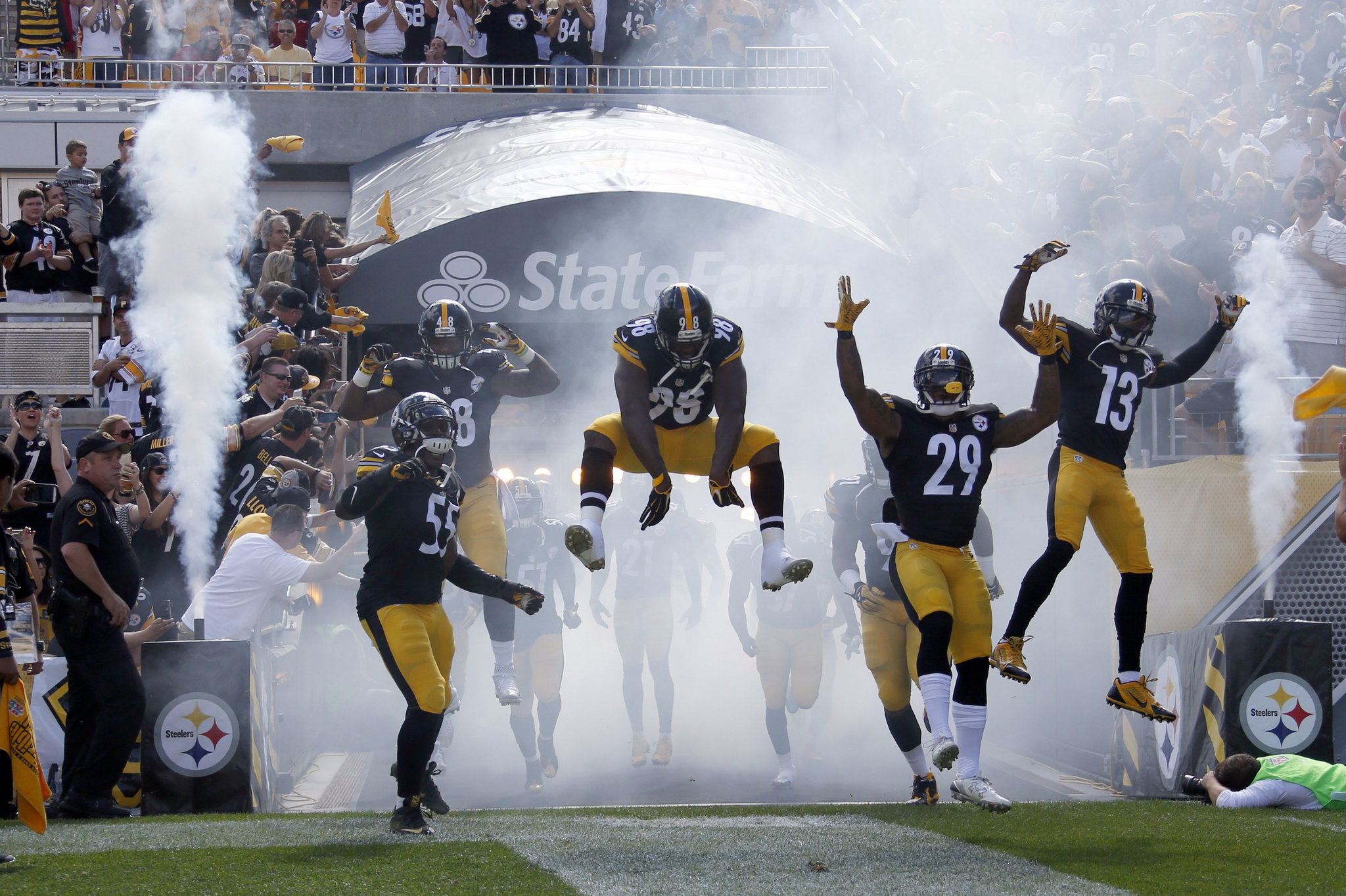 Wheeeeeee! Being a Steeler is fun!
Shocking realization of the week
This weekend marked the most penalties ever called in a week on the NFL schedule. Ever.
Allow me to humbly submit Cam Newton's flip over a defender into the end zone for a rushing touchdown as an early play of the year. I probably saw 10 replays of this yesterday and didn't get tired of it.
And hey, Cam Newton's gotta do something to produce offense with the lack of weapons he has.
This Week's Great But Lost
Colts WR Donte Moncrief: 7 catches for 122 and a touchdown. And this on a night when the entire offense filled with veteran talent couldn't do a thing.
Just to re-emphasize how important it is to run, take a look at Golden Tate and Calvin Johnson's numbers for the Lions this Sunday and then realize that that team lost by 10 and only scored 16 points.
YOU HAVE TO RUN THE FOOTBALL. PERIOD.
N-F-Yell:
"I've been involved in a couple of pretty crazy games, but nothing quite like this."
– Broncos QB Peyton Manning, on his team's two scores in 90 seconds victory.
"We put so much time and effort into those plays and if you're going to be successful doing them, why not do it?"
– Steelers QB Ben Roethlisberger, on his team's 2-point conversion attempts on Sunday.
"God was a Packers fan tonight."
– Packers QB Aaron Rodgers.  All I can say is, God has good taste.
"We talk every week about finishing.  That wasn't a finish for me."
– Giants coach Tom Coughlin, on his team's second straight 4th quarter collapse.
"As I was flipping I was like, 'Hey, I don't know how this is going to end.'"
– Panthers QB Cam Newton, on his acrobatic touchdown run and flip.
"I know what kind of team we are. We're not dirty."
– Vikings coach Mike Zimmer, responding to charges of cheap hits during Sunday's game against the Lions.
"You won't see a more gifted passer."
– Jerry Jones, on Cowboys back up QB Brandon Weeden. Really, Jerry? Not even when Romo comes back?