The NFL playoff picture is so wide open that only 3 of the 16 games this week have no playoff implications.  That's remarkable.
Usually by this point of the season, any number of the spots have been locked up, and the number of teams contending for what's left has dwindled.  With so many high stakes games to look at, it's tougher to find the sure things in this week's slate.
Last Week:       9-8-1;  3-2 Best Picks
2013 Season:  123-115-13 Overall; 30-29-2 Best Picks
.
(All lines as of 12/20/13 @8:30 a.m. – line credit posted per game)
Miami (-3) @Buffalo (Las Vegas Hilton)
Miami is in the catbird seat for the AFC Playoff picture.  Well, almost.  There's the little matter of passing Baltimore, who owns the tiebreaker against them.  So there's no way they blow this game against the lowly Bills right?  Wrong.  I like Buffalo in this game, not just to cover, but to win outright.  They've been a solid home team this year, and this is a divisional matchup.  Buffalo already beat Miami once this year.  I like them to do it again.
Buffalo Bills 24 Miami Dolphins 22
.
New Orleans (+3.5) @Carolina (Wynn Las Vegas)
Another go out on a limb moment.  Everyone's all over Carolina now that New Orleans blew that game in St. Louis.  The Saints can't get it done on the road.  I took the Saints to go to the Super Bowl when no one else even had them winning their division, so I'll be damned if I abandon them now.  I think the Panthers fall short this week.
New Orleans Saints 24 Carolina Panthers 23
 .
Dallas (-2.5) @Washington (Carbon Sports)
The Dallas December swoon is in full force, but that doesn't mean they're bad enough to lose to Washington.  The Redskins are crap.  Kirk Cousins will have another good game against a terrible defense, while Tony Romo has an even better one against an even worse one.
Dallas Cowboys 34 Washington Redskins 28
.
Tampa Bay (+5) @St. Louis (Stations)
This line has dropped half a point since it opened and for good reason.  I know the Rams have been playing spoiler and just beat New Orleans, but how are they giving 5 points to anyone?  I expect St. Louis to be just a little flat against Tampa, and while they probably win the game, it will be a humdrum affair.
St. Louis Rams 20 Tampa Bay Buccaneers 16
 .
Chicago (+3) @Philadelphia (Las Vegas Hilton)
Be careful here.  This is a Sunday night game, and if Dallas beats Washington during the day, this game is 100% meaningless to the Eagles.  Chip Kelly has said everyone will start regardless, but if the game means nothing, do you expect LeSean McCoy to get 35 touches or do you think we'll see Bryce Brown at some point.  Yeah, me too.  I wouldn't bet this game without knowing whether Philly has anything to play for.
Chicago Bears 27 Philadelphia Eagles 23
 .
Cleveland (+1) @NY Jets (5 Dimes)
I'm back to the "good at home, sucks on the road" motto for the Jets.  The Browns are also missing Joe Haden, one of the best CBs in the league, so that will help too.  By the way, even though the Jets are 6-8, they are out of the playoff picture, so this game is just for fun.
New York Jets 20 Cleveland Browns 17
.
Indianapolis (+7) @Kansas City (William Hill)
This line looks out of whack to me.  The Colts getting 7?  That's a sucker bet, right?  Or, is this line an overreaction to the Chiefs offensive explosion the last two weeks, which came against dreadful defenses in Oakland and Washington.  Then again, the Colts D ain't that much better.  The line's either telling me to take Kansas City or it's not.  I'm going with not.
Kansas City Chiefs 27 Indianapolis Colts 23
 .
Indianapolis @Kansas City o/u 44 (Wynn Las Vegas)
I'm a little leery of the over here because the Chiefs defense might suddenly wake up and pitch a real tough one at Arrowhead, but given how the Chiefs have been scoring points and giving them up recently, over 44 seems like a reasonably safe play.
Kansas City Chiefs 27 Indianapolis Colts 23
.
Minnesota (+9.5) @Cincinnati (5Dimes)
The Bengals are undefeated at home this year, but that doesn't mean they're going to win every game by 20 points.  The Vikings have gotten very tough down the stretch and they get Adrian Peterson back for this game.  Cincinnati will win, but not by double digits.
Cincinnati Bengals 24 Minnesota Vikings 17
 .
Denver (-10) @Houston (Cantor)
Denver has played its way into a situation where they actually really need this game to stay ahead not only of New England for the #1 seed but of the Chiefs, who can lap them in the AFC West and relegate Denver to road warrior status in the wildcard round.  You think Peyton Manning's gonna let that happen?
Denver Broncos 35 Houston Texans 21
.
Tennessee (-5.5) @Jacksonville (Las Vegas Hilton)
I want to put this in best picks, but I'm a chicken.  The Jaguars just aren't far removed enough from the team that lost every game by 20.  Tennessee has shown resilience down the stretch, but I don't see them as a 5.5 point road favorite against anyone.
Tennessee Titans 23 Jacksonville Jaguars 20
.
Arizona (+11.5) @Seattle (5Dimes)
This game is everything for the Cardinals.  If they win, they play at home next week (where they're 6-1) for a playoff berth.  This game is nothing to the Seahawks.  They're the #1 seed in the NFC, mark it down.  Betting against Seattle at home is insane, but I think the Cardinals make this tough for Seattle before succumbing.
Seattle Seahawks 20 Arizona Cardinals 13
 .
NY Giants (+9) @Detroit (Las Vegas Hilton)
The Lions have lost four of their last five en route to choking their way right out of the playoffs.  The Giants have lost three of their last four, en route to quitting.  I have no real feel for this one, but Detroit is at least still alive so they should show up.
Detroit Lions 28 New York Giants 17
.
Pittsburgh (-1.5) @Green Bay (CBS Sports)
Most books don't have a line on this game yet, pending formal announcement of Aaron Rodgers' status.  The 1.5 point line is obviously with Rodgers not playing (he's officially listed as doubtful).  I think we've seen the last of Aaron Rodgers in 2013.  If he could play, he would have by now, and the Packers aren't making the playoffs without him.  They also aren't beating the Steelers without him.
Pittsburgh Steelers 27 Green Bay Packers 20
 .
New England (+1) @Baltimore (5Dimes)
I don't necessarily believe that the Patriots are toast without Rob Gronkowski, but they have not been a great road team this year, and by contrast, Baltimore is a lofty 6-1 in their own building.  I'm also starting to buy in to the notion that the Ravens are a team of destiny, who are going to make the playoffs (God Dammit) come hell or high water.  Watch out if they do.
Baltimore Ravens 28 New England Patriots 24
.
Best Picks of the Week

"Santa, can you get the Lions into the playoffs?"
"Who do you think I am, Jesus?"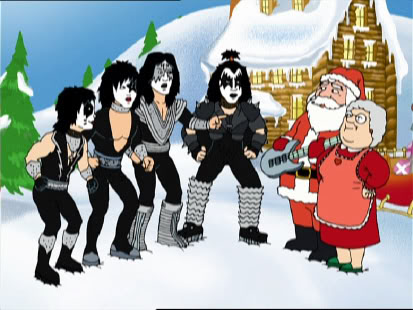 .
Dallas @Washington o/u 53 (MGM Mirage)
Two of the worst defenses in the NFL square off in this game, and there will be points scored like crazy.  Neither punter may see any action.  I like this game to go well over.
Dallas Cowboys 34 Washington Redskins 28
 .
Arizona @Seattle o/u 44 (MGM Mirage)
We all know about the Seahawks defense.  They pitched a shutout last week.  Well the Cardinals defense is pretty stout too, and in a game that means the world for Arizona, that unit will come out on fire and make Seattle fight for every yard.  I see a low scoring game here, dominated by the stop units.
Seattle Seahawks 20 Arizona Cardinals 13
..
Oakland (+9.5) @San Diego (Wager Web)
The Raiders have dropped four in a row, while San Diego is hot, winning three of their last four, and are still alive in the AFC playoff hunt.   The Raiders also stink on the road.  I'm a little worried the Chargers might be flat after beating Denver, but against Oakland, it shouldn't matter.
San Diego Chargers 34 Oakland Raiders 20
Atlanta (+12.5) @San Francisco (Las Vegas Hilton)
Does everyone remember the rule about San Francisco?  Let's all say it together:  "The 49ers beat the living crap out of bad teams when they get them at home."  This fits that category to a tee.  Niners romp.
San Francisco 49ers 35 Atlanta Falcons 20
.