Most of the talk around the NFL is about the surprise 0-2 teams. It's still extremely early in the season and many of these squads will turn it around. The Seahawks are already getting Kam Chancellor back from his holdout. In a text to ESPN's Stephen A. Smith he said he has to finish the mission they started two years ago.
It's a weird time for "cave in" because at 0-2 and with the secondary giving up unusual big plays, you would think he had all the leverage on Seattle. Regardless, they get the Bears and Lions next and should be at 2-2. Jimmy Graham has only been targeted one time each in both first half's and only twice in Week 2.
For a team who gave up their center, and isn't running the ball as well as usual, he needs to be more involved.
The Ravens are the most surprising 0-2 team, only because how the lost to Oakland. I predicted the Raiders could be a surprise team and pull some upsets because the new weapons Carr had. But 350 yards? A game-winning drive by Carr to out-duel Flacco?
The Ravens secondary has some real problems and match ups with the Bengals and Steelers looming could spell real trouble.
The Saints era may be coming to an end. Brees doesn't have the weapons he used to and they still are in salary cap hell. The Lions defense might have taken a step back without Suh and Stafford hasn't showed the improvement they kept talking about all offseason. The Eagles aren't is a much trouble as most teams at 0-2. Their offense will get going eventually, if Bradford can start hitting some deeper throws. The running game and Demarco Murrey is their biggest concern.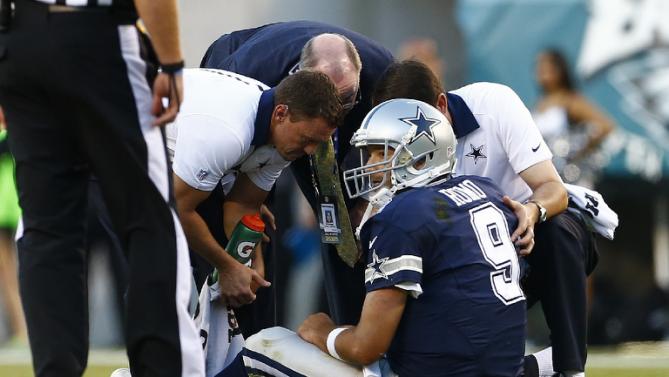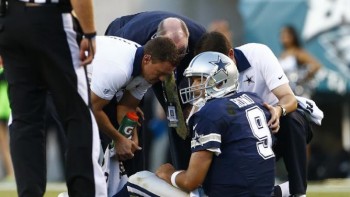 The Cowboys have to turn to Brandon Weeden, and that opens the division up for any of the other three teams. The Giants have blown leads in back to back games but a potentially potent passing attack will keep them in the hunt. If Chip Kelly is going to stay off the hot seat, the Eagles have to compete or even win this wide open decision.
Brown's coach Mike Pettine has named Josh McCown the starter of Johnny Manzeil. I don't think it will last very long. He got benched multiple times last season and after one or two poor games, the Browns will be forced to go back to Manzeil. He's looked better than last season, mostly hitting on the deep ball to Travis Benjamin.
Is the AFC South up for grabs? It's hard not to think it might not be. The Colts offensive line is in shambles and Pagano's response to that is Andrew Luck has dealt with it for long enough so he should be better in dealing with it.
(wat?)
That can't be encouraging for Colts fans but they won't face defenses as good as Buffalo and the Jets every week. However, this will be the first time in a few years they lose to AFC South teams. The Texans don't have a quarterback and will probably bench Mallet soon again. The Jaguars showed good flashes verse Miami, especially Allen Robinson making huge plays. The Titans lost to the Browns after a great week one and Mariota didn't continue his torrid pace.
People are thinking the division winner could be somewhere from 8-8 to 10-6 and it's hard to disagree with them now.
Antonio Brown, Rob Gronkowski and Julio Jones look like the most unstoppable players through the first couple of weeks. Brown already has 328 yards and Jones has 22 catches already. Gronk has four scores and all three of these guys may be in line for historic seasons.