Held each year at the Lucas Oil Stadium in Indianapolis, the NFL Scouting Combine is a seven-day event where college football players compete in mental and physical drills in front of NFL coaches, managers, and scouts.
Invite-only and televised, the Combine is the biggest event for the NFL draft process, short of individual team workouts. We get to see the best college football athletes compete side-by-side and decide how high of a draft pedestal they should each be put on.
Think of the Combine as a multi-day, group job interview – just more intense, exciting, and career-vital.
Each athlete's performance during the Combine can affect his draft round status, player perception, and potential salary.
In recent years the draft popularized the term "draft stock," meaning that a player's draft status can increase depending on qualities like strength, size, and speed – even if the player had an average/below average college career.
The career implications during the Combine can be enormous and can affect these players' potential million-dollar salaries up to millions of dollars.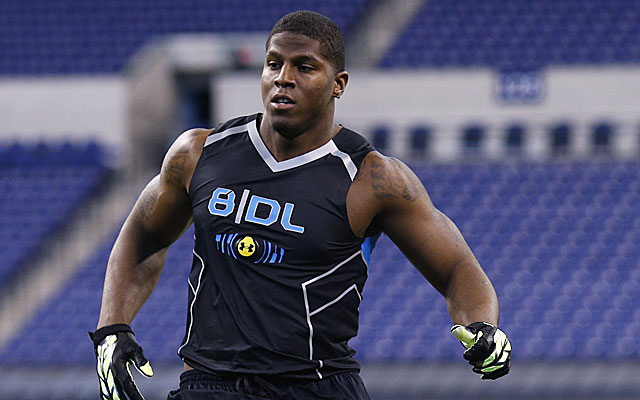 Beyond just the coaches and managers, player personnel departments and medical staff from all 32 NFL teams are on site to evaluate the draft-eligible college players. The Combine's evaluations and tests consist of:
40-yard dash
Bench press (of 225 lb. reps)
Vertical jump
Broad jump
3-cone drill
20-yard shuttle
60-yard shuttle
Position-specific drills
Interviews (each team is allowed 60 interviews in 15-minute intervals)
Physical measurements
Injury evaluation
Drug screen
The Cybex test (tests the joint movement of prospects)
The Wonderlic Test (intelligence test used to assess the aptitude of prospects for learning and problem-solving)
The Combine is the perfect excuse for fans of both college football and the NFL, as well as draft enthusiasts, to spend several days talking about football and the upcoming draft – even though the games don't start up for another six months.
For draft junkies, the event is an off-season mecca, giving viewers the chance to revisit top prospects one last time before the draft in early May.
However, it's not an exact science.
Just because a player can run a 4.5 40-yard dash doesn't mean he has the ability (or drive) to play in the NFL.
Truthfully, for as much attention as the event receives, the Combine can be filled with less-than-dense insights. While it's fun to get excited when one of your favorite players jumps out of the gym or nails his skills drills, it's necessary to note that film study trumps Combine workouts.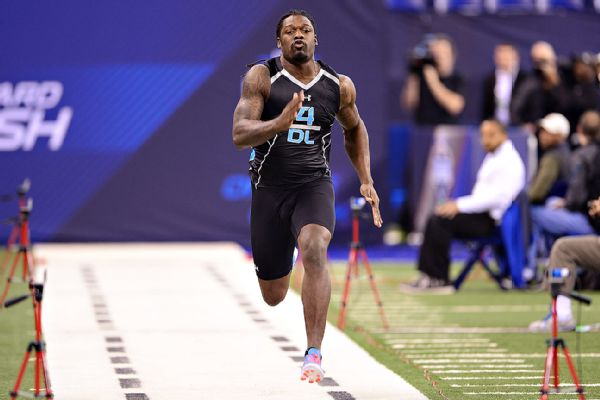 The 2014 Combine started last Wednesday and concluded Tuesday with a total of 335 invitees.
Perhaps the most impressive outcome of the week was the defensive backs: Justin Gilbert (OK State), Darqueze Dennard (Michigan State), and Jason Verrett (TCU). Each of these three seniors earned first round grades from NFLDraftScout.com and posted notable 40-yard dash times.
Here's a couple other important takeaways:
This year's Combine exposed a number of high-profile players earning medical red-flags, including Cyrus Kouandjio (Alabama), Dee Ford (Auburn), and Stephon Tuitt (Notre Dame).

Jerick McKinnon (GA Southern), a former QB and running back, turned in the best all-around workout at this year's combine: 

4.41 40-yard dash, 40.5″ vertical, and 32 225-lb. reps. He also showed off his quickness and balance, running a 6.83 three-cone drill and a 4.12 short-shuttle.
Although Michael Sam (Missouri) entered the Combine as one of its biggest stories, his lack of athleticism during workouts makes him one of this year's biggest disappointments. Sam acknowledged that he was disappointed in his 25 1/2-in. vertical and 4.91 40-yard dash.
Jadeveon Clowney (South Carolina), the No. 1 rated player in the draft, displayed both massive athletic potential and questionable decision-making this week. Despite excellent stats (4.53 40-yard time, 37.5 vertical, 21 bench reps, and a 10-03 broad jump),

Clowney chose not to participate in both shuttle drills and positional workouts. This decision re-opens the conversation about his work ethic and lack of productivity last season.

QBs Johnny Manziel (Texas A&M), Teddy Bridgewater (Louisville), and Derek Carr (Fresno State) all chose not to throw, leaving Blake Bortles (Central FL) with the stage to show off. And he did, which puts pressure on Manziel and Bridgewater to nail their respective Pro Days.
Speaking of QB's, my favorite part of this year's Combine was when Tajh Boyd (Clemson) called out Bridgewater for not participating in the skills drills, telling ESPN's Josina Anderson, "I thought we were here to compete."
Forget that Manziel and Carr also didn't throw or run… Boyd only called out Bridgewater. Kind of tells you everything you need to know, right?
(Side note: does anyone else find it weird that Bridgewater only did the broad jump?)
It's no secret that the QBs' decisions to sit out stirred some criticism among both the media and the NFL teams, but their absence did allow Boyd and AJ McCarron (Alabama) to stand out. And I can't imagine they enjoyed spectating on the sidelines.
But keep in mind, the QBs weren't at the Combine to compete – they were there to make money. And, right or wrong, they were advised to do what they did.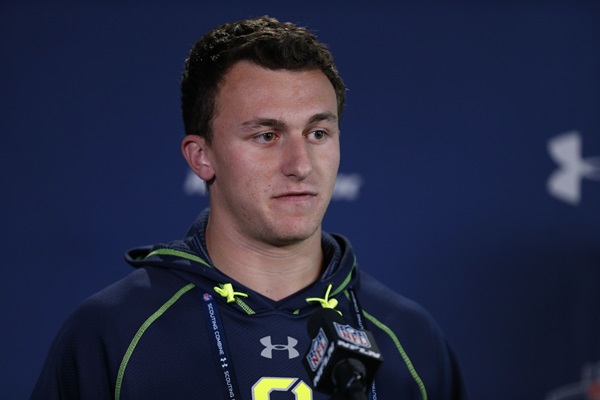 A record amount of 102 underclassmen entered this year's pool, improving the talent depth but also adding unpredictability. Since none of us can predict what will happen in this year's draft, at least we know there will be a hoard of new talent. In fact, Pittsburgh Steelers' general manager Kevin Colbert said, "I've been doing this 30 years… this is the deepest draft I've ever seen…"
"The juniors added into it make it a very talented group… With the juniors and redshirt sophomores, we are very cautiously optimistic about their emotional and physical readiness for this huge jump. Even though it's the most talented group I've seen, it's probably the most immature group."
Immature, maybe. Freakishly athletic, definitely.
This year's NFL draft is shaping up to be one of the most entertaining we've seen in a long time.