By now, most NFL fans know of the enormous female following that the sport has. Which is why we at GuysGirl reached out via various social networks to recognize the  real female fans that are tailgating in the elements, attending the games and rooting their team on in good times and bad.
Females all across the country have shared their stories on how they became a NFL fan, what their favorite moments have been watching their team and even if they could ever date a guy who wasn't a football fan.
Next in the series, we are touching base with Carrie Cihasky who was also one of our MLB Featured Fans for the Brewers but this time around she is reppin' a Wisconsin religion: the Green Bay Packers.
Carrie Cihasky
Location: Indianapolis, IN
Favorite Team: Green Bay Packers
Twitter: carriecihasky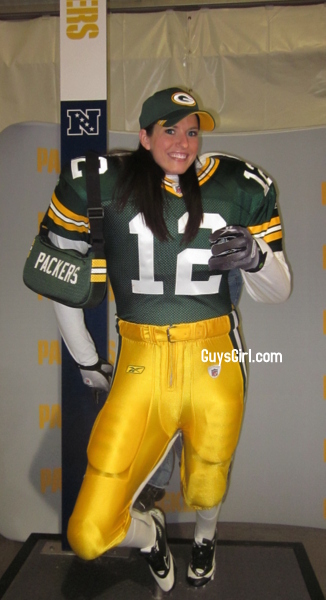 GUYSGIRL: How long have you been a NFL fan? Where did your passion start?  
Carrie: Growing up in Wisconsin, I've been a Packers fan since I was in the womb. That's when they start grooming you for sports.
How do you watch your favorite team? Season ticket holder, watch at home, with friends at a bar, etc…  
Since I'm in Indianapolis now, I watch in bars with friends or if I'm in another city I try to find the Packers bar (there's one in every major city). Back home it's not unusual for people to finish their basements as recreation areas and decorate it entirely in green and gold. It's like an unspoken contest to see who can "out-Packer" others.  I've been in rec rooms with Packers carpet, wallpaper, green and gold bars, and even Packers toliet paper. With places like that, there's little need to go watch in bars.
What is your favorite thing about football season?  
Tailgating and watching the game outdoors, even if it's 30 below zero (football SHOULD be played outdoors as God intended).
What team do you hate the most?  
Normally it's a tie between the Vikings and Bears, but since Cutler joined Chicago (and I cannot stand the guy) the Bears get that honor.
Would you ever date someone who wasn't a NFL fan? What if they were an avid fan of your most hated rival?  
There's a such thing as a guy who's not a NFL fan?!?!? Does he also ride a unicorn? I would date a rival fan but we'd "be on a break" every football Sunday.
What is your fondest memory about your favorite team?  
There's two: First, when my family and I went the the Super Bowl in New Orleans when the Packers played the Patriots. We rented an RV and drove down there–we didn't have tickets to the game but we wanted to be down there to experience it. I remember seeing all the green and gold on Bourbon Street at 9am and thinking that there are no other fans in the country like Packers fans, and that the franchise is something special to be a part of.  Second, anytime Pakcers fans demonstrate why we are the most loyal in the NFL. For example, whenever it snows in Green Bay before a game, they ask for volunteers to bring shovels and help shovel the snow out of Lambeau Field, and they actually have to turn away people because so many show up. There are lots of neat traditions like this that I love.
What is the greatest moment as a fan that you have ever experienced?
Tie: Seeing Rodgers win a Super Bowl and anytime we kicked the Vikings' butts when Favre was their QB.  Someday when I buy stock and get to go to my first shareholders meeting, that will be my greatest moment (still kicking myself for not buying stock this last time).
What is your favorite game to play while tailgating/watching a football game?  
I'm too busy watching the game to do anything else besides drink and eat.
What is best food you have ever had at a football game/sports bar/friend's house while a football game is on?  
I'm a true Wisconsin girl so anything with cheese works for me.
What is your drink of choice while watching a football game?  
Bloody Marys, but proper ones with celery, pickles, olives, beef stick, string cheese and very spicey (ideally I'm somewhere with a "Build Your Own Bloody Mary" bar).
What is your favorite thing wear to a football game?
My cheesehead earrings–they are even made out of the same foam as the cheesehead hats.
If you can only take three things into a football game, what would they be and why?  
My Packers purse (to keep everything in), wallet, and chapstick.
Do you play fantasy football at all? If so, how long have you been playing and what do you like most about it?  
Nope–I'd rather place wagers on specific games or participate in football pools.
BIG thanks to Carrie for joining our Female Fan Series and letting us know what her experience as a true female fan is like!