Before I start setting this game up, it's important that you stop everything you're doing and watch the most compelling football ad ever. The newest Duracell commercial features the moving story of Seahawk's fullback Derrick Coleman, the first legally deaf offensive NFL player.
Warning: grab a tissue, ladies.
With both the loudest stadium in the NFL and a stellar record this season, it's not like Seattle fans really needed more motivation to yell on Sunday. But given the recent release of this inspiring ad, we might just witness a stadium's complete collapse this weekend. Fingers crossed. 
Okay, the game.
I might as well start off by apologizing to Patriots and Broncos fans everywhere because I truly think Sunday night's NFC Championship game will be the real showdown of the weekend. For the third time this season, the Seattle Seahawks and the San Francisco 49ers will battle it out at CenturyLink Field, continuing to heat up one of the NFL's most physical rivalries.
In all of the NFL, these two teams might be the most freakishly similar. Tough as nails players, physically-imposing defenses, strong running offenses, and game-changing quarterbacks. For the 49ers, it's Colin Kaepernick; for the Seahawks, Russell Wilson. And the fact that they don't like each other… well, that helps, too.
And this matchup will be just as much a Battle of the Coaches as it is a Battle of the QBs. This NFC West rivalry's animosity goes all the way back to 2009, when 49ers Head Coach Jim Harbaugh's Stanford blew out Seattle Head Coach Pete Carroll's USC Trojans.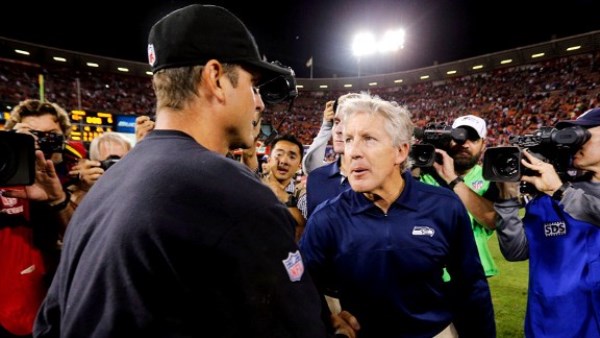 After splitting their two regular season games, the 49ers are headed back to Seattle, the location of their most punishing loss this season. And even though the 49ers' loss came during Week 2, the Seahawks completely dominated them, 29-3. However, Week 14 was much better to the 49ers, who came out on top at Candlestick Park, 19-17.
While the AFC matchup between the Broncos and Patriots is much more about the offense, this NFC rivalry will continue to be a battle of the defenses. Seattle is the #1 defense in the NFL while San Francisco isn't far behind, coming it at #5. The Seahawks are a little better against the pass while the 49ers are a little better against the rush. And although not much has changed defensively since their first matchup, a ton has changed for them offensively. This game will most likely come down to the offense that can crack the other's code.
(And just because I love stats, enjoy this one: Tom Brady and Peyton Manning combined for -13 rush yards this year. Kaepernick and Wilson? 1,063.)
Arguably the most complete team in the NFL this season, the 49ers destroyed the Carolina Panthers last weekend. At eight games, they have the longest active winning streak in the NFL this season. And since Week 4, they've had both the most victories and the toughest defense to score on. Offensively, they've hit their stride over the last five games, scoring 20+ points each week with just one turnover. The best road team in the NFL, they've gone 8-2 this season.
Equally as strong as the 49ers' road play is the Seahawks' unreal home field advantage. Seattle is 16-1 this season and leads the league with a +26 turnover differential. Since drafting QB Russell Wilson in 2012, the average score at CenturyLink Field has been 29-13. However, since their Week 13 beatdown of the New Orleans Saints, the Seahawks' offense has been, um, misfiring.
It's no secret that Wilson's passing game has seen better days. Since that Saints blowout, he hasn't thrown for multiple TDs in one game. Since then, Wilson's passer rating has decreased 31.1 points, and he's averaging 65.1 fewer yards/game. At the same time, the Seahawks' offense is averaging 8.3 fewer points/game and about 100 fewer net yards/game.
Over his last five games, Wilson has thrown for just four TDs and three INTs, including zero TDs in last weekend's game against the Saints.
Despite all this, Wilson is a second-year QB. Thus far, he's won 16 games at home in two seasons and has proven his ability to not let adversity faze him. He offers a fresh mind for each game – perfect for a football team facing a brand new situation.
However, on top of the fact that wide receiver Golden Tate is coming off his worst game of the season, wide receiver Percy Harvin has now been officially ruled out for Sunday. So unless Seattle's o-line can figure out how to improve their protection by Sunday night, I'm hard-pressed to think Wilson has much of a chance to regain his early season steam against the 49ers.
But you know who the Seahawks can always count on? Mr. "Beast Mode" himself. The one and only Skittles monster, running back Marshawn Lynch.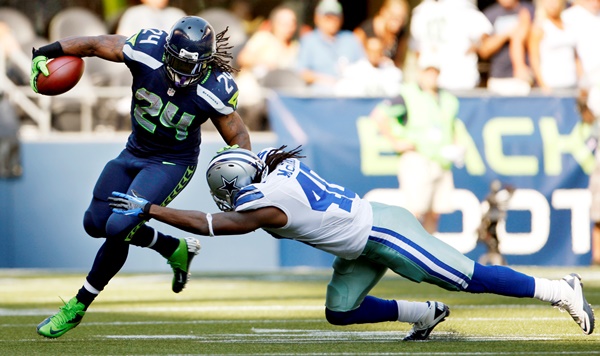 Throughout his NFL career, Marshawn has crushed the 49ers. In their two matchups this year, he had 207 yards and three TDs. He boasts four of the top six rushing performances since Harbaugh was brought on. And while Wilson might be in a bit of a slump right now, Marshawn appears to be at the top of his game: 140 yards and two TDs against the Saints last week.
But standing in Marshawn's way is a field full of healthy receivers for Kaepernick to toss to. Michael Crabtree, Vernon Davis, and Anquan Boldin are all back in the game now. But even with a strong group of receivers, don't forget that the 49ers only scored 19 points against the Seahawk in their last matchup. Kaepernick has stuggled in the regular season against the Seahawks, throwing over one-third of his career interceptions (14) in his three games against Seattle.
But, as 49ers fans know, Kaepernick's regular season struggles don't always seem to transfer to the postseason. He's been awesome in the playoffs during his young career, so I expect to see a much better turnover stat for Sunday's game.
Their two regular season matchups suggest that Seattle has the advantage on Sunday while overall momentum swings in favor the the 49ers. But even though Wilson hasn't been that impressive the last few weeks, he's no regular QB. Rest assured he's listened to critics doubt him all week, and I'm guessing he's ready to set the record straight.
But don't forget how much of a motivator Harbaugh is. Also, I'm not one to doubt a man that can pull off $8 pairs of Walmart pants.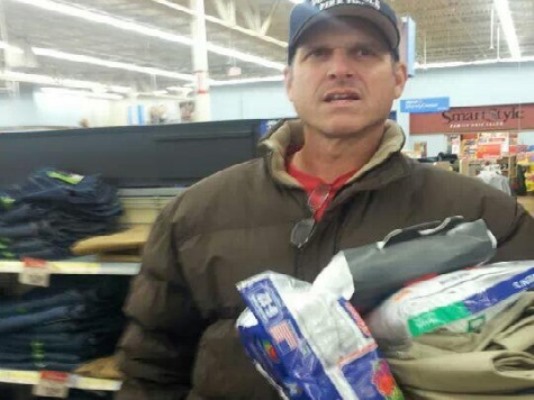 Tune into FOX this Sunday, 3:30pm PST/6:30pm EST, to see if Seattle's 12th Man can continue to yell their Seahawks to victory or the 49ers land their second Super Bowl berth in two years.