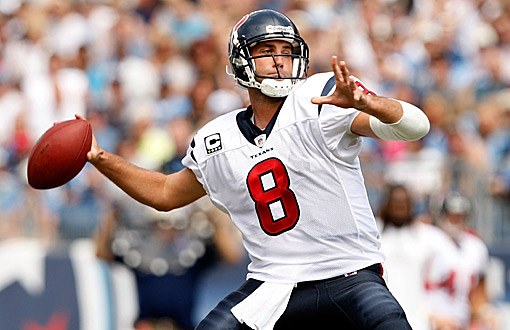 In a recent interview on Baltimore sports radio's The Scott Garceau Show, Houston Texans quarterback Matt Schaub shot down the idea that NFL quarterbacks will evolve beyond being only pocket passers.
For those unaware, the Pistol Offense was adapted to the pros after college teams started using it successfully. It's a formation that gives the quarterback flexibility on what they do with the ball and the kind of plays they can run.
This formation tends to help quarterbacks who are faster (think RG3, Russell Wilson, and most recent NFC Champion quarterback Colin Kaepernick), but also have great arms that can throw the ball downfield with a flick of their wrist (think Michael Vick and Ben Roethlisberger).
The Pistol O makes defenses less likely to anticipate which play the offense will run, because the QB and HB are so close to each other, it's very hard to predict who will get the ball.
Most teams rely on the traditional "pocket passer," who then rely on their arm rather than their legs.
These are the guys who can make the perfect throw, even as they feel 350-pound defensive linemen breathing on the back of their neck.
Think of the top quarterbacks in NFL history. I'm talking about Peyton Manning, Tom Brady, Joe Montana, John Elway, Terry Bradshaw, Mark Sanchez (just kidding) and a few others who could be considered the best of the best.
These guys relied on pure quarterbacking to win games (including championships). They threw the ball to the open guys, and let them go up to make the catch. These quarterbacks didn't risk their bodies by running downfield to try to make a big play.
Obviously, these guys didn't have the running talent that today's quarterbacks do. Any of these new young runners could play any offensive skill position they want. RGIII has speed that would be a great receiver (assuming he can catch).  Russell Wilson and Tim Tebow have bodies like running backs (I wouldn't consider Tebow a legitimate quarterback anyway, but that's for another column).
Colin Kaepernick got his team to the Super Bowl by turning on the leg-jets during their playoff game against Green Bay, rushing for an insane (and postseason record) 181 yards. Are you kidding me?! This guy came as close to winning a title as a running quarterback has gotten… ever.
Though he's never played on a team that uses the Pistol Offense, Schaub said, "In this league, it comes down to being able to stand in the pocket and make the throws and be able to take a hit in the pocket."
The Texans quarterback believes that being able to make your throws in the pocket gives other players a chance to make plays, rather than relying just on one guy to do all of the dirty work.
I can't say I disagree with Schaub, because of all the 47 Super Bowl winning quarterbacks, none of them have been "running quarterbacks".
Defenses win championships. Great throws win championships. Running quarterbacks don't win championships.
At least not yet.
The record most rushing yards by a quarterback in a Super Bowl is a mere 64 yards, by the late Steve McNair. And the Titans lost that game to the St. Louis Rams.
I'm not saying I don't support the Pistol Offense, or I think that a running quarterback will never win gold, or even that quarterbacks should strictly stay in the pocket.
If you can run AND throw, then you should utilize your entire skill set to help your team win the game.
But, like Griffin III showed us this past playoffs, you shouldn't put yourself in danger by thinking your legs should be the first option, especially if you are the most valuable player on the offense (or in RG3's case, the whole team).
But, this crazy, young talent is just that: YOUNG.
These guys are going to be in the League for a long while, and Schaub, along with the rest of us, shouldn't be surprised if one of the young guys' breaks the running quarterback curse and takes home the Lombardi Trophy.
Written by GuysGirl's newest writer, Derek Lombardo