A lot of people called the Mario Williams signing a bust last season when Buffalo's defense continued to be worse than ever and Williams didn't do much, at least at first.
Truth is, Mario Williams played the first two-thirds or so of the season battling an injury.
He's healthy now, however, and let's see if anyone wants to use the word "bust" after he helped the Bills down Carolina win a 6 tackle 4½ sack performance.
Hit the title/read more to continue reading…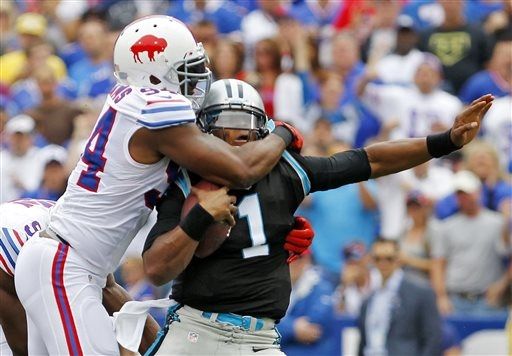 Talk about a rough start:  Eli Manning has thrown 7 interceptions in two games.  He only had 15 all of last year.
And a not so rough start?  Bills QB EJ Manuel became the first rookie since 1960 to post a passer rating of 89 or better in each of his first two games.
This Week's Sucked And Won:  Ray Rice, RB (BAL).  13 carries, 36 yards.  3 catches 9 yards.  1 Fumble.  0 TDs.   This sub-pedestrian stat line from one of the NFL's elite backs (and the Ravens' best offensive player) seriously won't cut it.  Props to the Browns defense for shutting Rice down, and here's betting Baltimore doesn't win another game this season where Rice is such a non-factor.
What is with the NFL and the weather?  This week, two nationally televised games, New Orleans v. Tampa Bay and the Sunday Night game between San Francisco and Seattle, were subject to substantial delays due to weather.   I don't ever remember such visible and prolific interruptions of play due to weather conditions at any time in the past.  Global warming?  Is God an angry Bills fans?  Stay tuned.
Shocking realization of the week:  The Houston Texans have scored more than half of their points this season in the 4th quarter or overtime (33 of 61 points).
Is Mike Shanahan an early coach on the hot seat this season?  Washington has given up 71 points this season and you have to wonder how they're planning on turning things around after an 0-2 start with a defense that can't stop anyone.
This Week's Great But Lost:  DeSean Jackson, WR (PHI).  9 catches, 193 yards.  1 TD.  He took a dumb penalty in the Eagles' loss to the Chargers, but it's not his fault the defense gave up 33 points.  Jackson was a huge part of the reason Michael Vick set a career high for passing yards in this game.
Anyone else notice that the supposed "games of the week," the Manning brothers battle between Denver and New York and the NFC West showdown between San Francisco and Seattle turned out to be clunkers while games like Buffalo vs. Carolina were the thrillers this week?
Thursday Pick:  Kansas City (+3.5) @Philadelphia (Orleans)
All I've heard all week is how desperate the Eagles are to beat their old coach Andy Reid.  I'm not buying it.  Who's desperate to beat him?  Michael Vick, whose career got resurrected by Andy Reid when the rest of the NFL wouldn't touch him?  DeSean Jackson and LeSean McCoy, who became superstars in Reid's offense?  Doubtful.  Eagles' fans, some of them anyway, led by a certain contingent of the media who detest Reid, are rabid over Reid's return, but they won't be on the field Thursday night.  Meanwhile, the Eagles' defense, whether they want to beat Reid or not, can't stop anyone.  I love the Chiefs here.
Kansas City Chiefs 30 Philadelphia Eagles 24
NFYell
"It has everything to do, in my mind, with Andy Reid being their coach.  He's outstanding." – Cowboys owner Jerry Jones offering a nice sentiment, until you realize he's talking about the other team's coach.
"A lot of things said this week that we didn't really appreciate.  You see how smart they are?  They must not have watched the last game we played them." – Seattle CB Richard Sherman, on his team getting no respect from national pundits who picked the 49ers to win.
"There is a certain amount of misery that comes with the position we're in.  We're aware of it." – Steelers coach Mike Tomlin on his team's 0-2 start.
"Right now?  There ain't any safeties on the street, I can tell you that.  So we're going to play with the ones we've got." – Eagles coach Chip Kelly, talking about the position that has been an absolute disaster for Philadelphia for several years running.
"That guy, Drew Brees, he's magical, he really is…If you give him a minute, if you give him 30 seconds, we all have hope on this team." – Saints TE Jimmy Graham, praising that guy who plays quarterback.
"It's always a good position when I'm standing up and the quarterback is on the ground.  So I was happy." – Dolphins LB Philip Wheeler, who recorded 12 tackles and a sack against the Colts.
"That's definitely not acceptable to drop the ball.  I'm a receiver. so that's what I do is catch the ball." – Patriots WR Aaron Dobson, explaining what a receiver does.
"They're not going to like what they see on film." – Bears QB Jay Cutler, on the Vikings' defensive alignment that left Martellus Bennett wide open for a game winning touchdown.
"There are no little things.  You hear a lot of coaches say, 'It's the little things.'  There are no little things.  Everything's a big thing." – Cardinals coach Bruce Arians, on his dissatisfaction with this team's play despite winning their game with the Lions.