There are lots of years where the Super Bowl winds up being a bust.  Or where a highly anticipated showdown between two good teams turns into a blowout.
But Manning v. Brady?  Sure seems like every time these two meet up, they deliver the goods.
It didn't look that way in the first half, of course, as Denver jumped out to a 24-0 lead.  But the Patriots scored 31 unanswered points to start the second half.
That alone would have made for a remarkable game, but just to make it interesting, Manning tossed his second touchdown with 3 minutes left to send the game into overtime, before the Patriots finally sealed the deal in the extra period.  Never a dull moment.
After two straight weeks of falling on their collective faces, the Jets must be done, right?  Same thing for the Titans, after that loss two weeks ago to Jacksonville.  Guess again.  Those are just two of the 5-6 AFC teams locked in a six way battle for the last wild card spot.  Don't even try to figure out how that one's gonna wind up.
.
This Week's Sucked And Won:   Miles Austin, WR (DAL).  He was shut out for most of the game, winding up with just one catch for 17 yards and had a crucial drop inside of 2 minutes that could have cost his team the game.  Chalk it up to rust – this was Austin's first game back from injury.
One of the things that may decide the playoff picture in the NFL is Aaron Rodgers' health.  Without Rodgers, the Packers have been pushovers.  If he doesn't play this week against Detroit, that will probably mean the Lions get a pass to another win.  But if he's back in two weeks, the Pack may well get the best of Dallas, Pittsburgh and Chicago to close out the year.  That will not only vault Green Bay forward in its playoff push but help all those other teams who got to deal with Green Bay when they were at half strength.
.
Shocking realization of the week:  In their four games against the NFC West, Indianapolis has beaten powerhouses Seattle and San Francisco, but lost to St. Louis & Arizona by a combined score of 78-19.
Looking for the best kicker in the NFL?  The Patriots Stephen Gostkowski has been the most prolific, going a remarkable 26 for 27, but if you want the kicker with big leg, take a look at the Panthers Graham Gano.  He's a respectable 16 of 18 overall, but he really delivers from long range, having hit 6 of 6 attempts from beyond 50 yards, including another one this week.  At the end of a game, if Carolina needs a field goal to tie, they're one of the few teams that only has to aim for the opponent's 35 yard line to feel confident they can get it done.
.
This Week's Great But Lost:  Knowshon Moreno, RB (DEN).  37 carries for 224 yards and a touchdown.  And in a game where Denver committed an unthinkable 5 fumbles, Moreno, despite all those touches, didn't have even one.
.
Thanksgiving Picks 

Green Bay (+7) @Detroit (5Dimes)
The Packers still won't have Aaron Rodgers for this game, but they will have Matt Flynn, who stinks everywhere except playing for Green Bay.  This is a do or die situation for the Lions, who have squandered their chance to lock up the NFC North.  If they lose to the Packers here, before they even get Rodgers back, they have no chance.  I think Detroit wins the game, but I also think this one finishes close.
Detroit Lions 28 Green Bay Packers 24
.
Pittsburgh (+2.5) @Baltimore (5Dimes)
Both of these teams bought themselves new life with wins on Sunday.  This is probably the most gritty rivalry in the NFL, and despite shaky seasons, both teams come in playing more or less their best football of the year.  I expect this to be a very fun game to watch (especially if you love hard hitting defense).
Baltimore Ravens 17 Pittsburgh Steelers 14
.
Best Thanksgiving Picks
"I don't know, I kind of miss flipping the coin to start the game."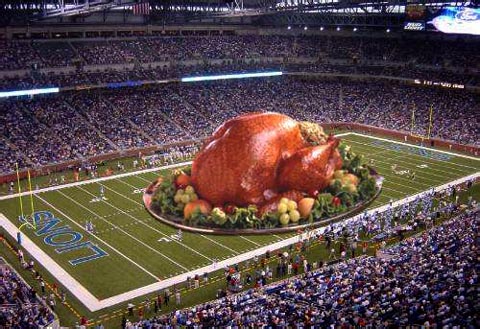 Oakland (+10.5) @Dallas (5Dimes)
This one is too good to pass up.  I know Dallas traditionally is a strong play on Thanksgiving, but the last three years they've had two losses and a one point win.  This spread is all out of whack.  The Raiders should be up to putting up some points on Dallas' defense, and while I fully expect the Cowboys to win this game, I don't think they blow the Raiders out.
Dallas Cowboys 28 Oakland Raiders 23
 .
Pittsburgh @Baltimore o/u 40.5 (Las Vegas Hilton)
These two defenses are coming off just about their best games of the year.  Neither of these offenses is particularly scary either.  I see a very low scoring game.  Hell, it wouldn't surprise me if this one finishes 10-7 or something like that.  The under should cover.
Baltimore Ravens 17 Pittsburgh Steelers 14
.
NFYell
"No one died.  We lost a game, and of course you want to win every game you play, but it's not devastating.  They made one more play than we did." – Broncos DE Shaun Phillips, putting Denver's loss to New England in perspective.
"Its pride. If we were 9-2, it would still be for pride. This is a game about pride, going out and putting your best foot forward. Now, we have to just play for each other and our pride. We have to go out there and put our foot down, draw a line in the dirt and make sure that we cross their line more than they cross ours." – Falcons S Thomas DeCoud, commenting on 2-9 Atlanta's having been "officially" eliminated from the playoffs.
"I don't really pay all that much attention to it in the now.  It's a great accomplishment, but Jerry Rice had 21,000 yards receiving. That's the benchmark." – Cardinals WR Larry Fitzgerald, on becoming the youngest player to reach 11,000 career receiving yards.
"I'm very emotional, man.  We just got disrespected. We didn't talk all week. We let them do all the talking. Revenge is best served cold. It was cold out there tonight the way we did it. We came out there and we took it.  We got class. I'm not showing a lot of class right now. But the damage is done." – Cowboys DT Jason Hatcher, on the Giants' trash talking leading up to the game.
"Nice accomplishment, but not a lot of time to admire our work." – Steelers coach Mike Tomlin, on Pittsburgh's short week of preparation for their Thanksgiving game against the Ravens.
"Now we happened to do it on the first play. I had the ultimate trust in my defense. That's how I feel. Will my defense hold them down with a minute and whatever on the clock? I'm betting on my defense. I thought that was the right thing to do." – Chiefs coach Andy Reid, on calling a timeout with 1:28 left in the game, ultimately leaving the Chargers enough time to come back and get the winning score.
"There's no drop in my confidence for my quarterback.  He's still one of the best in the league." – Lions WR Nate Burleson, on QB Matthew Stafford.  Stafford's four interceptions on Sunday cost the Lions the game against Tampa Bay.