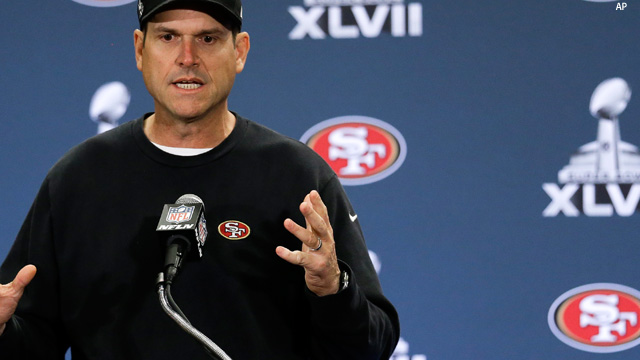 While the Super Bowl XLVII Champion Baltimore Ravens and their fans were celebrating both their recent win and the career of soon to be retired 17 year veteran linebacker Ray Lewis at M&T Bank Field, the San Francisco 49ers were back at home trying to gather themselves following the devastating loss this past Sunday.
The 49ers were down by 22 points in the third quarter but were able to rally together and fight their way back. They found themselves in position to possibly win the game when they were faced with a fourth and goal from the Ravens 5 yard-line with 1:50 remaining in the game trailing 34-29.  49ers quarterback Colin Kaepernick lined up in the pistol formation and with the defensive formation that the Ravens lined up in, it let Kaepernick know they were in man coverage on the wide receivers.  With that, Kaepernick went to his right where WR Michael Crabtree was lined up.
There was a lot of hand checking, grabbing and pushing going on between Crabtree and Ravens defensive back Jimmy Smith. But when Crabtree was trying to break loose to get back into his route, Smith clearly grabbed Crabtree's jersey and held him, causing an incomplete pass and ultimately securing a second Super Bowl crown for the Ravens.
Now, with that being said, there are people that would say the ref should have called holding and some are saying you don't make that call.
For instance during the telecast sportscaster and previous Super Bowl winning quarterback Phil Simms first came to judgment with "That's a good no call" but following multiple replays from different angles in the end zone, he changed his tune with "the more angles I see the more confused I get."
Former Superbowl champion Rodney Harrison was on the Dan Patrick show Monday following the game and said it was a "garbage no call, you have to make that call."
Then there's the side that claims the call was not to be made.
A radio broadcast that was played during a highlight show on the NFL Network, the announcer was quoted with saying, "Was there contact and holding? Yes. Is a referee going to throw a flag when a Super Bowl is on the line? No, he's not going to."
Following the loss in post-game interviews, 49ers Head Coach Jim Harbaugh, when asked about the no call, he replied "I realize I'm on the side of the 49ers, I probably have some bias there. Thought it was obvious but that's not the way they saw it."
There has been some resentment towards Harbaugh that during most press conferences he's not exactly forthcoming with real information.  And for most of his season closing interview in San Francisco on Monday, it was the same old song and dance.
For example when asked what would be the next step the organization would take with free agent Quarterback Alex Smith, who lost his job half way through the season to Kaepernick, Harbaugh replied "the next step is to have a discussion, at some point."
Regardless of his normal demeanor and less then desirable answers, when asked about the no-call in the end-zone, you could see and feel the passion that Harbaugh coaches with and had in him when he was a quarterback in the 90's.
The first question of the press conference was, "Were the right plays called at the end?" Following a small delay to get his thoughts together, not only did Harbaugh answer the question but he elaborated.  "We came up 5 yards short. Certainly knowing how it ended up, how it finished, we didn't get the ball in, yeah we would've like to try a different play call. A different scenario and that's how I'll always feel. If you do something and it doesn't work, would've like to try something different, at least tried it, but you can't."
And as a reporter was trying to ask another question, Harbaugh spoke over him with a point that some people would miss. "The would've, could've, should've, is undefeated, that's never failed."
Over the duration of his football career, Harbaugh has led his team to an NFC Championship game in his first year as head coach and the Super Bowl in his second season. He quarterbacked an Indianapolis Colts team to the AFC Championship versus the Pittsburgh Steelers and if not for a dropped hail mary at the end of the game, he too would have played in a Super Bowl.
Even in college he was in the running for the Heisman Trophy when he was the quarterback at the University of Michigan.
Harbaugh is a guy who knows how to win, gets the best out of his players and more importantly, he gets his players to buy into him. So when someone asks him whether or not the right play was called, sure he would've liked another shot, but if it wasn't for a hold in the end-zone, there would be no questions. The play was called and it would've worked, he knows that, better yet, his team knows that.
The best part of Harbaugh is he knows who he is and so do his players. And that's rare in today's revolving door of the coaching profession. A statement that he used during his interview that sums up him and his 49ers, "We fight to win."
Written by GuysGirl contributor, James Critch