I don't think too many people had San Francisco vs. Baltimore in the Super Bowl before the season started, and I'm sure not many still had Baltimore there once the regular season was over, but championship games are frequently a combination of who's best and who's hot, and these two teams both fit parts of each of those bills.
Hit the title/continue reading to read more. . .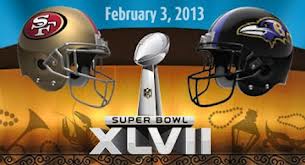 image source
Wynn Las Vegas Line posted on 1/31/13 @6:00 p.m.
Baltimore (+4) vs. San Francisco (o/u 47.5)
Here's how the matchups stack up:
49ers run-option offense v. Ravens front 7: The Ravens' defense started the season struggling to stop the run but improved steadily over time. That unit also gave up decent numbers to mobile quarterbacks this season. The 49ers' offense is still predicated on establishing the run with Frank Gore and letting that open things up for Colin Kaepernick to run or pass. To that end, I think the Ravens will do a decent job containing Gore, but overall the 49ers should find some room here.
Advantage: Neutral
49ers receiving corps vs. Baltimore linebackers and secondary: This is no contest. The Ravens will do a good job taking away receiving options from Colin Kaepernick, and I don't buy that the Niners' new golden boy is going to win this game all by himself. Baltimore's already beaten Andrew Luck, Peyton Manning and Tom Brady in the playoffs, and all three of those guys are better than Kaepernick.
Advantage: Baltimore
Ravens pass rush v. San Francisco offensive line: The Ravens' pass rush has, like the rest of their defense, stepped it up in the playoffs. The 49ers have a good but not great protection scheme, and they'll probably rely on Kaepernick's mobility to avoid losses by sack. His ability renders this a stalemate.
Advantage: Neutral
49ers pass rush v. Baltimore offensive line: The 49ers typically do a good job of pressuring the quarterback, but they didn't get to Matt Ryan at all. I think they'll struggle getting to Joe Flacco as well. The Ravens have done a good job in pass protection, and unless the San Francisco pass rushers take a huge step up, they won't be able to throw him off his game.
Advantage: Baltimore
49ers front 7 v. Ray Rice: Last year, the 49ers run defense was completely flawless. It's almost that good again this year, although there have been a few chinks in the armor. Rice will contribute – he's too valuable a playmaker not to – but San Francisco will take away the initial option for Baltimore to set up the pass with the run. They'll have to open things up for Rice, not vice-versa.
Advantage: San Francisco
49ers secondary v. Baltimore receivers: This one goes to the Ravens. The 49ers secondary has always been the weakest link in their defense, and unless you see a lot of pressure on Joe Flacco, the receivers should be able to get open.
Advantage: Baltimore
Special Teams: David Akers has been shaky all season, nearly getting replaced, while rookie Justin Tucker has been stellar. The 49ers return game arguably cost them a chance to get to the Super Bowl last year, while Baltimore's Jacoby Jones is one of the best in the game.
Advantage: Baltimore
Intangibles: Before the season, Joe Flacco proclaimed himself an "elite" quarterback, just like Eli Manning did last year and look how it worked out for Eli. On the flip side, the Ravens have gotten hit with the Ray Lewis "juicing" allegation right before the Super Bowl (although since Lewis is retiring, what difference does it make?). The 49ers have confidence going for them while the Ravens seem to have a little more passion. I call this one a draw.
Advantage: Neutral
Betting Trends: There are two and they both heavily favor the underdog. The team that is the higher seed in the Super Bowl (in this case the 49ers) has covered the spread exactly once in the last 15 tries. Yikes. In addition, teams that played 3 playoff games (as opposed to 2) to get to the big game have covered 7 times in a row.
Advantage: Baltimore
The Pick: I like the Ravens here, no doubt about it. They have been knocking on the door for a few years now, this is the last hurrah for Ray Lewis, Joe Flacco is playing for a contract, every indicator you can find says Baltimore comes out and wins this game. Super Bowls tend to go under, not over, but I'm going over on this one. I have a feeling we're going to see a lot of points.
Baltimore Ravens 27 San Francisco 49ers 24