Years back, we showed you how to make your own fantasy football draft board, complete with name-tags and reusable dry erase board. But since we've evolved through the years, so have our processes.
And that wimpy cardboard just couldn't hold up to the new fantasy football draft software that saved us from searching through a pile of name-tags to find your draftee.
Because most computers can be plugged into TV's, or in our case an HD projector at a local brewer, the draft board can be blown up in size to accommodate the entire draft party.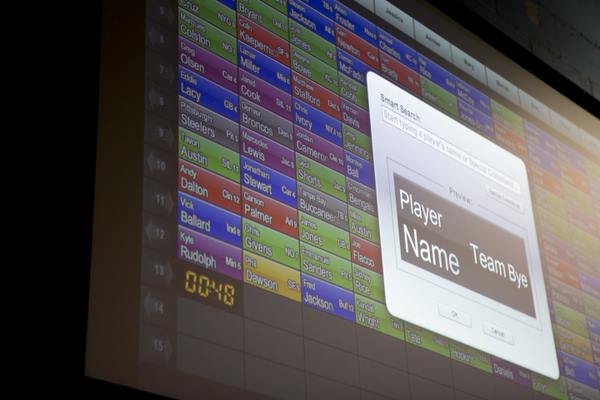 The GuysGirl Fantasy Football League made our first foray into using a digital draft board back in 2011. A nd while it didn't go smooth back then, 2012 was much different mostly because of a switch to a program called PrimeTime Draft Football.
PrimeTime Draft doesn't get into the business of ranking players or providing "expert picks" instead, they focus solely on being a digital draft board. And they do it extremely well.
From the website:
PrimeTime Draft™ Football 2014 dynamically sizes to fit the entire draft board on your HDTV. Everyone can see every team and every round — all the time!
By showing everyone at the draft all selections all the time, each team owner can be scanning the entire board trying to identify their next moves. Everyone at the draft can look at the parts of the draft board that are important to them at that particular moment in the draft, such as:
–Who has drafted whom?
–What positions do other teams need?
–What are the maximum bids available for each team?
–What are the average, high, or low dollar values that players are going for?
Draft orders, league settings, IDP options, and draft pick times are all fully customizable.
The player positions are color coded so that you can tell from a glance which positions are going quickly in order to gauge on when you should take a tight-end or defense with your next pick.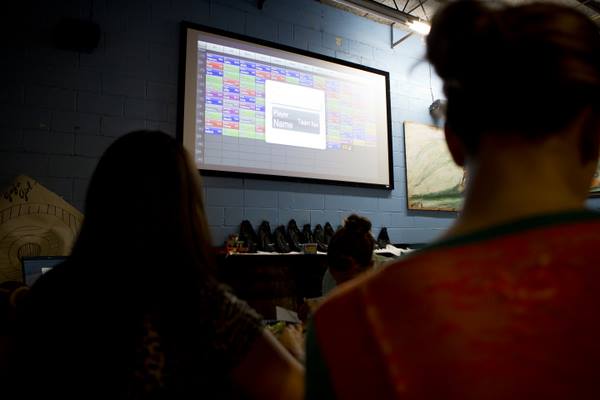 One of my favorite parts about the $20 software is the ability to set a draft clock for each player. In our case, a two-minute clock is started as soon as a pick is made. If the clock actually reaches zero before a player is picked, a loud and annoying buzzer goes off, which is slightly embarrassing if you're in the middle of bar with a crowd watching you.
Another great feature is the remote view feature. If for some reason you have a person who can't be at the draft live, you can give them an online login to watch as the draft picks are chose live. Put whatever player that decided something was more important than attending your live fantasy football draft on speakerphone and they can still follow along through the process without picking 10 players that have already been chosen.
New features for this year
–Voice announcer. Using your system's text-to-speech feature you can have the software say, "Team X has selected 'Tom Brady."
–Support for trades. Some advanced drafters allow people to trade picks. This was a very commonly requested feature last year.
–Sharing your draft results on Facebook/Twitter. After the draft, in just a couple clicks you can post your draft results to FB or Twitter so that all your followers can see.
–The new version is compatible with most devices including iPad and Android tablets.
Wishful Features
With any software, there is always a bit of space where we can make some improvements. Here are a couple of my suggestions to make this software even better:
–The ability to input picks from "remote view" using your phone.
–To be able to quickly glance, by color coding, at what top players are still left. Perhaps consolidate player rankings from sites like Yahoo and Pro Football Focus so they could just focus on the software offering.
–Upload draft picks directly from this software into our preferred fantasy league hosting site.
As I've said before, making the switch to a digital draft board was one of the smartest things our league ever did. The more and more companies like PrimeTime Draft continue to make improvements, it will only get better and better.