Finishing a week barely above .500 is no reason to celebrate, unless of course you've been on a hideous cold streak like me, in which case woo-hoo!
This upcoming week could be particularly tough though, because there's no big marquis games on the schedule.  Accordingly, the subtleties of the spreads will be as important as ever in finding winning choices.
Last Week:       9-8-1 Overall;   3-2 Best Picks
2013 Season:  57-56-6 Overall; 9-16-1 Best Picks
(All lines as of 10/25/13 @8:00 a.m. – line credit posted per game)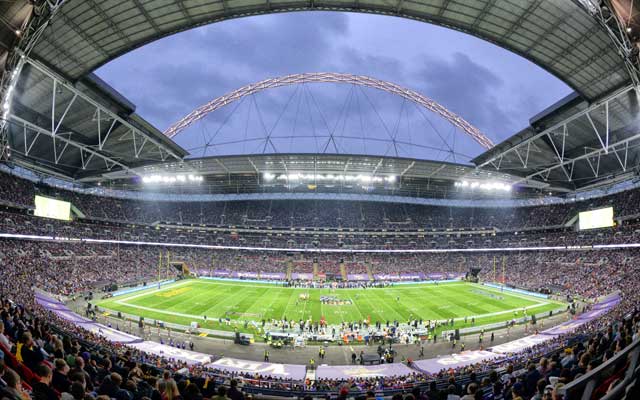 San Francisco (-16.5) @Jacksonville (Las Vegas Hilton)
I don't know if San Francisco is a winning pick here, but they're definitely the right pick.  Jacksonville's seeming improvement recently is a mirage.  They've lost their last three games by 18, 16 and 14 points, while the 49ers have scored 30+ in four straight, comprising their four game winning streak.  This isn't even a home game for the Jags, it will be played in London, where better teams frequently run it up on lesser ones.
San Francisco 49ers 34 Jacksonville Jaguars 16
.
Dallas (+3.5) @Detroit (Las Vegas Hilton)
I just don't trust the Detroit Lions anymore, and there are a number of reasons I really like the Cowboys here.  First, Dallas is 6-1 against the number this season, so they've been good to those who've stuck with them.  Second, this game reminds me suspiciously of last week's game when AJ Green got slightly outplayed by Calvin Johnson, but the Bengals won the game.  I'm betting Megatron can outduel Dez Bryant in individual stats, but can his team finally win a game?  If they donm, it will be by 3 or less.
Detroit Lions 27 Dallas Cowboys 24
.
Cleveland (+7) @Kansas City (Wynn Las Vegas)
I'm done thinking of the Chiefs as that 7-0 team that's not actually that good.  That's actually bullshit.  The Chiefs are damn good, especially their defense, and Cleveland is an offensive black hole.  Normally you don't want to give a touchdown with a lockdown team that plays plodding offense, but the Chiefs have been covering spreads like this for weeks.
Kansas City Chiefs 20 Cleveland Browns 10
.
Cleveland @Kansas City o/u 40 (Bookmaker.eu)
40 is a dicey over/under number.  A couple of special teams plays or key turnovers and you'll lose the under bet, but 5 of the Chiefs 7 games this season have finished under 40.  Are the offensively challenged but defensively solid Browns really a team to break that trend?
Kansas City Chiefs 20 Cleveland Browns 10
.
Buffalo (+10.5) @New Orleans (Wynn Las Vegas)
I don't like this game at all.  The Bills have only lost by double digits once this season, while the Saints have only won by double digits twice.  But New Orleans is coming off a bye, and they're at home, and I just can't pass them up.
New Orleans Saints 31 Buffalo Bills 20
.
Miami (+5.5) @New England (BetDSI)
This is another game I'm not liking at all.   The Patriots are a very solid bet coming off a loss, and they've won 3 of the last four home games against the Dolphins by double digits.  But you'd have to be blind to think there's not something amiss with Tom Brady and the Patriots as a whole.  I can't go against New England here, but I hate taking them too.
New England Patriots 24 Miami Dolphins 17
.
NY Jets (+7) @Cincinnati (Bookmaker.eu)
Let me start by saying, whatever I do in this game, pick the opposite.  I can't handicap the Bengals to save my life.  The Jets have alternated good games with bad ones all season, but the Bengals haven't beaten a team by more than a touchdown since week 2.  I like the Jets getting these points, but like I said, don't trust me when it comes to Cincinnati.
Cincinnati Bengals 24 New York Jets 20
.
Atlanta (pick 'em) @Arizona (Bookmaker.eu)
The Cardinals have looked pretty bad the last two weeks, but they were playing the 49ers and Seahawks.  The Falcons looked improved last week, but they were playing the Bucs.  The Falcons remain the most injury decimated team in the NFL, and I think the Cardinals defense comes out and shuts them down.
Arizona Cardinals 21 Atlanta Falcons 17
.
Seattle (-11) @St. Louis (Las Vegas Hilton)
I'm ignoring the recent history here, where the Seahawks have lost two of their last three games at St. Louis, in favor of the more recent history, where the 2013 Seahawks are nearly as dominating on the road as they are at home.  Sam Bradford is out, which means Kellen Clemens gets to deal with that Seahawks defense.  Good luck with that.  One more thing:  rumor has it that the Rams contacted Brett Favre this week.  The Rams were bad to begin with, now they've added the very worst sort of karma headed into this game.  Brett Favre?!  STOP!
Seattle Seahawks 28 St. Louis Rams 13
.
BEST PICKS OF THE WEEK
"What d'ya mean you're leaving me here until the Jaguars win?!  I'll freeze to death!"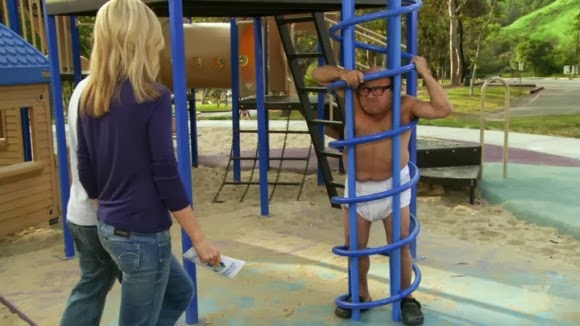 NY Giants (+6) @Philadelphia (MGM Mirage)
In week 5, I rode the trend of this divisional rivalry which tends to favor the road team.  I'll do the same thing here.  Nick Foles is out, and Michael Vick will start even though he's not 100% healthy.  Don't be surprised if Matt Barkley finishes this game, and don't be surprised if Eli Manning manages his second straight mistake free performance against a bad Eagles secondary.
New York Giants 28 Philadelphia Eagles 23
 .
Pittsburgh (-3) @Oakland (Carbon Sports)
Every time I bank on the Raiders being underrated, it seems to pay off.   I'm worried that Mike Tomlin has the Steelers believing again and they'll suddenly look like world beaters, but they still have issues with multiple units, and darn it, the Raiders with Terrell Prior at quarterback are really pretty good.  Pittsburgh has lost 6 of their 7 games on the West Coast.  I bet they lose one more.
Oakland Raiders 23 Pittsburgh Steelers 21
 .
Washington (+11.5) @Denver (Las Vegas Hilton)
The Broncos cost me last week, but darn it, Washington's defense is just atrocious.  How are they going to stop Peyton Manning?  They aren't.  And I'm still not buying the Redskins offense as being anywhere near good enough to make up for their defense.  Denver is coming off their first loss, and they're going to want to make someone pay for that.  For that reason, I also like the over a little bit, but 58.5 is just too high to want to pick it.
Denver Broncos 38 Washington Redskins 23
.
Atlanta @Arizona o/u 45.5 (Las Vegas Hilton)
I like the Cardinals defense to bounce back this week, and their offense doesn't seem capable of putting up a number any better than the low 20s.  I like the under here.
Arizona Cardinals 21 Atlanta Falcons 17
Green Bay (-8) @Minnesota (Bookmaker.eu)
Christian Ponder will start in place of Josh Freeman, but it doesn't matter.  Aaron Rodgers always seems to have a big game at Minnesota, and this year, the Packers' defense has actually stepped up.  Green Bay has quietly been resurgent in the NFC, while the Vikings stink both in private and in public.  I see a massacre.
Green Bay Packers 34 Minnesota Vikings 17