The AFC South features two solid contenders – the Texans and Colts, and two teams that just aren't in the Titans and Jaguars.  The biggest question coming out of this division is whether the Colts can duplicate their success of a year ago.
Predicted Finish:
Houston Texans (11-5) (3rd seed; AFC Divisional Round)
Indianapolis Colts (9-7)
Tennessee Titans (6-10)
Jacksonville Jaguars (2-14)
Hit the title/continue reading to read more. . .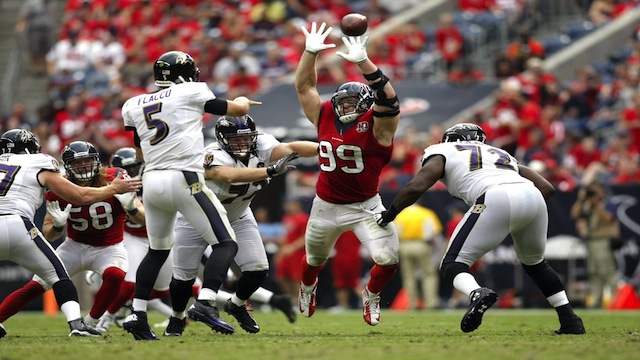 Houston continues to be the very definition of a solid balanced football team.  They run and block well.  They have a capable game manager type in QB Matt Schaub.  Andre Johnson is a great playmaker.  And their defense is outstanding.  But they lack the star power to go all the way.
Star power is not a concern for Indianapolis, where all eyes are on second year quarterback Andrew Luck.  It is entirely possible Luck elevates his game and the Colts are even better this year than last, but I think they take a step back before they take a step forward.  This team is still a work in progress, and they won't have a last place schedule to feast on this year.
The Tennessee Titans will go as far this season as QB Jake Locker can take them.  This is a make or break year for Locker and a number of other players.  The Titans made improvements to their line and added some weapons, so there is no excuse for the offensive inconsistency that characterized last season.
Despite my dire prediction for Jacksonville, I think they were smart to go straight rebuild and try to add talent overall instead of shoe-horning a quarterback as their first round pick.  They will struggle this year – Blaine Gabbert is probably the worst starting QB in the league – but the good news is they will have their pick of quarterbacks in next year's draft as they rebuild for the future.
Games to Watch
Week 2 – Jacksonville@Oakland:  If there's  a worse team than the Jaguars in the NFL, it is undoubtedly the Raiders.  Is it too early to call this the Bridgewater Bowl?
Week 5 – Houston @San Francisco:   This is the third game in a brutal stretch that sees the Texans taking on the Ravens, Seahawks and 49ers.  Can they win two out of these three?
Week 11 – Indianapolis @Tennessee:   This is a pivotal game for both teams.  The Colts can't afford to lose a road game to a lesser divisional opponent; the Titans need to show they can't beat a team like the Colts.
Week 15 – Houston @Indianapolis:  This late season game could well be for the division, a playoff spot, or both.  And Indy gets to host it.