The AFC West resembles the old NFC West, when the 49ers used to feast on weak competition and secure the #1 seed every year.
That's Denver this year, a Super Bowl contender in a field of also-rans.
Predicted Finish
Denver Broncos (14-2) (1st seed; Super Bowl loser)
Kansas City Chiefs (8-8)
San Diego Chargers (6-10)
Oakland Raiders (1-15)
Hit the title/continue reading to read more. . .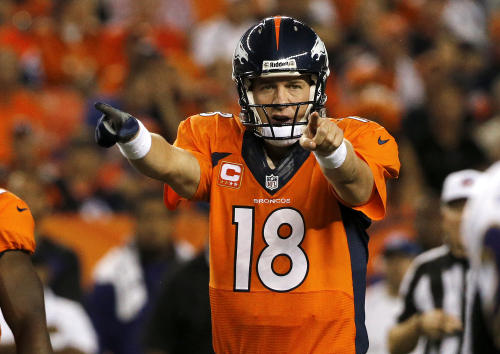 Peyton Manning was great last year.  He'll be better this year.  Wes Welker was brought in to an already good receiving corps, and the Broncos upgraded their offensive line.  Peyton Manning with Wes Welker and time to throw?  He could put up record setting numbers.
If Denver has an Achilles heel, it's on the defensive side of the ball.  They have some playmakers, Von Miller in particular, but they also have holes.  If the defense isn't good enough, that will be what will keep Denver from making the Super Bowl this year.
The Chiefs got a huge makeover in the offseason, bringing in former Eagles coach Andy Reid and former 49ers quarterback Alex Smith.
Reid had worn out his welcome in Philadelphia, but he was a great coach for the Eagles for a long time.  Expect the Chiefs to be a team on the rise.
It's easy to point the finger at Philip Rivers and blame him for the Chargers' decline and ultimate collapse, but he needs help.  His offensive line stinks.  Anyone who looks halfway decent in his receiving corps immediately gets hurt.
On defense, injuries have left San Diego plugging holes instead of making upgrades.  Rivers may still have some good years left in him, but they're being wasted right now in a semi-rebuilding period for the Chargers.
Is Oakland the worst team in the NFL?  Probably.  They're bad enough to go 0-16, although odds say they'll win at least one.  The Raiders will start nine new players on defense, an indication of how bad this unit was in 2012.
Their entire depth chart for offensive skill positions might contain one starting-caliber player, and that's being generous.  Their offensive line is dreadful.    This is going to be a long year for Oakland.
Games to Watch  
Week 3 – Kansas City @Philadelphia:  Andy Reid returns to Philadelphia is one side story here.  The other is that the Chiefs start the season with five out of division games, three of them out of conference.  This is a chance for KC to make some early noise.
Week 5 – San Diego @Oakland:  I keep looking for where the Raiders might pick up their one win.  Here, maybe?
Week 7 – Denver @Indianapolis:  Peyton Manning returns to Indy.  That's one story here.  The other is that this is one of the only games  the Broncos have on the schedule where they won't be strong favorites.
Week 16 – Denver @Houston:  It's no stretch to suggest this is playoff preview, or possible AFC Championship preview.  These are two of the top teams in the AFC.