As with any offseason, plenty of big name players changed teams, but did anyone make a bigger week one impact for his team than Anquan Boldin?
Coming off a Super Bowl winning season with the Ravens, Boldin, now a member of the team the Ravens beat, the 49ers, caught 13 passes for 208 yards and a touchdown. For those keeping score at home, Boldin caught half of the passes Colin Kaepernick completed, for half of the yards his quarterback put up.  Nice work for a guy who was "over the hill" 2 years ago, eh?
Hit the title/read more to continue reading…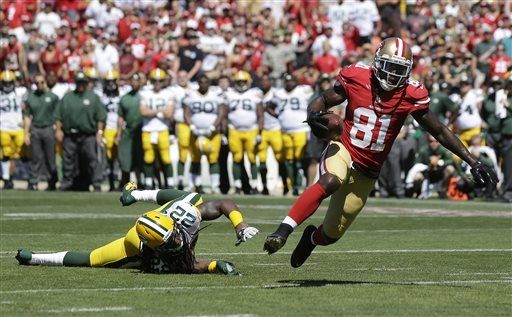 You may not realize it, but the Lions defense did a stellar job against Adrian Peterson this week.  On paper (and on the field), Peterson had 93 yards rushing on 18 carries, but remember, one of the very first plays of the game was an AP touchdown run for 78 yards, which means that for the entire REST of the game, Detroit held him to just 15 yards on 17 carries.
This Week's Sucked And Won:  Lamar Miller, RB (MIA):  10 carries, 3 yards.  OK, the Dolphins didn't really need much from their change of pace back to win this game but 3 yards?  Seriously?
In my preseason write ups, I said Peyton Manning would be great this year.  Way to go out on a limb, right?  Well, to be specific, I said he'd be even better this year than last, in part thanks to having Wes Welker.  All Manning did in week 1 was throw 7 touchdowns, something no quarterback has done since the 1960s.  Welker caught 2 of those TDs, en route to leading the Broncos in receptions and playing a key role in the first half, when the game was still close and no one really had any clue Peyton was about to go off.
Shocking realization of the week:  At 1:30 p.m. on Sunday three different teams had scores of 2 on the board.  What the…..?!
How substandard is the competition in the NFC East?  During the first half two minute drill Sunday night, the Giants had 10 men on the field on defense, and tried to call time out before an 11th man rushed out to avoid a penalty.  In the ensuing confusion, Dallas' Terrence Williams got wide open, and Tony Romo's pass bounced off his hands to the ground.  To top it off, Dallas got called for a holding penalty.  When you are unable to out-inept the other team, you're watching NFC East football in 2013.
This Week's Great But Lost:  AJ Green, WR (CIN) 9 catches, 162 yards, 1 TD.  What makes Green's dominating performance against Chicago even more impressive is that the Bengals had no running game to take the heat off the passing game and he did it against one of the NFL's premiere secondaries.  Green is just a flat out ace receiver.
For those keeping score at home, Andrew Luck has now led 8 fourth quarter come-from-behind drives.  He's started 17 NFL games.
Looking for an unlikely game ball to hand out?  Eagles punter Donnie Jones successfully put 4 of his 6 punts inside the 20.  Even in a relatively wild high-scoring game, his contribution to their win over the Redskins was undeniable.
Thursday Pick:  NY Jets (+13) @New England (5Dimes)
There is a weird trend on this game, but it holds true going all the way back to 2009.  Every season, the first meeting between these two teams is either a Jets win or a New England win by single digits.  The second meeting is a blowout Patriots win.  Like I said, this has held true for four straight years coming into this year.  It's enough for me to take the over-matched Jets and the points, even though on paper this shouldn't be a close game at all.
New England Patriots 28 New York Jets 19
Brave New Words:
"I had a lot of fun and I think our guys had a lot of fun.  But you're always going to say that when we win." – Eagles coach Chip Kelly, on his NFL debut.
"Ballsy play calling.  That's what Trestman's about." – Bear QB Jay Cutler, on new coach Marc Trestman.
"Next thing you know they're on the 3 yard line and you have to stop them, you have two plays to go, and then you have one play to go." Saints CB Jabari Greer on the team's last minute goalline stand to preserve a 23-17 victory over Atlanta..
"We're still growing as a defense.  Bend but don't break.  But I'd rather not bend." – Colts DE Robert Mathis.
"It was very pleasant looking across the line and seeing those guys worrying about Calvin and not me." – Lions RB Reggie Bush, acknowledging teammate Calvin Johnson's role, after gaining 90 yards rushing and 101 yards receiving  in his debut vs. the Vikings.
"Losing him is going to be big just because who's behind him?  I just learned the names, like, this week." – Steelers safety Ryan Clark, on the injury to LB Larry Foote.
"I don't know what to do with it.  I'm honored, but I don't even know how to pack it." – Texans K Randy Bullock, after being presented with a game ball for hitting the winning field goal with no time left.
"He can be better.  He can run with two hands on the ball like everyone else." – Giants coach Tom Coughlin, on RB David Wilson, who carried the ball 7 times and fumbled twice before being benched.