We really should be calling this game the Manning-Brady Bowl XV because "AFC Championship Game" just does not sound epic enough.
Because that's exactly what this matchup is: epic.
And historical. Ridiculously historical.
This Sunday's game between the Denver Broncos and New England Patriots will mark the 15th meeting between Broncos' QB Peyton Manning and Patriots' QB Tom Brady (four of which were postseason games). Out of those previous 14 games, Brady and his Patriots have won 10 of them.
And forget about the quarterbacks for a second.
The Manning-Brady Bowl XV will also be a big one for the head coaches. It'll be the seventh meeting between Denver Head Coach John Fox and New England Head Coach Bill Belichick, with Belichick having a 5–1 edge over Fox (including "the big one" in 2004). It'll also be the first time in NFL history that two coaches who faced each other in a Super Bowl will face each other in a conference championship game.
The AFC's top two seeds will battle it out this Sunday at Denver's Mile High Stadium, with the winner earning a trip to Super Bowl XLVIII in East Rutherford, NJ. The last time Brady played in a playoff game on the road was in 2006-07 for the AFC Championship Game. Against who, you ask? Yup, Manning. The one and only time Manning won it all.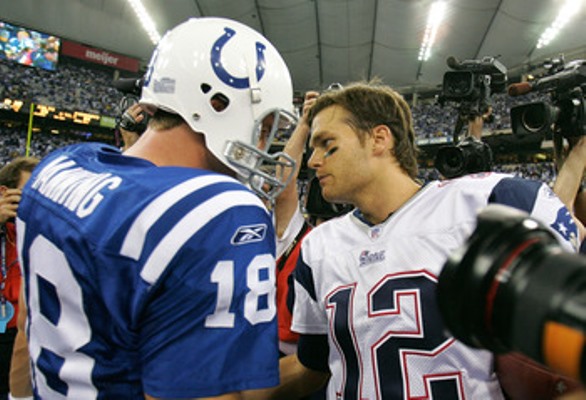 The last time these teams met was during Week 12 in Foxboro, and it was a wild one. The Broncos score 24 unanswered points before halftime. The Patriots then turned around after the half to put up 31 straight points of their own, pushing the game into overtime. A special teams turnover on a punt return gave the Pats a win, 34-31, and the Broncos their third loss on the season.
And even though New England held Manning to just 150 passing yards, Denver running back Knowshown Moreno set a Gillette Stadium record with 224 rushing yards.
During the regular season this year, the Broncos' offense was #2 in yards/drive and #1 in points/drive while the Patriots were #7 in yards/drive and #6 in point/drive.
Defensively, the Broncos were #15 in yards allowed/drive and #19 in points allowed/drive. Not too far from that, the Pats were #19 in yards allowed/drive and #10th in points allowed/drive. Denver ended the regular season with an even-steven turnover differential while New England ended at +3.
In last weekend's win over the San Diego Chargers, the Broncos' record-breaking offense didn't play close to 100%. A ball bounced off wide receiver Eric Decker's chest for a Chargers' interception. Tight end Julius Thomas issued a noteworthy fumble. Wide receiver Wes Welker dropped one in the red zone. All of that aside, Manning has days of offensive tricks up his sleeve; he's second to none when it comes to adjusting before the snap. He knows to expect plan-specific defensive strikes from Belichick and the Patriots. And with an arsenal of healthy options, expect him to (at least, try to) exploit the Patriots' not-so-fantastic secondary.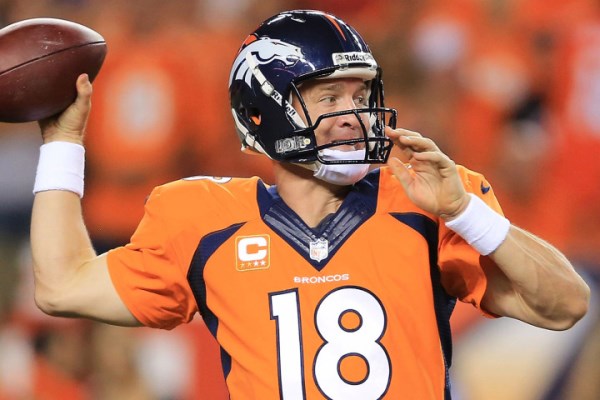 The Broncos' defense will be missing five of their original starters, including left cornerback Chris Harris. Harris was just put on the IR after suffering a torn ACL against the Chargers last weekend. This setback doesn't bode well for the Broncos' secondary, who has allowed over 270 passing yards/game this season and places in the bottom half of most defensive skill categories. Look for linebacker Danny Trevathan to step up on Sunday; he's one of the Broncos' most consistent defenders, having played over 960 defensive snaps this season.
And the Patriots' defense isn't faring much better. Ranked #30 in run defense, they've also lost several players to season-ending injuries, including defensive tackles Vince Wilfork and Tommy Kelly and linebackers Jerod Mayo and Brandon Spikes. These injuries will make it tough if the Broncos get ahead and run the clock, like they did against the Chargers. The Pats will want to get an early lead and force the Broncos to throw the ball as much as possible.
Despite who he's had to throw to this year, Brady has done some of his best work this season. In their win over the Broncos in November, he was 24-of-33 for 263 yards, had three TDs in the second half, and threw zero interceptions. And to the credit of Coach Belichick, the Pats are pretty good at adapting offensively. If you're lacking in the throw game, up the run game. And they have. A ton. The Patriots have found huge success in the ground game this season. 
The Patriots finished the regular season with the ninth-most rushing attempts (470), ninth best yards/carry average (4.4), and 12th-most rushing yards/drive. For these impressive stats, the team can mostly thank their trio of talented-yet-diverse running backs LeGarrette Blount, Stevan Ridley, and Shane Vereen. The three are nearly impossible to stop on turf.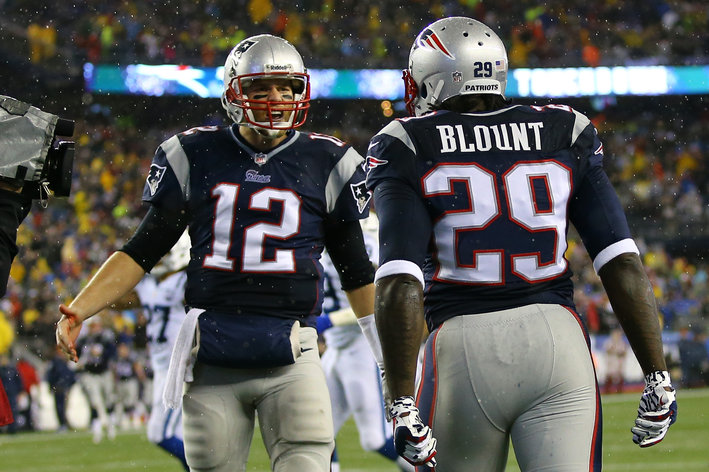 New England's win over the Indianapolis Colts last Saturday resulted in a stunning 46 ball carries, 230+ yards, and six rushing touchdowns, with Blount doing most of the lifting. And while I don't expect the Patriots to shy away from their dominating run game on Sunday, I do think Brady will do more to incorporate wide receivers Danny Amendola and Julian Edelman.
It's no doubt that the Manning-Brady Bowl XV has the potential to become yet another NFL postseason classic. Because, let's be honest, neither of these QBs are getting any younger. Manning, 37, and Brady, 36, are aware that every game is precious now. And even though the Broncos are the 6.5 point favorite, saying the words "underdog" and "Tom Brady" in the same breathe feels nearly disrespectful – and I'm not even a Patriots fan.
You've gotta think Manning will feel a little more pressure than Brady come Sunday, given the postseason track record he's trying to improve. And add a little more pressure to that pile since he'll be fighting hard to defend his home turf.
But despite any potential mental obstacles for Manning, I'm just not sure the Patriots will be able to put up the five or six touchdowns it takes to win at Mile High Stadium. Because as much as I believe in mental obstacles, physical obstacles (see: altitude, Manning, Decker/Thomas/Welker) tend to reign supreme.
Tune in this Sunday, 12pm PST/3pm EST, to see if Manning can continue to write his Cinderella season or if Brady will continue to upset in the postseason.
[featured image source]