Most years, I spend week 2 of the NFL season trying to dig my way out of the hole I made in week 1 because it's so tough to pick games early in the season.
Well not this season.
I went 10-6-1 opening weekend and 2-1 in Best Picks, so I finally start out in the black for a change.
After a glance at this week's games, however, I think I'm gonna need that head start.  One week of data is still too early to feel like you really know teams and there's some difficult calls to make once again.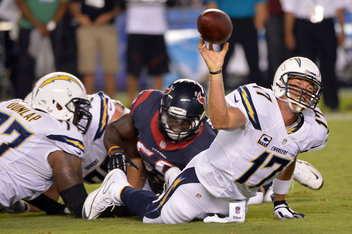 (All lines as of 9/13/13 @7:00 a.m. – line credit posted per game)
San Diego (+8) @Philadelphia (Stations)
I toyed with the idea of once again taking the over in Eagles' games but the oddsmakers reacted quickly to this trend and the number is too high for comfort.  Instead, I'm looking at a Philadelphia team with a dreadful defense (don't be fooled by the first half of the Washington game) giving more than a touchdown.  I like the Eagles to win this game, but not run away with it.
Philadelphia Eagles 31 San Diego Chargers 28
Cleveland (+6.5) @Baltimore (MGM Mirage)
These two teams played two games under 40 last season, and I'm taking a look at the under here (you'll know if I decided to run with it when you get to Best Picks).  Cleveland's defense is formidable, but they gave up 23 to Miami and I don't see them doing a whole lot better at Baltimore.  I wouldn't necessarily bet this game, but the Ravens are the side.
Baltimore Ravens 24 Cleveland Browns 14
Miami (+2.5) @Indianapolis (Las Vegas Hilton)
I will admit I have no feel for this game at all, so I'm just playing the home team and, to be honest, the Colts have a great vibe going with Andrew Luck where they seem to win even when they don't play well enough to do so.  One of these teams is going to look very much more real when this game is over.
Indianapolis Colts 24 Miami Dolphins 21
Carolina (-3) @Buffalo (Las Vegas Hilton)
How is Carolina giving points on the road to anyone?  They may be a bit better than the Bills, but only a tiny bit, and not in Buffalo's own stadium.  I'll take the 3 points no problem.
Buffalo Bills 23 Carolina Panthers 21
St. Louis (+7) @Atlanta (Stations)
Atlanta is a notoriously good team at home, but looking at their 7-1 record from 2012, you don't see an inordinate number of blowouts at the Georgia Dome, just wins.  I think the Falcons win again, but not by more than a touchdown.  The Rams are a solid team.  They'll stay in this game.
Atlanta Falcons 28 St. Louis Rams 24
Washington (+7) @Green Bay (Las Vegas Hilton)
Washington looked lost for 2 ½ quarters against Philadelphia, so can you imagine what an angry Aaron Rodgers and the Packers offense are going to do to them?  Yikes.  Washington will score some points of their own, mainly because Green Bay's defense is not that much better than the Eagles' but I like the Packers to run it up here.
Green Bay Packers 35 Washington Redskins 24
Dallas (+3) @Kansas City (Las Vegas Hilton)
One good game and people are ready to call the Chiefs an even match with Dallas and put straight up home field points on the game?  I don't get it.  Dallas is no behemoth, but they are probably better than Kansas City.  Probably enough to win this game outright.
Dallas Cowboys 27 Kansas City Chiefs 21
Minnesota (+5.5) @Chicago (5Dimes)
Home field has been big in this NFC North rivalry, and the Bears also have had a good deal of success with the Vikings.  If the Lions beat 'em, surely the Bears will too.
Chicago Bears 24 Minnesota Vikings 17
Detroit (-1) @Arizona (5Dimes)
This is another game that is really tough to call, although I'm buoyed by the fact that the line has moved on some sites towards the Lions.  I think Detroit is the better team here, and if they're going to be contenders this season, this is not a game they can afford to lose.
Detroit Lions 27 Arizona Cardinals 24
Jacksonville (+6) @Oakland (Carbon Sports)
Don't bet this game.  Just don't do it.  You may think Oakland stinks way too much to give 6.  You may think Jacksonville is too bad to cover anything on the road.  You'd be right about both of those, and any other superlatives you'd care to lob about just how bad this matchup is.  I'll take the Jags because six is too much to give with the Raiders, but I wouldn't bet a box of stale Raisinets on this game.
Oakland Raiders 20 Jacksonville Jaguars 17
Denver (-4.5) @NY Giants (Las Vegas Hilton)
This is the kind of game the Giants infuriatingly win every year – right when they look like crap, they go and beat some seemingly much better team.  I'm taking the Broncos here, but I'm not happy.
Denver Broncos 31 New York Giants 24
San Francisco (+1) @Seattle (5Dimes)
This is absolutely the game of the week, and it could go either way, although you really have to love Seattle's home field advantage to tip the scales in this one.
Seattle Seahawks 20 San Francisco 49ers 17
Pittsburgh (+7.5) @Cincinnati (5Dimes)
Here's the overreaction line.  I know the Steelers looked bad last week, but against a divisional opponent are you gonna give Pittsburgh more than a touchdown?  I'm not.
Cincinnati Bengals 24 Pittsburgh Steelers 20
Best Picks of the Week
"It looks like the killer bets on the Cowboys every week."
"Crazy bastard"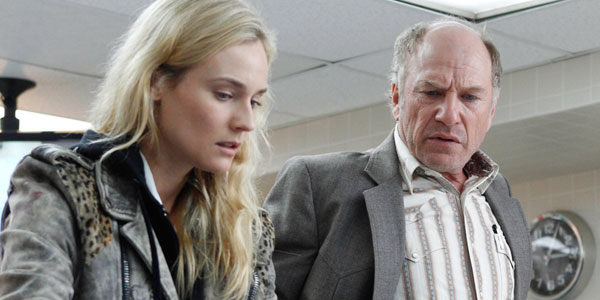 Cleveland @Baltimore o/u 44.0 (MGM Mirage)
Cleveland's very slow offense and tough defense made me look at the under in this game.  Baltimore's need to maintain and establish Ray Rice on the ground and Cleveland's like-mindedness in getting their own running game going are the reason I'm taking it.  Plan on a lower scoring affair.
Baltimore Ravens 24 Cleveland Browns 14
Tennessee (+10.5) @Houston (5Dimes)
I was thinking there'd be a big overreaction following the Titans beating Pittsburgh, but instead the spread seems slanted heavily the other way.  I like Tennessee here a lot, especially considering that Houston is a Monday night winner coming off a particularly late start game.  Even if they weren't, the Texans and Titans are both run oriented teams that want to slow it down and control the pace.  Games like that typically don't end as blowouts unless someone turns it over a lot.
Houston Texans 27 Tennessee Titans 21
Washington @Green Bay o/u 49.0 (Wynn Las Vegas)
Both of these teams scored a bunch of points last week – and gave up even more.  I don't see the Redskins slowing down Aaron Rodgers, and I definitely don't see Green Bay's defense containing Robert Griffin III.  This looks like an easy over.
Green Bay Packers 35 Washington Redskins 24
New Orleans (-3) @Tampa Bay (Las Vegas Hilton)
New Orleans is my preseason Super Bowl pick.  Tampa is the worst team in the NFC.  The spread is 3.  Do the math.
New Orleans Saints 28 Tampa Bay Buccaneers 20