Imagine a Sunday afternoon, sitting in the bleachers of your favorite baseball team with a hot dog, a cold refreshment of choice and you are literally 20 feet away from your favorite players. You can hear the players conversations, the tips from the coaches and possibly even scope out some hidden baseball signs (no binoculars needed). Now imagine paying for your ticket, food and drinks for the entire game for under $2.
Flash forward 60 years and this same fan has been pushed out of the "real fan" seats, banished to what his wallet can afford, the dreaded upper deck. He has the same hot dog and cold refreshment, only this time, it's set him back close to $100. Now add on if you care to take your family or a date to a game, and you end up broke before its time for the 7th inning stretch.
Whether you're watching from home or lucky enough to attend a live game, slowly but surely, corporations are making major decisions in every aspect of our beloved sports.
But does the drooling from team owners for corporate dollars actually help or hurt the leagues that embrace them?
Empty Seats = Fans Don't Care?
I mentioned above that the same fan who could sit 20 feet away from their favorite player but sadly the days of hoping to score a good seat at a game are behind us all. Owners and corporations have quickly realized the "value" in purchasing thousand dollar premium seats that come with all kinds of added perks.
Take the Jaguars for instance, there are several sections on both the home and away sides of the field that are reserved for club seat ticket holders. Naturally, companies want to provide their clients they're trying to woo want only the best seats in which to "entertain." With the purchase of these premium seats, fans are allowed to watch the game in their seat or partake in atmosphere of air conditioning, couches and flat screen TVs to watch the game.
Excuse me, but why would you need a TV when the game is going on live IN YOUR SEAT? Countless times during the "hot" games the club seat section is like a ghost town. The defense is calling for the fans to cheer to drown out Peyton Manning and we have a bunch of pansies sippin on wine in the A/C. Its ridiculous. Give these clowns seats in the upper deck if they don't want to actually watch a LIVE game.
Empty seats give off the impression that the "fans don't care".
In fact it is such an issue that a company has recently seem business boom because they help manage corporations and how much of a return on investment any given company receives based on these premium tickets. Corporate Events Group estimated that as much as 43% of tickets bought by corporations went UNUSED. And who do you think foots the bill for unused seats? It couldn't possibly fall back on the regular joes right? …Right?
And football is not alone. Take Yankee stadium which was built around corporate seating – so much so that the quantity of general seats available for purchase are actually LESS than the previous stadium that was built dozens of years ago.
The below picture says it all.
Giveaways At the Game
Ever seen one of those t-shirt launching guns at a hockey game? Ever wonder why they never seem to shoot those shirts up to the upper deck?
I know damn well that those guns can shoot into the upper deck, so why are the workers only concentrating on the lower premium seating areas?
It probably has to do with the "clientele" that sits in those seats and their perceived value to the owners. 99% of the time people sitting on the glass at a hockey game can afford to spend big bucks on merchandise and refreshments and maybe even (GASP!) season tickets.
Another example of corporate giveaways I was eyewitness to is when searching for the beer stand, I unknowingly strolled into a corporate party at a Jaguar game and was greeted with a free embroidered leather Jaguars coaster set. I was astounded and excited because it was actually a very nice giveaway, but looking at everyone who was in attendance (with their backs to the game no less), how many of those people actually kept the giveaway?
Why would an organization want to reward the hardcore fan that shows up to every game and spends their money over someone who might pay for a sponsorship on the boards? It could make sense money wise at the moment, but this is exactly where sports teams have lost their way.
If You Have Commercials in Your Broadcast, Why Does Every Play Involve Another Sponsor?
Remember this?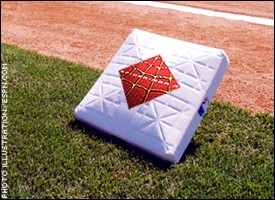 In the one case that I can remember, the fans actually said "Enough is Enough!" when Fox tried to promote their new movie via the field of play – which was met with tremendous backlash.
But for years now, sports have introduced us not only to long and frequent commercial breaks but every moment in a game seems to have a sponsor willing and able to plaster their logo all over the place.
I'm not just talking about the ads behind home plate or the offensive line up presented by "insert company name here," but it's the monetization of every moment in any given sport.
I watched a college football game in South Carolina and on a particular channel, they would superimpose a company's logo right onto the field next to the yellow first down line.
And it doesn't stop there. Between the commercial breaks and sponsored plays, you also have to deal with the shows the network is trying to advertise WHEN THE GAME IS ACTUALLY BEING PLAYED.
I'm sorry but just because you show an ad of a group of friends fake-shoving each other around doesn't mean I give a crap about your show. It also doesn't help that the ad takes up almost 1/3 of the TV screen, making me shun the show even more.
"Sorry Dad, I didn't see Jones-Drew reach for that first down because an ad for some random new show was taking up the whole damn shot".
Can Corporations Ruin Sports Further?
Sadly, we will never know this until its too late. Yes, sports are a business and owners need to make money, but at what cost?
The local Jacksonville Suns, a AA baseball team, sells tickets for around $5 each, has dollar beer nights and the stadium is the nicest in the minors. Though they could probably charge a lot more, some owners truly do realize the value in their casual and hardcore fans, and see them as much more beneficial than big corporate dollars and sponsorships.
Ultimately sucking at the breast of a "corporate dollar mentality" will result in failure to any owner that chooses to ignore the middle-America fan.
There is little an owner can do to control in game advertisements but starting at the root of the actual game and putting an emphasis on the blue collar fan will results in a much larger gain in the long run of a sports franchise investment.