We've known for a while that Anna Benson has always been a little bat shit crazy. But the soon to be ex-wife of Mets Pitcher Kris Benson decided to up her crazy factor by showing up to her ex's house wearing a bullet proof vest, brandishing a gun and metal baton.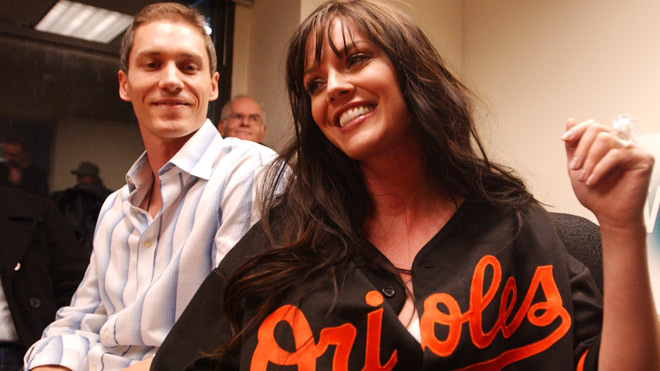 Looking for money from Kris, Anna was promised some cash provided she would leave the home they formally shared. But instead of getting hte cash, Kris did the safest thing by calling the cops on her crazy ass.
According to law enforcement, Kris — who filed for divorce last year — reported that Anna showed up in a rage last night after being forced by the court to vacate their marital home. Kris says Anna arrived and immediately whipped out an "expandable metal baton," threatening to hit him. But it didn't stop there … Kris told police Anna then pulled out a handgun and demanded money. She must have been expecting Kris to pull a gun on her too … because she was allegedly wearing a bulletproof vest at the time of the alleged assault.

Anna — a former FHM model — was arrested this morning and booked on 4 counts … 2 counts of felony aggravated assault with a weapon, 1 count of criminal trespass, and 1 count of possession of a firearm during the commission of a crime.
Well at least she was prepared for a battle? I'm not sure what else to make out of this story. It's usually the athletes that go a little nuts after they've finished playing but Anna certainly takes the cake here.
But then again, we shouldn't be surprised by all this considering her behavior on the TV show Baseball Wives and the fact she told Howard Stern that if she ever caught Kris cheating on her, she'd sleep with the entire Mets team.
Sounds like a keeper!