It's that time of year again, folks. The school year begins anew, and you know what that means: college football is right around the corner. The 2014 season ushers in a new era, as for the first time, a playoff will determine the national champion for the sport's top division.
The final season of the BCS was a good one, as former powers returned to glory, newcomers shined on the national stage, and traditional stalwarts proved that the old guard isn't ready to give up just yet.
What will this season have in store for us? Who will be this year's Auburn and go from worst-to-first? What new faces will thrill us the way that departed stars such as Johnny Manziel and Sammy Watkins did?
In seeking answers to those questions, let's start in the ACC.
2013 Year in Review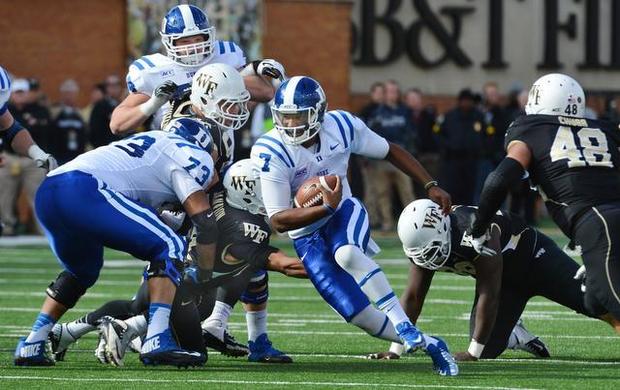 What went right for the ACC in 2013? Well, ending the SEC's reign of seven-straight national championships for starters.
Behind Heisman Trophy-winner Jameis Winston, Florida State ran the table and defeated Auburn 34-31 in the national title game to claim the final BCS Championship before the new playoff format kicks in this year.
The national title wasn't the only highlight for the ACC in 2013. Clemson went 11-2, knocked off Ohio State 40-35 in a thrilling Orange Bowl, and finished in the top ten. Duke, long a perennial doormat, was one of the most surprising teams of 2013, finishing 10-4, winning the ACC Coastal Division, and finishing in the top 25. Conference newcomer Louisville, which will make its ACC debut this season, finished 12-1, thrashed Miami in the Citrus Bowl, and ended the year ranked in the top 15.
Aside from those teams, however, the ACC was fairly mediocre. Miami jumped out to a 7-0 start before fading and going 2-4 down the stretch. Virginia Tech was abysmal on offense en route to an 8-5 season. No other team finished with more than 7 wins. Six teams were 7-6 while North Carolina State, Wake Forest, and Virginia were a combined 9-27.
2014 Year Ahead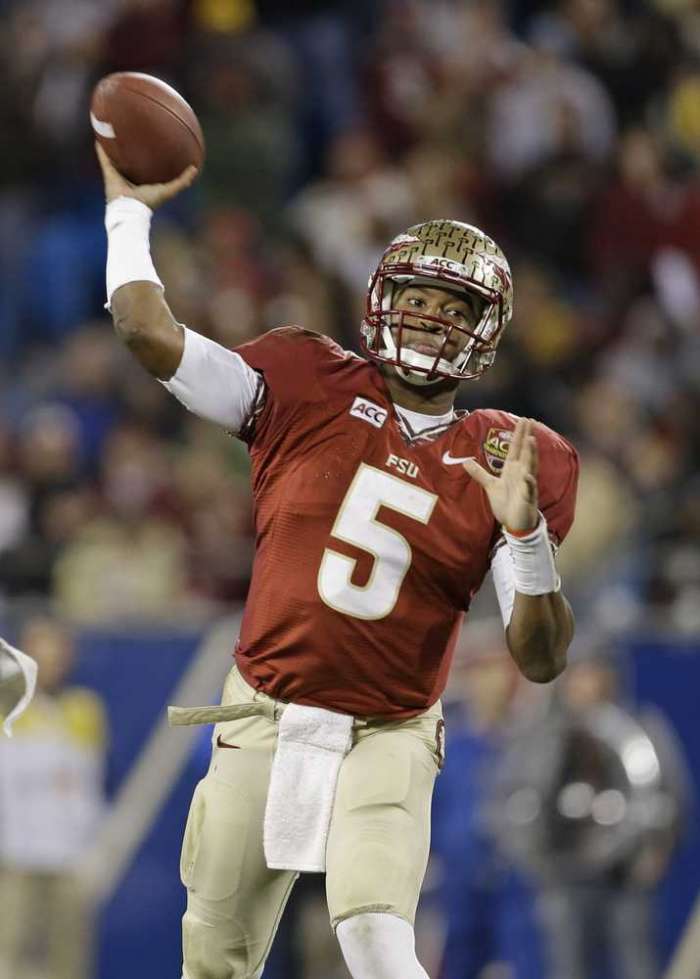 Conference Elite
The ACC is primed for big things in 2014. The conference is top-heavy, yes, but that top is very good. Florida State returns Winston along with a host of NFL-caliber talent, and the Seminoles enter the season ranked #1 and a heavy favorite to defend their title.
Clemson loses Tahj Boyd and Sammy Watkins but returns a deep and talented defense. If that defense can hold the fort until the offense gets its feet under it, the Tigers could be a top-ten team.
Newcomer Louisville should contend immediately in its new league despite losing coach Charlie Strong and quarterback Teddy Bridgewater. Strong's replacement is quite familiar to Louisville; former coach Bobby Petrino returns for a second tour of duty and inherits a team with plenty of experience and talent on offense.
Middle-of-the-Pack: Flawed but Rife with Potential
Duke likely will regress a bit this season—after all, the Blue Devils caught a lot of breaks—but while a repeat appearance in the ACC title game is unlikely, another bowl appearance should be in the cards.
The middle tier of the ACC also has plenty of promise. Sure, each team is flawed and has areas for concern, but they also have reasons for optimism. Virginia Tech possesses an elite defense, so if its offense can at least be average, the Hokies should return to the upper echelon of the conference.
North Carolina is just the opposite: exciting offense, scary (in a bad way) defense. If the Tar Heels can hold up on defense and survive a nasty early-season schedule, they could make some noise.
Another team with potential is Pitt. The Panthers are young and have some exciting players returning, such as receiver Tyler Boyd and running back James Conner, but there are depth concerns as most of the backups are unproven. Such a young team means the Panthers will likely be inconsistent, but the schedule is favorable.
Miami stormed out of the gate in 2013, starting the season 7-0 and climbing to 7th in the polls. A 41-14 mauling at the hands of Florida State sent the Hurricanes into a tailspin, as Miami dropped three straight and four-of-its-next-six. The loss of star tailback Duke Johnson didn't help, either. The 'Canes have to break in a new starting quarterback, but there are plenty of weapons on offense. A porous defense, however, is a huge problem and will likely keep Miami from returning to the conference's elite.
Georgia Tech's option offense is still churning out yards, but the Yellow Jacket's defense has been the team's weak link the past few years. That doesn't look to change in 2014, as Georgia Tech has a slew of talented running backs but must replace significant losses along the defensive line.
Heading in the Right Direction But Not Quite There Yet
NC State's lack of depth was exposed in 2013, as injuries showed how thin the roster and turned a 3-1 start into a 3-9 season. The silver lining is that a lot players gained experience. If the Wolfpack can avoid the injury bug this season, a bounce-back year is probable.
Syracuse was a young team a year ago, so a ton of experience returns. The big key for the Orange is consistency; in 2013, when the Orange were good, they were really good. When they were bad, they were abysmal. If Syracuse can iron out its play and not have such extreme swings, the Orange could weather a tough schedule and make it to another bowl game.
Boston College had a nice turnaround in its first year under Steve Addazio, going 7-6 and earning a bowl berth. The Eagles will be hard-pressed to sustain that success as superstar running back Andre Williams is gone, as are starting quarterback Chase Rettig and numerous defensive starters. There are a lot of pieces to replace, and with a daunting schedule, Boston College will likely take a step back. Still, things are trending upward for the Eagles.
Hide the Women and Children
While there are reasons for optimism for every other team in the league, the same cannot be said for Virginia and Wake Forest. At least the Demon Deacons have a new coach—Dave Clawson—to provide hope for the future. He'll have his work cut out for him since a dreadful offense lost pretty much all of its leading players.
Virginia doesn't even have that going for it. Coach Mike London is in his fifth year running the team but has only six wins in the past two seasons. Like Wake Forest, Virginia has a woeful offense, and while the Cavaliers should field a pretty stout defense, it won't be enough to overcome that dreadful 'O'.
Atlantic Division Champion
Florida State
Coastal Division Champion
Virginia Tech
ACC Conference Champion
Florida State
Florida State is the best team in the country, let alone the ACC. Just as they did a year ago, the Seminoles will run roughshod over the rest of the conference once again. The Coastal is a toss-up—any number of teams could win it—but Virginia Tech gets the nod due to its defense.