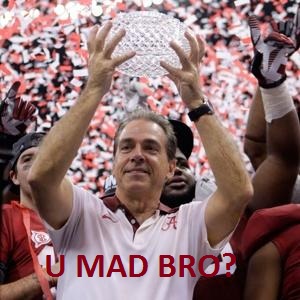 Well that was ugly.
Notre Dame's vaunted defense was no match for the onslaught that is the Crimson Tide as Alabama steamrolled the Fighting Irish 42-14 to capture its third BCS title in four years.
Alabama drove right down the field on its opening drive and never looked back. It was 14-0 after one quarter and 28-0 at half. Notre Dame trailed 35-0 before finally getting on the board and ending Alabama's incredible 108 minute-long BCS title game shutout streak.
For the second straight year, Alabama quarterback AJ McCarron came up big when it mattered most. Last year's title game MVP was 20-of-28 for 264 yards and 4 touchdowns. Running back Eddie Lacy was named the game's offensive MVP after rushing for 140 yards on 20 carries with both a rushing and receiving touchdown.
The scariest part about Alabama's display of dominance? Next year's team could be even better.
 McCarron is coming back and is only a junior. Lacy is leaving, but TJ Yeldon, who also topped 100 yards rushing in the game, will return along with freshman receiving sensation Amari Cooper. The Tide will lose a plethora of talent to the NFL, but under Nick Saban, Alabama simply reloads.
 So which teams, if any, can dethrone Alabama?
The SEC
Many people are loath to admit it, but the SEC is the finest conference in football. Say what you will, but seven straight titles are seven straight titles. The SEC has beaten champions from the Pac-12, Big 12, and Big 10. They even got tired of beating everyone else last year, so the conference placed two teams in the title game. If anyone is going to take down Alabama, the SEC is a good place to start.
The Crimson Tide lost one game this season, a 29-24 thriller to SEC newcomer Texas A&M and Heisman winner Johnny Manziel. After pummeling Oklahoma in the Cotton Bowl, the Aggies are sure to be a top-5 team entering next season. Manziel is only a freshman, so it's staggering to imagine how good he could become. The only teams to beat Alabama in recent memory have been spread teams with mobile quarterbacks, and Manziel fits the bill. Plus, Alabama has to go to College Station next year.
LSU was the only team to beat Alabama last season, and the Tigers nearly pulled it off again this year. McCarron engineered a game-winning drive with time running out to allow the Tide to leave Death Valley with a 21-17 victory. LSU has a defense on par with Alabama's, and quarterback Zach Mettenberger played his best game against the Tide.
Georgia was a tipped pass away from beating Alabama in the SEC championship game and playing for a national title. Star quarterback Aaron Murray is returning for his senior season, and talented freshman running backs Todd Gurley and Keith Marshall should be better than ever.
Florida was #4 in the BCS rankings going into bowl season and boasts a ferocious defense. South Carolina is a perennial top-10 contender and has the top defender in the country in Jadeveon Clowney.
Will Anyone End the Reign of Terror?
If you're one of the SEC-weary people hoping someone, ANYONE, outside of the south will win, then these teams offer you the best hope.
Louisville won the Big East and finished the year with an 11-2 record, earning a berth in the Sugar Bowl against Florida. The game was universally expected to be a mismatch, and it was, except the Gators proved to be no match for Teddy Bridgewater and Co. Lousiville's sophomore quarterback extraordinaire led the Cards to a 33-23 beatdown of the heavily-favored Gators. The momentum from that win will likely propel the Cardinals to a top-10 preseason ranking. If Bridgewater can stay healthy, Louisville will have a good shot at running the table. He's got the ability to shred Alabama's defense.
Oregon ended up 12-1 after thrashing Kansas State in the Fiesta Bowl but scored an even bigger victory when head coach Chip Kelly turned down overtures from the NFL to remain in Eugene. Other than Stanford, nobody came within 11 points of the Ducks. Kenjon Barner will be departing, but quarterback Marcus Mariota and all-everything phenom De'Anthony Thomas will be back to power one of the country's most prolific and potent offenses. Few teams, if any, can match Oregon's speed, and a matchup with Alabama is one that has most college football fans salivating.
Oregon-Alabama would have happened this year if it wasn't for one team: Stanford. A throwback oddity in a spread-happy conference, the powerful Cardinal are tough and physical. Their front seven was the only unit that was able to slow down the Ducks this year. Stanford's two losses came by a combined 11 points, and one was a controversial overtime defeat to Notre Dame. Stanford loses star running back Stepfan Taylor, but quarterback Kevin Hogan is only a freshman and will get better. One has to wonder if the Cardinal has enough athleticism to hang with Alabama, but they have gone toe-to-toe with Oregon and USC the past few years.
Yes, Notre Dame just got embarrassed on national television by Alabama. And yes, the Irish lose standout linebacker Manti Te'o and talented tight end Tyler Eifert. However, Notre Dame is ahead of schedule. They were unranked to start this season; the Irish weren't supposed to be title contenders for another year or two. They are only going to get better—Coach Brian Kelly has put together the nation's top-ranked recruiting class according to Rivals.com. Quarterback Everett Golson steadily improved over the course of his first year as a starter and will get better. If the offense can get on par with the defense, watch out.
Ohio State finished the season as the only unbeaten team in the land but was ineligible for postseason play due to NCAA sanctions. Things were supposed to improve under new coach Urban Meyer, but they weren't supposed to happen this quickly. The Buckeyes have a phenomenal dual-threat quarterback in sophomore Braxton Miller, and with another offseason under Meyer under their belt should be favored to win the Big 10. Meyer won two national titles at Florida and knows how to beat SEC teams.
Only time will tell if any of these teams can take the next step and defeat the Tide, but if this season is any indication, it's going to be fun to watch.