The Jaguars might not be the best performing team in the wins column but their recent women's event "Meet Me At The 50" highlighted the proper angle female fans want to be marketed.
Earlier this season, the Tampa Bay Buccaneers launched a program called Red which featured meet n' greets, football 101's and female-centric items such as manicures and mimosas. While I defended the program because every fan enjoys their game day experience differently, it faced a lot of backlash from other female fans because it reeked of a sloppy-and-sexist plan hastily thrown together before the season started.
For the record, I still love me some fanicures and mimosas on game day—hih8ers.
This brings us to the Jaguars who held their annual women's event for Breast Cancer Awareness with a strong focus on die hard fans with Q&A sessions to include key Jaguars players and members of the coaching staff. The fan questions ranged anywhere from coverage options during specific plays to one woman asking if QB Blake Bortles was single. Side note: He is single and when he answered the crowd of women ROARED.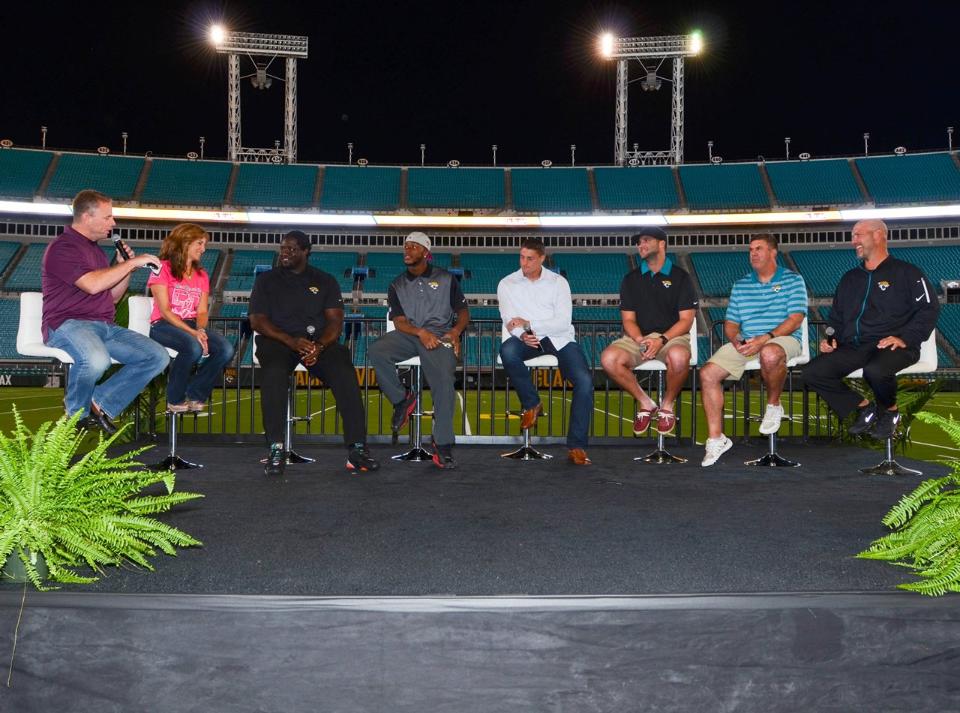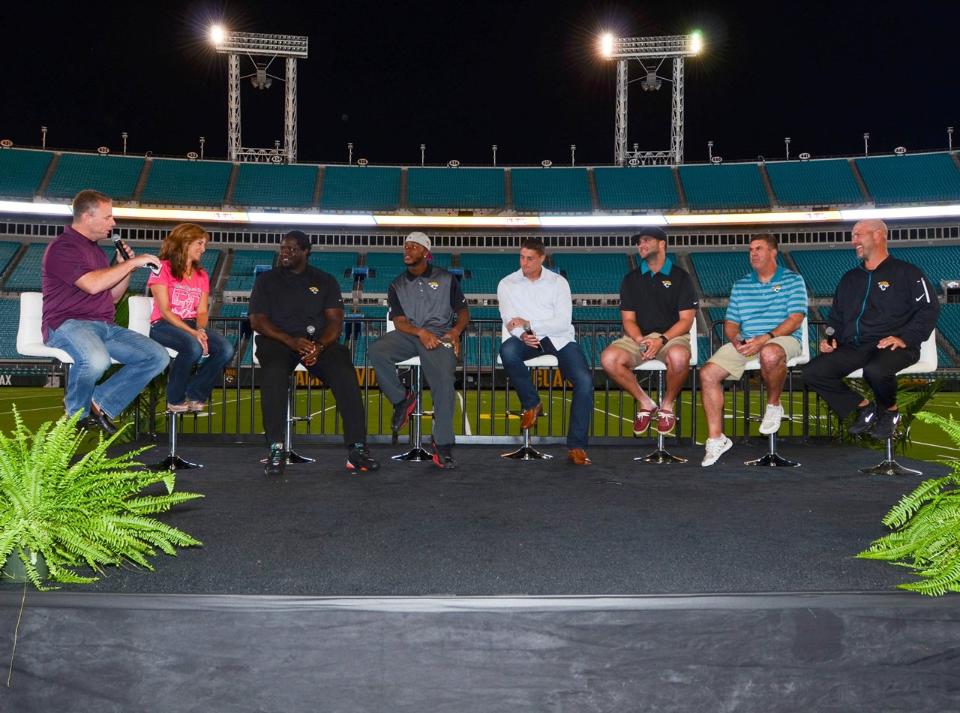 Orchestrated by Michaela Bradley, wife of head coach Gus Bradley along with the rest of the Jaguars Women's Association, the JWA honored fellow breast cancer survivors on stage with touching stories and makeovers by retailer Stein Mart. There was also some great music, variety of food from area restaurants and silent auctions with donations benefiting a great cause, In the Pink, which helps local survivors cope with the cost and emotional support of going through cancer.
Another highlight of the night was guest of honor, ESPN broadcaster Suzy Kolber. After a meet and greet with other female fans, Kolber took the stage and shared her personal story of growing up as young girl desperately wanting to play football with the boys before she walked away from the team for fear of being a distraction. Though she gave up playing the sport of football, it didn't stop her from pursuing a career in the sports world – which has obviously worked because she's now one of the most respected members in all of sports media.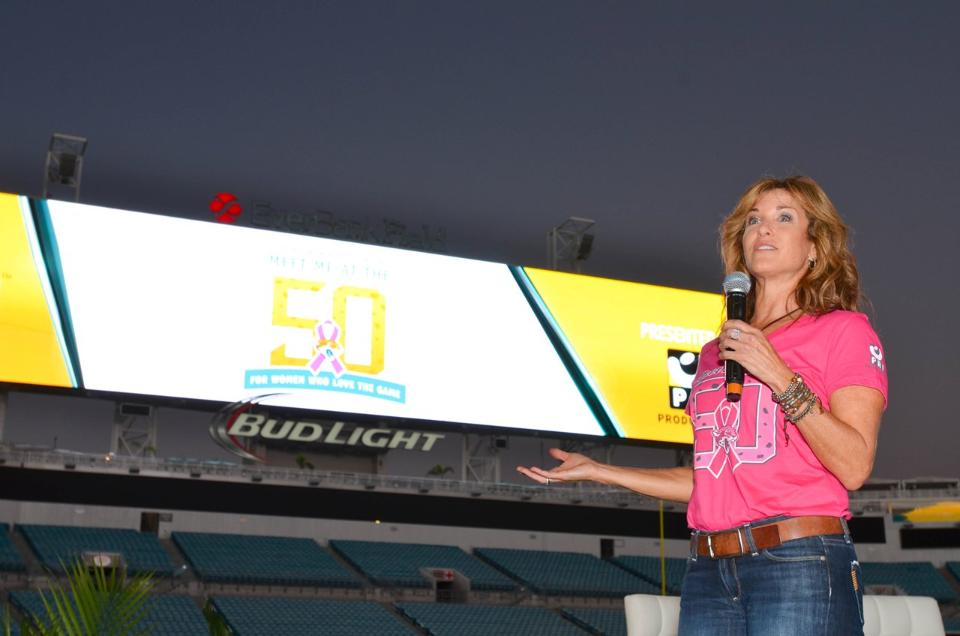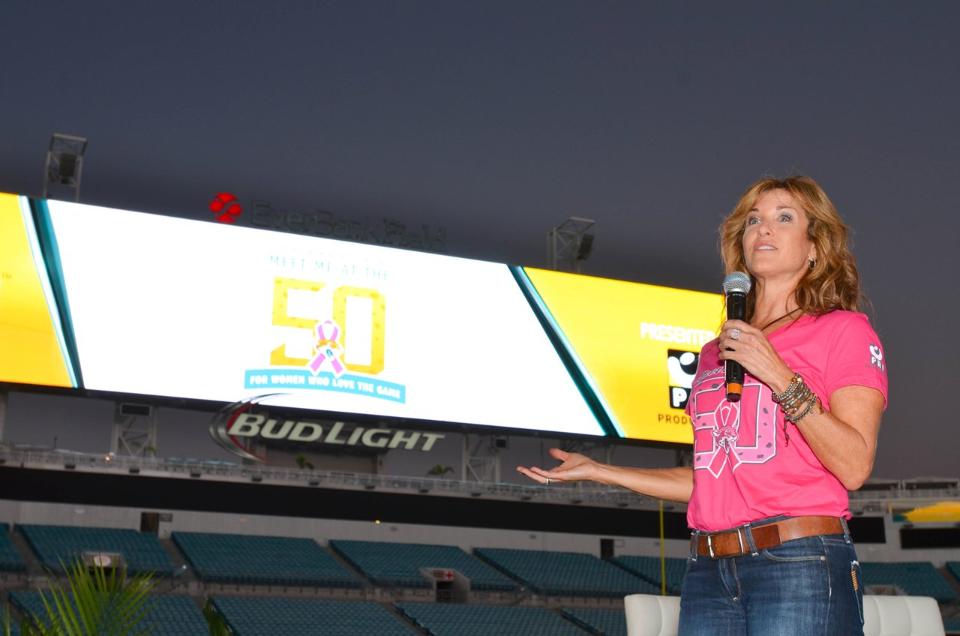 I, along with the ladies of Helmets and Heels, had the pleasure of interviewing Kolber before the event but hearing her personal story of getting through the male dominated workforce touched a lot of women in the crowd. But no moment was more touching than when she spoke of her late colleague, Stuart Scott and his struggle with cancer that brought an emotional Kolber to tears. She spoke of how she essentially replaced Scott when he became too ill to work and it was a position she never wanted to take from him.
Kolber went on to add how the old football helmet and playbook from her tryout has been placed prominently in her home gym for quite some time but she now uses the memory of Stuart Scott's continuous fight as her daily motivation.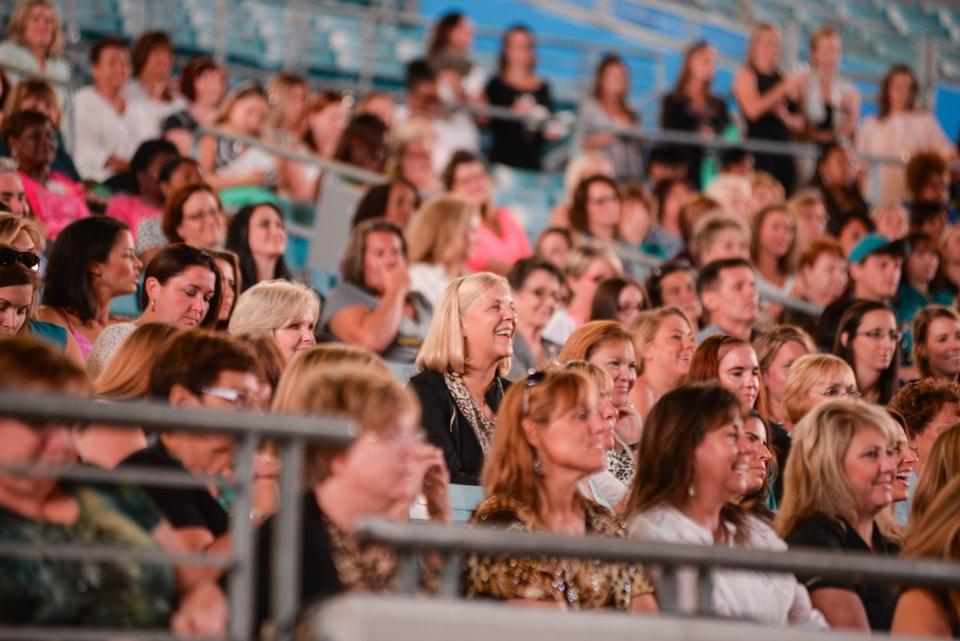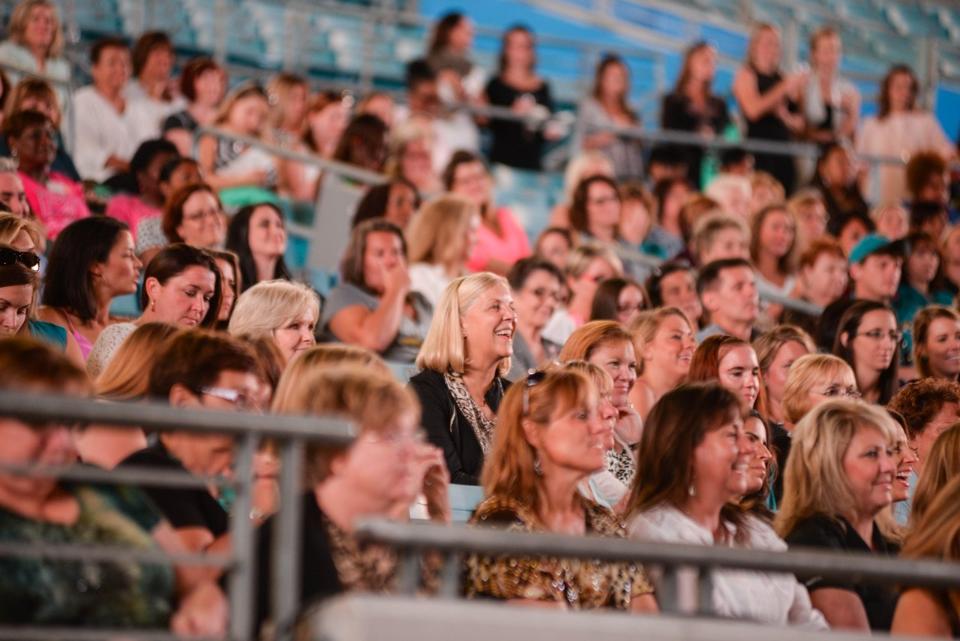 Walking away that night, my cohosts and I raved at how much fun we had. The Jaguars' Meet Me at the 50 wasn't a cheap hour-long event with pink merchandise slapped around a football-101 segment. It spoke directly to an evolving fan base and hit on all levels for female fans. It was fun, insightful, raised awareness for a good cause, included personal interaction with the team that a football fan from novice to expert could thoroughly enjoy.
Over the years as my career has evolved from a fan in the stands to a member of the media, I've been to every single one of these Jaguars women's events and this was by far the best. I hope more NFL teams take this approach when they market towards their fanbase because it's proof no matter your team's record on the field, you can still appeal to the fanbase off the field.
Photos and video via Jaguars.com